Best Things to Do in Boston in June 2017
Garden Tours, Harborfest, Truck Food Festivals
Boston Harbor, scene of many June activities and events
June marks the real beginning of summer in Boston - so not surprisingly, the best things to do in Boston in June involve being outdoors, celebrating warm weather, and taking advantage of every opportunity to soak up sun!
Outdoor festivals, watching the Boston Red Sox play at Fenway Park, and outdoor concerts and shows top just about everyone's list of fun things to do, but there's lots more to do in June.
Some of the best garden tours take place this month, our theaters put on audience-pleasing shows, and toward the end of the month, the huge Harborfest celebration begins.
Enjoy the warm June days and balmy nights in Boston - but also plan to get away from the city. Take a Harbor cruise, go on a whale-watching trip, or head to the beach!
10 best things to do in Boston in June
1. Harborfest and Tall Ships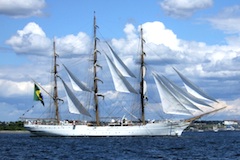 Harborfest begins at the end of June, and brings together 7 days of exciting events celebrating Boston, American Independence, and summer fun.
At least one Tall Ship - sometimes many more - usually graces the harbor with its presence, and welcomes you if you want to tour.
If you're planning to visit Boston during these periods, start planning now as hotels book up fast. The period around July 4th is the peak of summer tourist season in Boston.
Check the Harborfest schedule of events
See BDG's recommendations for hotels near key Harborfest events
2. Top Summer Concerts
Now that June and warm weather bring Boston's exciting summer concerts.
Join other music lovers as world-famous performers headline memorable shows in our best outdoor venues - Blue Hills Bank Pavilion, Fenway Park, Gillette Stadium.
And don't forget Boston's free summer concerts - walk through city parks and squares any day of the week and follow the sound of music.
Check out the the schedule for Boston's summer concerts
3. Food Truck Festivals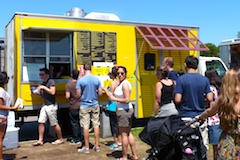 Ah, gourmet street food, served just off the grill from Boston's small but growing legion of food trucks.
We can't get enough of it . . . but now the New England Food Truck Festivals have come to our rescue, letting us indulge our passion as 20-30 chef/owners bring their moveable feasts to scenic Southern New England venues this summer, with several in and near Boston.
Find locations and dates for Food Truck Festivals scheduled for June through October
4. Watch the Red Sox
Fenway Park takes on a golden hue during June, as warm afternoons and balmy nights provide an almost magical setting as the smell of Fenway Franks waft through the air, fans belt out "Sweet Caroline," and the Boston Red Sox play the best game in the world.
Win or lose, doesn't matter - watching a game at Fenway Park is simply the perfect June activity.
Get the Red Sox home game schedule for June, get a ticket, and go!
5. Whale Watching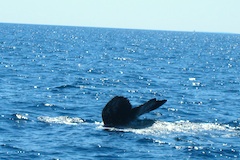 Just outside of Boston Harbor is another world...a protected marine sanctuary where whales and dolphins live, cavort, and dazzle. When you board one of the popular whale watching cruises leaving from Boston's downtown wharfs, you get to enter that world for a few memorable hours. June's warm sunny days and usually calm seas provide the perfect time to come!
More about Boston's whale watching cruises
6. Tour Boston's Secret Gardens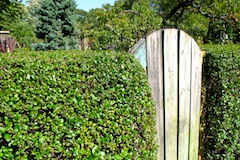 Peer behind the walls and gates of Boston's loveliest private gardens, opened to the public once a year on these special garden tours.
June is the month when the most tours take place, making Boston a garden lover's paradise. Don't miss this chance to see these private Edens right in the heart of the city.
Find out more about Boston Garden Tours during June
7. Explore Boston on Wheels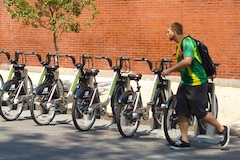 Boston may be called "America's most walkable city" but try touring on wheels for a different perspective and a lot of fun!
Bring your own bike for a DIY tour, grab a Hubway bike - free for the first 30 minutes - or cruise around with an organized tour led by cycling enthusiasts with a passion for sharing their knowledge of the city.
More about bike tours in Boston
8. Day Trips from Boston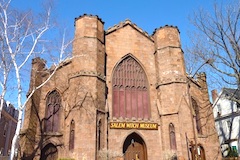 Head out of the city and within an hour or less, you can visit Plimouth Plantation, witch trial site Salem, historic Concord, and glamorous Newport RI.
Just a few more hours gets you to the excitement of New York. And don't forget the beaches and exciting ski slopes just beyond Boston's doorstep.
More about where you can go on daytrips from Boston
9. Boston Harbor Cruise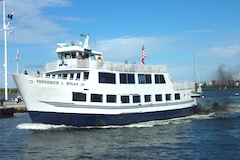 Boston cruises in the Harbor or up the Charles River show you the city from a completely different perspective from what you'll see on a land tour.
You can pick a cruise to suit your interests - sightseeing, brunch or dinner cruises, a land-water combo experience on a Duck Boat, the Yankee Clipper tall ship, or even our own speed demon of the seas, Codzilla.
Cruises with discount tickets available through Goldstar:
- Boston Harbor Lighthouse Brunch Cruise
- Charles River & Locks Cruise
- Odyssey Cruises Lunch, Brunch, & Dinner Cruises - Boston Harbor
- Provincetown Fast Ferry
- Sunset Harbor Cruise
- Boston Harbor Cruise - enjoy views of USS Constitution, Bunker Hill, more
- Boston Duck Tours from Museum of Science
- Summer Party Cruise on the MV Provincetown II
- Romantic Sunset Sail on the Adirondack III
- Boston City Lights Boston Harbor Sail on a classic schooner
10. Theatre and Shows
Some of the best theater productions and spectacular shows come to Boston during June.
Look for Broadway classics, light-hearted comedies and musicals, and even the famed Cirque du Soleil under their signature blue and gold striped grand chapiteau on the South Boston Waterfront.
Check out June performances during Boston's summer theater schedule
More ideas about fun things to do in Boston in June
Boston Discovery Guide > See & Do > Things to Do in Boston in June