South End Neighborhood Guide
Red Sox, Fenway Park, Nightlife, Museums, and Colleges
Boston's Fenway neighborhood lends its name and gains its fame from Fenway Park, home ball park of the Boston Red Sox, but it also includes 18 colleges and universities, world-renowned research centers and hospitals in the Longwood Medical Area, top museums and concert halls, and some of the city's liveliest nightlife.
"East Fenway" includes the famous ballpark, House of Blues Boston, and other bars, restaurants, and shops in the Kenmore Square commercial stretch near Boston University. "West Fenway" includes museums, the Longwood Medical Area, and more colleges and universities. Lots of medical professionals and students live in the neighborhood's residential areas.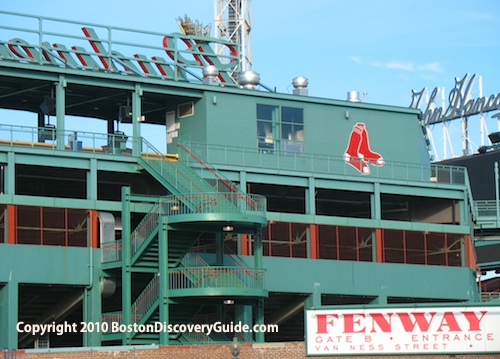 Fenway's most famous attraction - Fenway Park, home of the Boston Red Sox
Quick Links for Fenway Neighborhood Guide: Attractions | Restaurants | Nightlife | Hotels | Shopping | Parks | Colleges | Medical Centers | T Stations | Parking | Boundaries | More | Photo Gallery
South End Things to Do and Attractions
Fenway Park - Cheer the Red Sox for the quintessential Boston experience - or catch one of the star-studded rock concerts or other sports events hosted twice a year here. Red Sox schedule and ticket information.
Ball Park Tour - See the famed ballpark up close, and enjoy your guide's entertaining stories about Fenway history, legendary players, and funny events. You even get to go on top of the Green Monster. Allow about 1 hour. Included with Boston discount card
Museum of Fine Arts - World-famous for its comprehensive collections spanning 7 thousand years. Must-sees include the Egyptian mummy collection and the dazzling new Art of the America's wing. Included with Boston discount card
Isabella Stewart Gardner Museum - This 1903 mansion, modeled after a 15th century Venetian palace, displays the wide-ranging art collection of its creator. Free admission if you're named "Isabella." Don't miss the Sunday afternoon concerts. Included with Boston discount card
Symphony Hall - Home to Boston Symphony Orchestra and Boston Pops. Attend a concert and enjoy its perfect acoustics, or join a free tour for behind-the-scenes views and stories.
Jordan Hall - Another acoustically superb concert hall, and the main performance venue for the New England Conservatory as well as guest performers. Free admission to many student performances - huge bargain considering that some students here are already renowned professional musicians.
Mapparium (200 Massachusetts Ave, next to the Christian Science Mother Church) - This enormous walk-through painted glass globe in the Mary Baker Eddy Library at the Christian Science Mother Church features a 1935 world map overlaid with geography and global history. Included with Boston discount card
CITGO Sign - Dating back to 1940, this red triangular sign measures 60 feet by 60 feet and can be seen from many Boston locations, including Fenway Park. The sign, now considered a historic landmark, used to be neon, but now sports thousands of LEDs. The lights go out at 1am - coincidentally, closing time for Boston bars.

Fenway's famous Citgo sign, photographed from Brookline Ave next to Buckminster Hotel
South End Restaurant Recommendations
Red Lantern (39 Stanhope Street, 617-262-3900) - Pan-Asian French with a wok station for the Chinese stir fries, sushi bar, giant Buddha, and lots of lanterns. Try the lobster rangoons, avocado salad, and char sui pork fried rice for a perfect meal.
Canestaro Restaurant and Pizzaria (16 Peterborough) - Southern Italian favorites made with high-quality ingredients. Patio seating for warm weather. A neighborhood gem. More Boston Italian restaurants
Petit Robert Bistro (468 Comm Ave) - Classic French bistro cuisine, and a great wine selection. You can almost imagine you're in Paris. Affordable. More French restaurants in Boston
Island Creek Oyster Bar (500 Comm Ave) - Showcase for Duxbury's Island Creek oysters - plus lots of other very fresh local seafood and a terrific raw bar.
Elephant Walk (900 Beacon St) - Classic French dishes on one side of the menu and traditional and contemporary Cambodian offerings on the other side reflect the owners' ethnic heritages and expertise. Long-time favorite.
Tasty Burger (1301 Boylston St) - Burgers, dogs, and shakes - plus wine and beer, pool, and a jukebox. What's not to love?
Fenway Franks - No, not a restaurant, but iconic Fenway cuisine - get them inside the ballpark, or in Bleacher Bar.
More about neighborhood restaurants
South End Nightlife
Fenway's legendary nightlife - and there's a lot of it - mostly clusters around Fenway Park. Several of these spots rank among the top sports bars in the city (a couple even top national lists), others showcase live music, and some manage to do both. Many also serve lunch and dinner, and all serve bar food.
When the Red Sox are playing or a concert or other sports event is scheduled at Fenway Park, expect these places to be crazed. Weekends also pack in crowds. Otherwise, they're quiet (well, relatively speaking) neighborhood spots.
Bleacher Bar - This ultimate sports bar under Fenway's Green Monster looks out onto the field
Boston Beer Works - Microbrewery /gastropub morphs into a sports bar on game days
Game On! - One of the top sports bars in the country - and in Boston
Cask 'n Flagon - Another nationally renowned sports bar
House of Blues Boston - This mid-sized entertainment venue features nationally-known touring groups - including Boston's own Celtic punk rockers, the Dropkick Murphys, who put on sold-out St Patrick's Day performances each year
Bill's Bar - This small pub features live music by performers featuring an eclectic mix of genres - reggae, jazz, soul, R&B, hip-hop, punk
Lansdowne Pub - Sporting an Irish theme, the rather large Lansdowne manages to seem cozy, although it gets packed on game days (when it morphs into a sports bar) and weekends. Otherwise, look for live music and even live band karaoke.
Church of Boston - In this "neighborhood sanctuary," look for very good food and drink, a few pool tables, big screen TVs - and outstanding live music, mostly rock, on most nights of the week.
Machine (1254 Boylston) - DJs, karaoke, and a large dance floor. Primarily a gay club but welcoming to everyone.
An Tua Nua (835 Beacon Street)
More about nightlife and bars in this neighborhood
South End Hotels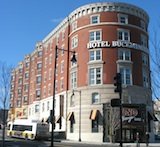 Buckminster Hotel (645 Beacon Street)
A block and a half from Fenway, and one of Boston's biggest hotel bargains. No designer linens here - but great rates for a comfortable stay.
Designed by famed architect Stanford White (Boston Public Library) and built in 1894, the 97-room Buckminster played its own role in Fenway's history. The Buckminister is where:
A bookie and a baseball player hatched the infamous plot to fix the 1919 World series
Engineers made first network radio broadcast in 1929, with the help of a clothesline
Italian prisoners of war stayed during World War II
Jazz legends such as Billlie Holiday, Dave Bruebeck, and Sarah Vaughan performed in the 1950s
Grahm Junior College, which bought it in 1968, used it for a few years as a dorm
Happily, the Buckminster became a hotel again in the early 1970s and remains one of Boston's true bargain hotels. Its Kenmore Square location places it within easy reach of Fenway Park, Boston University, and all the Lansdowne Street nightlife, and its proximity to the Green Line's Kenmore station makes getting to other parts of Boston easy.
Rates /reviews for Hotel Buckminster | Other Boston Discount Hotel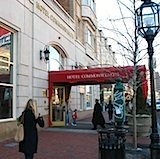 Hotel Commonwealth (500 Commonwealth Ave)
One of Boston's top luxury boutiques, replete with Italian linens, down comforters, complementary WiFi, and nice electronics. You'll even find pet-friendly amenities, such as a pet bed and tasty treats.
What makes Hotel Commonwealth outstanding, though, is its personalized service, designed to make guests feel like . . . well, like pampered guests.
The independently-owned 148-room Hotel Commonwealth is only 2 blocks from Fenway Park, and about a 10-minute walk from the Museum of Fine Arts, the Isabella Stewart Museum, and Boston University (one of the partner/owners).
Although the Second Empire-inspired Hotel Commonwealth fits in visually with some of the other mansions along Comm Ave, it is actually one of Boston's newer hotels, built only in 2004. However, it occupies a Kenmore Square location made famous by the previous occupant, punk rock club, The Rathskeller.
Over the course of several decades, The Rat, as it was called, hosted stellar rock and punk performers - Aerosmith, Joan Jett, Thin Lizzy, the Dropkick Murphys (catch them these days at nearby House of Blues), Stevie Ray Vaughn, Mission of Burma, U2, Talking Heads, Metallica, The Ramones, Patti Smith - and many, many more.
Rates / reviews for Hotel Commonwealth | Other Luxury Boutique Hotels
Best Western Inn at Longwood (342 Longwood Ave)
Located in the Longwood Medical Area, and convenient for patients and their families.
Rates / Reviews for Best Western Inn at Longwood
South End Shopping
With Back Bay's Newbury Street, Boylston street, Prudential Center, and Copley Place just next door, Fenway offers mostly small neighborhood and specialty shops.
Fenway Plaza Shopping Center (401 Park Drive, by the Green Line D/Fenway stop) - Repurposed Deco-style Sears distribution center now contains an REI, movie theater complex, Best Buy, and a few other stores and restaurants.
Kenmore Square (intersection of Commonwealth Ave and Beacon Street) - Small shops and eateries, plus the building topped by Fenway's famous Citgo sign, a Boston landmark.
Huntington Ave, between Northeastern University and Massachusetts Ave - Small stores, including music, art, and student-oriented shops.
Red Sox Team Store - Everything Red Sox-related that you can imagine - and then some! Fenway Park Tours leave from here, so allow shopping time after your tour.

Parks and Green Spaces
Back Bay Fens - A serpentine-shaped park designed by Frederick Law Olmsted as one of the "jewels" in the Emerald Necklace of parkland encircling Boston. Usually just called "The Fens," and known for its World War II era Victory Gardens and Kelleher Rose Garden. Rumored to be dicey late at night but filled with students, joggers, and gardeners during the day. Big playground, lots of statues, and Vietnam War memorial.
Ramler Park (Peterborough Street) - Half-acre urban oasis, once a parking lot. Plants, flowers, benches, a fountain, plus a summer concert series make this a favorite neighborhood gathering spot.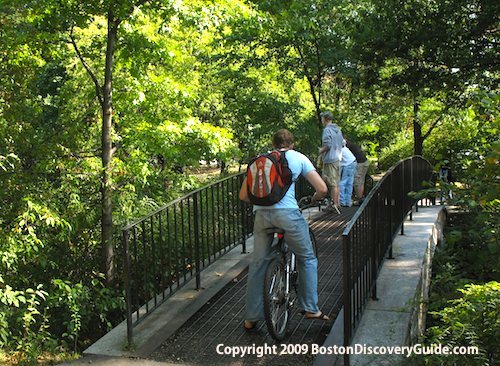 Footbridge over Muddy River in The Fens
South End Colleges, Universities, Professional Schools
Eighteen colleges, universities, and professional schools call Fenway "home," giving it the highest concentration of higher education institutes of any Boston neighborhood.
Boston University (also extends west into Allston), including their law school, business school, and other graduate schools
Northeastern University, including their law school, business school, and other graduate schools
Wentworth Institute of Technology
Emmanuel College
Simmons College
Wheelock College
Berklee College of Music
Boston Conservatory
New England Conservatory
Massachusetts College of Art and Design ("Mass Art")
New England School of Photography
School of the Museum of Fine Arts
Art Institute of Boston at Lesley College
Massachusetts College of Pharmacy and Health Sciences
Harvard School of Public Health
Harvard School of Dental Medicine
Harvard University Medical School
Forsyth Institute
Find more information about each of these Fenway colleges, universities, and schools at Universities and Colleges in Boston

Fashion creations by Fenway's Mass Art students on display at Chestnut Hill Mall
South End Medical Centers
The 213-acre Longwood Medical Area bounded by Riverway, the Fenway, and Huntington Ave contain some of the world's premier medical research and care institutions, as well as top academic institutions. More than 40,000 people work within the LMA, more than 18,000 students study here, and approximately 1 million patients receive care here each year.
Medical centers located in Fenway's LMA include:
Brigham and Women's Hospital (75 Francis Street)
Beth Israel Deaconess Medical Center (330 Brookline Ave)
Children's Hospital Boston (300 Longwood Ave)
Dana-Farber Cancer Institute (450 Brookline Ave) - Find out how you can help support cancer research at ScooperBowl, Boston's biggest ice cream event
Joslin Diabetes Center (1 Joslin Place, near Longwood Ave and Pilgrim Road)
South End T Stations
Green Line - Kenmore
Green Line B - Blandford St, Boston University East, Boston University Central
Green Line D - Fenway
Green LIne E - Symphony, Northeastern, Museum, Longwood, Brigham Circle
Orange Line - Massachusetts Ave, Ruggles St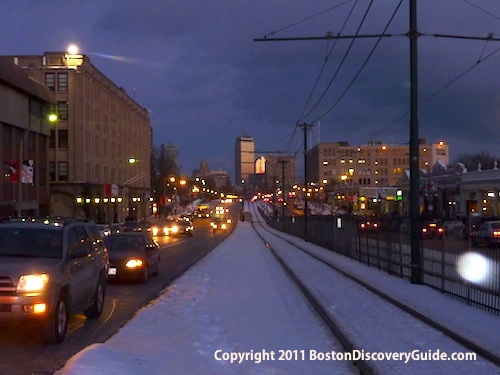 Tracks for the T's Green Line B runs down the center of Comm Ave near Boston University -
Photographed during early evening in January
South End Parking
On-street parking is almost non-existent in most areas of Fenway, aside from metered spaces along some parts of Huntington Ave and Commonwealth Ave. and nearby streets. You're almost always better off taking the T, especially on Red Sox game days.
But if you must drive, check out nearby parking garages and lots
South End Boundaries
North: Charles River
East: Charlesgate West, Massachusetts Turnpike, Boylston St, Dalton St, Belvidere St, Huntington Ave, Massachusetts Ave
South: Southwest Corridor, Ruggles Street, Parker Street, Ward Street, Huntington Ave, Francis St
West: Muddy River, St Mary's Street, Commonwealth Ave, Boston University Bridge
Caveat: These boundaries are approximate, and opinions about Fenway boundaries vary. Boston neighborhoods don't have "official" boundaries, so they're often ambiguous and sometimes contentious.
More about South End
Vintage photos and historical information about Hotel Buckminster, Grahm Junior College, and Kenmore Square
South End photo gallery

Return to Top: South End Neighborhood Guide
Like this Page? Please Share!
You may also want to check out:
Quick Links: Boston Neighborhoods