Boston's South End Restaurants
Plus South End bistros, bakeries, brasseries, bars
Boston's South End restaurants encompass the city's highest concentration of chef/owner eateries, featuring fresh ingredients, expert cooking, and many different cuisines.
Restaurants line the main streets in this trendy but laid-back neighborhood, with choices ranging from homey bistros and bakeries to world-renowned fine dining.
Pastries at Flour
Although you'll find many of the South End's restaurants clustered along Tremont Street, Washington Street, and Columbus Ave, some dot the side streets, while still others are opening in the increasingly popular SoWa (South of Washington Street) area.
Although some South End restaurants can be fairly pricey, others more affordable choices. You can dine very well in all price ranges.
You'll find very few chain restaurants here in the South End, making it one of the best neighborhoods for trying the best local cuisine. You can easily walk to most of the South End restaurants within 10 minutes or less from Back Bay, Bay Village, or the Park Square and Chinatown areas of Downtown.
Guide to South End Restaurants
Addis Red Sea

Ethiopian
544 Tremont St; Orange Line/Back Bay; 617-426-8727
This long-established South End restaurant serves delicious authentic Ethiopian cuisine in stylish surroundings.
Although many of the savory dishes feature meat, vegetarians will feel happy with the even lengthier vegan menu.
Another plus is the affordable and well-chosen wine list.


Aquitaine

French
569 Tremont St; Orange Line/Back Bay; 617-424-8577; www.aquitaineboston.com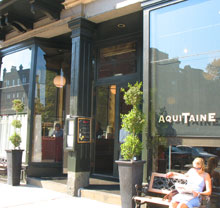 Like many South End restaurants, Aquitaine's exterior is so understated that if you've heard raves about this popular spot, you may wonder what the fuss is about.
But don't worry - the French bistro food is as wonderful as everyone claims.
As soon as you walk up the stairs and through the door, you'll be in the stylish bar - a great place to sit and sip a glass of wine while people-watching - but mouth-watering classics like mussels en cassoulette, steak frites, and apple tarte tatin will beckon you to dinner.
And on Saturdays, stop by to enjoy the $10 prix fixe brunch, one of my own favorite Boston Cheap Eats.
B and G Oysters

Seafood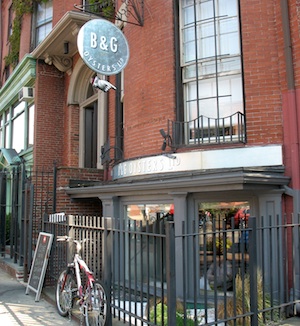 550 Tremont St; Orange Line/Back Bay; 617-523-0550; www.bandgoysters.com
This small but perfect oyster bar features the absolutely freshest seafood imaginable.
Oysters star in this well-loved South End restaurant - but a few other choices, mostly fish and shellfish - are also available. Check the board for daily specials.
If you love lobster roll, it is fabulous here.
Wines, mostly whites, are carefully chosen to accompany the food.
Enter through the side gate, and in pleasant weather, sit outdoors on the small patio and enjoy some of the best seafood that you'll ever eat.
Coppa

Italian
253 Shawmut Ave; Orange Line/Back Bay; 617-391-0902
No reservations and extremely popular - so expect at least an hour's wait on weekends, probably longer. It's worth it. Ken Oringer (Clio) and Jamie Bissonnette are easily two of Boston's top chefs, and they pack flavor into Italian classics. Try the Spaghetti alla Carbonara, or the mouthwatering thin pizzas.
Ways to Save at Boston's South End Restaurants
Restaurant.com - Save 60% or More on Boston Restaurants
Emilio's

Pizza, subs, sandwiches
536 Tremont Street; Orange Line/Back Bay; 617-423-4083
Super casual and affordable spot for subs, pizza (whole or by the slice), and sandwiches.
Emilio's - Yummy pizza, subs, and sandwiches in Boston's South End
In the midst of so many high-end South End restaurants, Emilio's stands out for offering good, everyday food at reasonable prices.
Flour Bakery + Cafe

Bakery plus soups, quiche, pizza
1595 Washington St. near E. Concord; Orange Line/Back Bay; 617-267-4300; www.flourbakery.com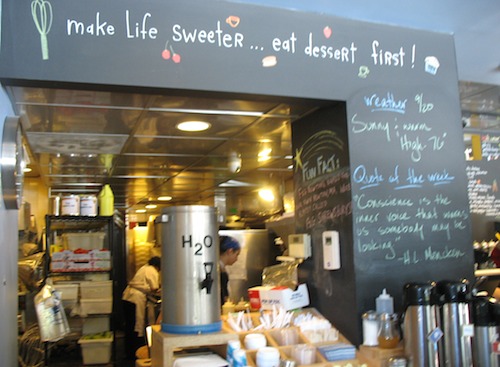 Coffee area at Flour Bakery + Cafe in Boston's South End
If you can tear your eyes away from the lemon ginger scones, brioche au chocolat, and other incredibly tempting pastries long enough, you'll notice that this popular bakery/café also offers great soups, pizza, quiche, and drinks—try the new rooibos lattes.A few mouth-watering lunch and dinner specials round out the offerings.
Warning: due to extreme popularity, if you want to be sure of getting one of Flour's famous sticky buns, call the bakery to pre-order before you come.
If you're in the Fort Point area, you'll find a second Flour location at 12 Farnsworth Street in the newly fashionable South Boston Waterfront.
Franklin Cafe

American
278 Shawmut Ave; Orange Line/Back Bay; 617-350-0010; www.franklincafe.com
Once just a beloved neighborhood bistro, the Franklin Cafe draws fans from all over Boston who come to enjoy its innovative American food featuring local New England products, nicely chosen wines, and microbrewery beers and ales on tap.
The menu, featuring perhaps 8-10 first courses and about the same number of main dishes, changes seasonally, with an additional daily special or two based on what's best in the market at the moment.
Keep in mind that the Franklin Cafe is small - fewer than 12 tables - and very, very popular - so you'll definitely want to make reservations.
Fritz

Sports bar
26 Chandler Street, just east of Berkeley Street, next to the Chandler Inn; Orange Line/Back Bay; 617-482-4428; www.fritzboston.com
As the Red Sox and Patriots games being shown on the 6 flat screen plasma TVs located throughout the bar make clear, food is not the main emphasis in this neighborhood spot that bills itselfs as a "gay sports bar" . . . but Fritz does serve a popular brunch on weekends and Monday holidays in their cafe.
Gaslight, Brasserie du Coin

French
560 Harrison Ave; Orange Line/Back Bay; 617-422-0224; www.gaslight560.com
At this fabulous French brasserie, you can get everything from fried mussels to fromage blanc to steak frites to salade nicoise. The mouth-watering croque-monsieur, served with perfect frites, is reason alone to go.
The weekend brunch menu offers a nice selection of omelettes, crepes, buttery croissants, fruits de mer, and light soups and salads. Since this is a brasserie, beverage choices are plentiful and excellent - super French wines, draft beers, and cocktails.
This is a place where you'll have a great time, great food, and of course, great drinks.
From April - October, come for brunch on Saturday or Sunday, and the stroll over to the nearby SoWa Open Market for an afternoon of treasure hunting.
Ginger Park

Asian fusion

- CLOSED
1375 Washington Street; Orange Line/Back Bay; 617-451-0077
Small plates with Asian fusian is the theme at Ginger Park, with favorites from across Southeast Asia to India with a little Korean BBQ thrown in. Chef Patricia Yeo from New York has been brought in to oversee the new restaurant, which replaces popular (but pricy) banQ.
Most "plates" are under $20, and are intended to be shared . . . but you'll probably want at least 2 per person, so expect a final tab equivalent to a $$$$ restaurant.
Hamersley's Bistro

French
553 Tremont Street; Orange Line/Back Bay; 617-423-2700; www.hamersleysbistro.com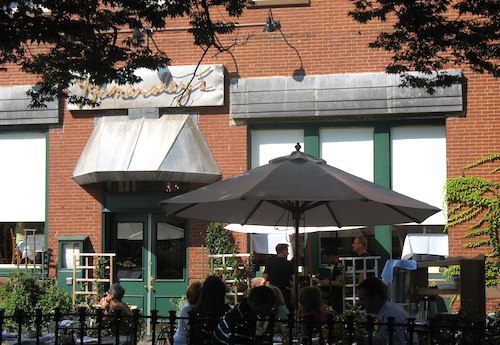 Outdoor dining at Hamersley's Bistro on Tremont Street in Boston
Gordon Hamersley, the first big-name chef to open a restaurant in Boston's South End, continues to delight bistro diners by creating innovative contemporary cuisine based on hearty French country dishes.
Expect robust flavors based on garlic, lemon, and herbs.
Seasonal menus feature seafood, meats, poultry, and vegetables provided by local growers, some of whom have collaborated with Hamersley for decades.
House of Siam

Thai
542 Columbus Ave; Orange Line/Back Bay; 617-267-1755
One of the very best Thai restaurants in Boston . . . a fact that unfortunately is well known, so you may have a wait - but rest assured you'll feel amply rewarded by the delicious food. If you come more than once, the manager and waiters will remember you and greet you warmly.
Jae's Cafe

Asian
520 Columbus Ave; Orange Line/Back Bay; 617-421-9405; www.jaescafe.com
Pan-Asian . . . Korean, Japanese, and Thai, with a little fusion thrown in.
Masa Restaurant

Southwestern
439 Tremont Street; Orange Line/Back Bay; 617-338-8884; www.masarestaurant.com
Possibly the only South End restaurant featuring Southwestern flavors.
Mela

Indian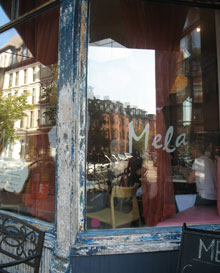 578 Tremont Street; Orange Line/Back Bay; 617-859-4805; www.melarestaurant.com
This stylish South End restaurant offers some of the best Indian cuisine in this part of Boston - traditional Indian dishes, including lots of vegetarian options.
The daily lunch buffets and weekend brunch buffets include lots of different dishes and provide a great way to sample many things and discover your favorites. At dinner, opt for the 2-person prix-fixe menu - great value!
Mistral

French
223 Columbus Ave; Orange Line/Back Bay; 617-867-9300; www.mistalbistro.com
French-Mediterranean cuisine with a twist, in one of Boston's loveliest restaurants. Try the big flat grilled pizzas with truffled mashed potatoes and beef carpaccio.
Myers + Chang
Asian
1145 Washington St. near Berkeley; Orange Line/Back Bay; 617-542-5200; myersandchang.com
Enjoy addictively delicious interpretations of Chinese, Taiwanese, Thai, and Vietnamese favorites by the chef and creator of popular Flour Bakery + Café down the street. Standouts include dan-dan noodles with spicy peanut sauce, wok-charred greens, scallion pancakes, and pork sausage..
They'll also give you a vegetarian, gluten-free, shellfish-free, and nut-free menu upon request.
Plates are small (think tapas) so if you're really hungry, you'll want to order more than one. Try several, and you'll realize that you need to move nearby so that you can eat all your meals here.
Noche

Contemporary American
3 Appleton Street (below street level); Orange Line/Back Bay; 617-482-0117; www.noche-boston.com
Designer cocktails such as the Caramel Macchiato (espresso and Godiva caramel liquors, cream) and the Cranberry Coconut Mojito, New American cuisine, and sparkling white-on-white welcome the night in the space occupied for 30+ years by Icarus. New focus: "upscale lounge serving food," according to Euz Azevedo of Boston Nightlife Ventures, the team behind nightspots The Tap, near Faneuil Hall Marketplace, and The Federal, near Mass General and Beacon Hill.
Oishii Boston
Japanese
1166 Washington St. near Berkeley; Orange Line/Back Bay; 617-482-8868; oishiiboston.com
Experience sushi and sashimi, and other Japanese favorites as an art form. Oishii lifts typical Japanese dishes and flavors to sublime heights. Specialty drinks and sake will enhance your experience - try the green tea martini made with Zen Green Tea liquor, or order from the extensive list of sake and sho chu. This stylish South End restaurant is also one of the best places in the city to get green tea ice cream . . . but for a special experience, try the green tea tiramisu.
Orinoco

Venezuelan
477 Shawmut Ave; Orange Line/Back Bay; 617-369-7075; www.orinocokitchen.com
In Boston's South End restaurants come in all flavors - but this may be the only Venezuelan spot in the neighborhood. Not only is the food delicious, but you won't have to empty your pockets when the check arrives. Try the arepas - grilled corn pocket sandwiches with tasty fillings. Main course offerings include Venezuelan specialties, many served with rice, black beans, and plaintains. Delicious Venezuelan flan is available for dessert - but you may be unable to resist the molten chocolate cake made with Venezuelan dark chocolate.
Petit Robert Bistro
French
480 Columbus Ave; Orange Line/Back Bay; 617-867-0600; www.petitrobertbistro.com; other locations in Fenway and Needham
Fabulous French bistro food by one of Boston's most revered French chefs, Jacky Robert. Focusing on "homestyle" cooking, this charming and cozy South End Restaurant is the place to go for French comfort food - onion soup, coq au vin, lobster bisque, and perfect steak-frites with bearnaise sauce. You'll also enjoy the wines, which are as terrific as the food. Petit Robert Bistro is one of my personal favorites. More about Petit Robert Bistro
Pho Republique $$

Vietnamese-French fusian
1415 Washington Street; Orange Line/Back Bay; 617-262-0005; www.phorepublique.net
Pho Republique in Boston's South End
If you enjoy fusion, try Pho Republique, a French-Vietnamese South End Restaurant that borrows from other Asian cuisines for its eclectic menu.
Picco

Pizza and Ice Cream
513 Tremont Street; Orange Line/Back Bay; 617-927-0066; www.piccorestaurant.com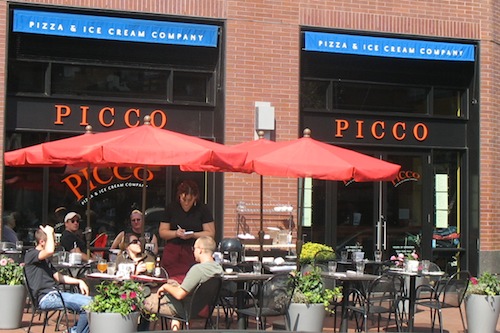 Patio dining at South End restaurant Picco
Ah, Picco . . . in some ways, the quintessential South End restaurant - uh, I mean, "pizza and ice cream company."
Soup stocks, sauces, ice cream, sausages, meatballs, baked desserts . . . they're all made on site, from scratch.
The pizza dough ferments, cold, for 2 days in order to develop exactly the right texture and rich flavor. Only the highest quality chocolate and spices are used for desserts, and only the best cheeses from the right places in Italy grace the pizza. Wine and beer selections not only pair perfectly with the food, but also embody organic and biodynamic farming methods.
Picco's pizzas, ice creams, other items . . . well, let's just say that after savoring the pizza and ice cream here, you'll find yourself looking for opportunities to stop by for more.
Pops Restaurant $$$

Organic American
560 Tremont Street; Orange Line/Back Bay; 617-695-1250; www.popsrestaurant.net
American dishes featuring organic veggies, meat from animals raised without antibiotics, and fish from renewable sources.
Rocca Kitchen and Bar $$$

Italian

CLOSED
500 Harrison Ave; Orange Line/Back Bay; 617-451-5151; www.roccaboston.com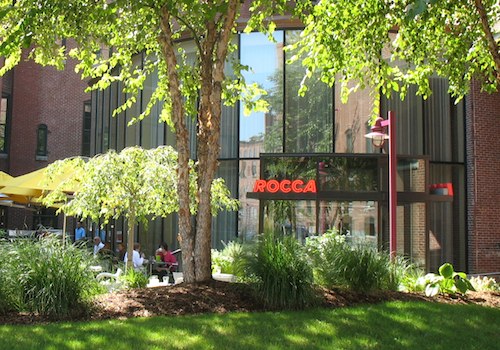 Rocca, Michela Larson's Italian restaurant featuring Ligularian cuisine in Boston's South End
Conceived and created by Michela Larson's Sapphire Restaurant Group as a neighborhood kitchen and bar, Rocca takes inspiration from the cuisine of Ligularia, the sun-baked Italian Riviera where land meets the sea.
Accordingly, the menu focuses on simple but tasty preparations of seafood, meats, poultry, and vegetables. Olive oil, pestos, lemons, anchovies, and herbs add complexity and flavor.
During warm weather, you'll enjoy dining outdoors in the garden patio. We love to come for Sunday brunch (mouth-watering corn and tomato pizettas, fabulous prosciutto panini with gotta-have-more olive tapenade, plus other yummy treats), and then pop across the parking lot for an enjoyable stroll through the SoWa Open Market.
Sage $$$

Italian
1395 Washington Street; Orange Line/Back Bay; 617-248-8814; www.sageboston.com
Delicious modern Italian cuisine. No heavy red sauce is evident here - just high-quality meats and seafood nicely cooked, flavored with things like garlic and truffles, and accompanied by Italian favorites such as white beans, roasted figs, and artichoke hearts. A nice tasting menu, with or without wine parings, is also offered.
Sibling Rivalry $$$$

French and American
525 Tremont Street; Orange Line/Back Bay; 617-338-5338; www.siblingrivalryboston.com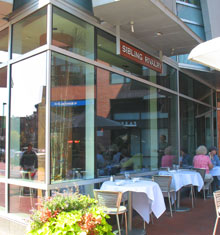 The intriguing concept behind this innovative South End restaurant is that each of the 2 brothers/chefs has his own culinary style - one follows traditional French high-cuisine techniques, while the other embraces robust American cooking.
Both chefs start with the same fresh seasonal ingredients but produce 2 "dueling" menus and diners get to decide which is best.
The reality is that each brother/chef is so good that there's really no contest: both are winners.
You're sure to enjoy the ambiance in this warm, welcoming restaurant with tantalizing glimpses of the kitchen - but the real star is the food - from both sides of the menu. During warm months, sit outside in the semi-enclosed terrace that is one of the South End's best people-watching spots.
South End Buttery $ - $$

Bakery plus Breakfast and Casual Food
314 Shawmut Ave; Orange Line/Back Bay; 617-482-1015; www.southendbuttery.com
Known for its yummy cookies, cupcakes, sandwiches, and breakfast items - for sheer bliss, try their buttermilk biscuit with scrambled eggs, bacon, and aged cheddar - the Buttery has now added a bar menu featuring innovative spins on bistro classics accompanied by interesting wine and beer choices.
Stella

Italian
1525 Washington Street; Orange Line/Back Bay; 617-247-7747; www.bostonstella.com
This popular South End restaurant features sumptuous Italian regional favorites from every part of Italy. In warm weather, you'll enjoy the lovely outdoor seating area. This is a great place for lingering over Sunday brunch, and then popping into a few SoWa galleries.
The Beehive

Eclectic Food + Music
541 Tremont Street; Orange Line/Back Bay; 617-423-0069; www.thebeehive.com
Come to The Beehive to enjoy a mix of food, live music (almost every night!), full bar, and no cover. Features an eclectic mix of music ranging from jazz to country to flamenco (and I'm leaving out a lot), as well as an ever-changing menu with flavors from around the globe - plus lots of theme evenings based on holidays, events, types of cuisine - you name it! Lots of top local musicians (many with national/international reputations) perform here. Oh, and it doubles as an informal gallery. Located in the Boston Center for the Arts complex.
The Butcher Shop $$$$

Butcher Shop + Deli + Casual Food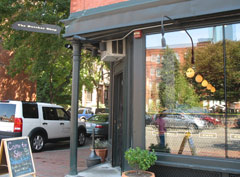 552 Tremont Street; Orange Line/Back Bay; 617-423-2008; www.thebutchershopboston.com
Yes, this is a butcher shop where you can buy everything from exquisite cuts of perfectly marbled beef to the richest foie gras . . . but it's also a cozy neighborhood wine bar serving fabulous charcuterie, antipasti, and bistro food . . . oh, and some of the best wine of any South End restaurant. One more small detail...The Butcher Shop is the creation of top Boston chef Barbara Lynch (Menton, Drink, No. 9 Park, Sportello), and author of Stir.
The Dish $$

American
253 Shawmut Ave; Orange Line/Back Bay; 617-426-7866; www.southenddish.com
Hip and trendy, this neighborhood bistro's wine list is longer than its menu. Food offerings include wood-fired pizzas, small plates—appetizers, salads, and large plates—risottos, meat and fish, curries. Billed as "American homestyle," the food's influences and seasonings are global. The results are delicious. If you like bistro food, imaginative cooking, and a friendly atmosphere, this South End restaurant could become one of your favorite places in Boston. Oh, and did I mention their innovative sake cocktails?
Tremont 647 $$$

American
647 Tremont Street; Orange Line/Back Bay; 617-266-4600; www.tremont647.com
This popular South End restaurant delivers big international flavors in its mostly American cuisine. The menu changes frequently, but certain favorites such as momos remain constant due to customers' demands. Southern touches such as cornbread, greens, barbeque, and creole seasonings give the food a "down home" feeling, even though global influences get equal space (how many non-Asian Boston restaurants include Vietnamese coffee on their menu?). Tasting menus with 5 and 7 courses are offered, with or without wine.
Twenty Eight Degrees $$$

Seafood plus Steak and Pizza
1 Appleton Street; Orange Line/Back Bay; 617-728-0728; www.28degrees-boston.com
The raw bar and seafood entrees dominate the menu, although you can also get a steak and pizza. The bar takes center stage, with fresh fruit cocktails and a carefully chosen wine list.
Union Bar and Grille $$$

American
1357 Washington Street; Orange Line/Back Bay; 617-423-0555; www.unionrestaurant.com
American bistro featuring hearty food with interesting seasonings.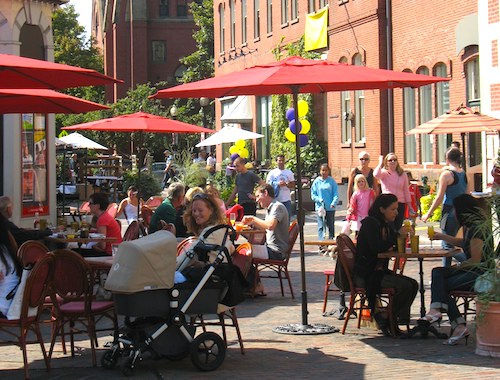 Outdoor dining in Boston's South End
Like this Page? Please Share!
South End Restaurants > Boston Restaurants > Boston Tourism and Discovery Guide