Shakespeare on the Common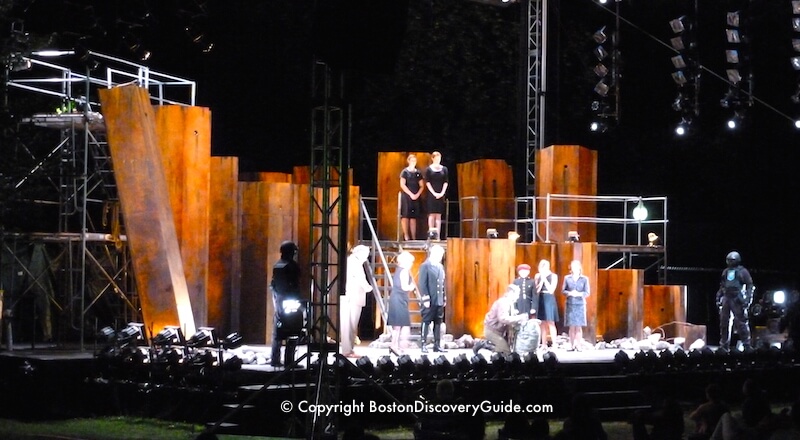 Get ready for a magical evening of Shakespeare on the Common 2015 as the Commonwealth Shakespeare Company stages King Lear, its 21st annual production of free Boston theater during July and August.
This year's performance revisits one of Shakespeare's most heart-rending yet ultimately uplifting tragedies involving divided family loyalties, the ravages of old age, madness, greed, love, and the power of redemption.
There's nothing more perfect than enjoying one of these wonderful Shakespeare on the Common performances under the stars on a balmy Boston summer evening.
Performances take place in July and August on a temporary stage near the Parkman Bandstand on Boston Common.
Bring a blanket or low folding chair to sit on, and get ready to be entertained, to have your thinking challenged in new ways, and to listen to the thrilling language of Shakespeare, as meaningful today as when he wrote this play four centuries ago.
Check the Boston Event Calendar for July and August for exact dates and times.
---
"Cheat Sheet" for Shakespeare's King Lear
Can't Quite Recall this Play? Here are the Highlights
Shakespeare probably wrote King Lear around the beginning of the 17th century at some point between 1603 and 1606, several years after he finished writing Hamlet, another famous tragedy.
King Lear reveals a darker vision of the human condition than Hamlet, with an ending so bleak that a happier alternative has been substituted at times. Some critics consider it to be his most moving tragedy and possibly his greatest achievement as a playwright.
King Lear explores themes of love, honesty, loyalty, family ties, jealousy, the ravages of old age - with plenty of madness, lies, lust, deception, and betrayal thrown in.
Shakespeare based his play loosely on legends about Leir of Britain, a semi-mythological Celtic king who pre-dated the Romans, but also drew heavily upon other stories and works that would have been well-known during his time. Three major versions of the play published in 1608, 1619, and 1623 exist; some scholars now believe that Shakespeare revised the earliest manuscript himself. For almost 150 years, from the late 1600s to 1823, performances substituted a happier ending written by Nahum Tate.
Setting - England, including the heath and the Dover cliffs.
Plot - The central plot focuses on the aging King Lear, who has decided to divide his kingdom among his three daughters and then retire, living with each of them in turn. But he foolishly declares that he'll give the largest portion to the one who loves him best. Although the two older daughters, Goneril and Regan, deliver flattering speeches, their younger sister Cordelia declares that she has no words adequate to express her love.
Infuriated by Cordelia's unwillingness to accommodate his desire to hear words of praise, Lear disinherits her and divides his kingdom between the two older sisters and their husbands, the Duke of Cornwall and the Duke of Albany.
Lear then exiles his faithful supporter, the Earl of Kent, who has protested this unfair treatment, and summons Cordelia's suitors, the Duke of Burgundy and the King of France. After learning that Cordelia has been disinterited, the Duke of Burgundy withdraws his interest, but the King of France applauds her honesty and marries her.
Makes sense so far? It won't for long - all of this is reported second-hand by the Duke of Gloucester and the exiled Earl of Kent, who will soon return in disguise as Caius. Gloucester has his only family conflict brewing between his two sons, the illigitimate and ambitious Edmond, and his legitimate older son and heir-apparent, Edgar.
This is just the beginning. Soon, Lear will go into exile on the heath with his Fool after being rejected by Goneril and Regan and deserted by his knights, Gloucester will be deceived by Edmund and disinherit Edgar, Edgar will disguise himself as a madman named Tom O'Bedlam and wander about on the heath, Goneril and Regan will tire of their own husbands and compete for the affections of Edmund, and Cordelia will lead a French invasion of Britain in hopes of restoring Lear to the throne.
Much follows - blindness, more betrayals, more madness, and plenty of deaths due to a duel, poisoning, suicide, and more.
You can expect a fast-paced, funny evening that may leave you thinking about appearances, disguises, and reality. Keep in mind that during Shakespeare's time, men routinely played the roles of women - adding an additional layer of ambiguity and irony.
Meanings - Throughout the play, Shakespeare explores the tensions and disconnects between love and deceit, loyalty and betrayal, sacrifice and greed, youth and age, and a lot more. Madness and blindness are major metaphors.
Why does this play seem familiar? Shakespeare may have borrowed parts of the story line from numerous older sources, but the play has inspired plenty of productions, imitations, and riffs in the past 400+ years.
Francis Ford Coppola deliberately echoed King Lear in parts of his 1990 The Godfather Part III. An interesting 2002 adaptation for television, The King of Texas, depicts a Texan rising to power by violent means in the 1840s in the newly independent Republic. Samuel Beckett's Endgame parallels in it many ways. Numerous other movies incorporate at least some elements of the play.
And four centuries after its debut at the Globe Theatre, King Lear continues to be one of Shakespeare's most-performed tragedies on the stage. ArtsEmerson presented a production here in Boston last fall.
Bottom line: will you enjoy it? - Yes, absolutely. Commonwealth Shakespeare Company and director/founder Steven Maler excel at making even the most difficult plays accessible, and you can be sure they'll deliver an absorbing, compelling, contemporary performance to leave you entertained ... and perhaps thoughful.
---
Where to Stay Nearby
Watch Shakespeare on the Common, and then stroll back to your hotel in five minutes or less when you stay at one of these popular hotels overlooking the Common, or just a block away.

***y-hotels-bostoncommon—9zero-ritz-w-revere.shtml***

---
What to Expect in 2015 Performances
Typically, the 18 or so Shakespeare on the Common performances attract more than 100,000 people. Without a doubt, this is one of the most popular Boston theater events of the year.
In case you're inwardly groaning at the idea of an evening of Shakespeare, rest assured that this is not the stodgy stuff that you may remember from high school.
The high-energy performance typically mixes in plenty of bawdy jokes, and even songs and dance - perhaps not so different in spirit from how William Shakespeare's actors kept their diverse audience entertained in the Globe Theatre 400 years ago. It will be interesting to see how they manage to do this in King Lear.
---
What to bring for Shakespeare on the Common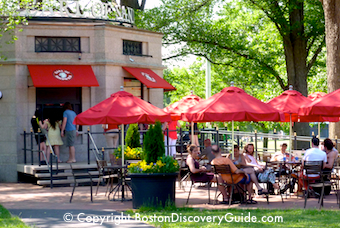 At a minimum, bring a blanket to sit on. The elevated, well-lit stage is at the bottom of a gentle slope, so you will be able to see well from wherever you're sitting. Some people also bring low folding chairs.
Mosquito repellant is always a good idea, and you should also bring an umbrella if there is any chance of rain. A light sweater or jacket can also be useful.
The area closest to the stage begins to fill up about 2 hours before the performance.
However, the lighting and sound systems make it easy for you to see and hear what's going on, so this is one time when you don't need to worry about getting a "good" spot.
Lots of people bring picnic dinners, and along with something cold and refreshing to drink. But if you don't have time to pack a dinner, don't worry. Stop by Earl of Sandwich (shown in photo) for casual fare. Other food vendors and food trucks will be nearby for some performances.
Alternately, have dinner before the performance at one of the terrific Theatre District restaurants just a block or two away, or stop by a local Boston nightlife spot after the performance for a perfect summer evening.
---
Essentials: Shakespeare on the Common
Boston Insider Tips
Alcoholic beverages are prohibited in Boston parks. However, you may notice a number of discrete thermoses and other beverage containers among the rather mellow crowd.