Shakespeare on the Common - 2016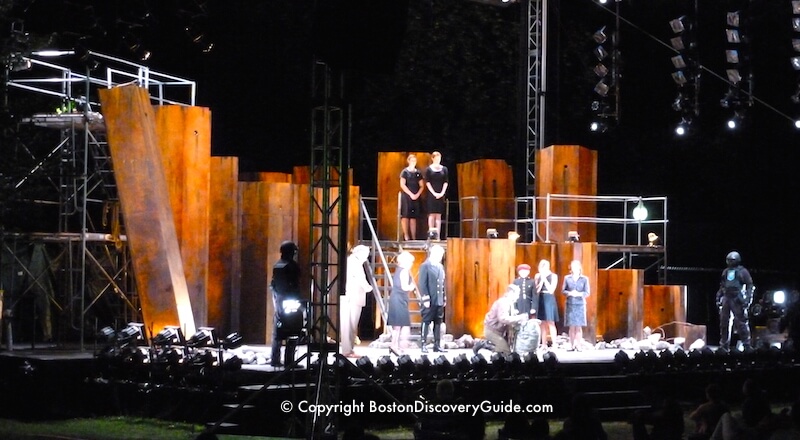 Get ready for a magical evening of Shakespeare on the Common 2016 as the Commonwealth Shakespeare Company stages Love's Labour's Lost, this year's annual production of free Boston theater during July and August.
This year's performance revisits one of Shakespeare's funniest early comedies about the failure of four young men to give up love and romance for 3 years.
There's nothing more perfect than enjoying one of these wonderful Shakespeare on the Common performances under the stars on a balmy Boston summer evening.
Performances take place in July and August on a temporary stage near the Parkman Bandstand on Boston Common.
Bring a blanket or low folding chair to sit on, and get ready to be entertained, to have your thinking challenged in new ways, and to listen to the thrilling language of Shakespeare, as meaningful today as when he wrote this play four centuries ago.
Check the Boston Event Calendar for July and August for exact dates and times.
---
"Cheat Sheet" for Shakespeare's
Love's Labour's Lost,
Can't Quite Recall this Play? Here are the Highlights
Shakespeare probably wrote Love's Labour's Lost around the mid-1590s, about the same time when he wrote Romeo and Juliet and A Midsummer Night's Dream. Although it's quite funny, the ending is somewhat ironic - which is part of what makes it interesting.
Setting - The court of Navarre, which in the 1500s was a Basque kingdom in what is now northern Spain and France.
Plot - Love's Labour's Lost centers around the antics of Ferdinand, the young King of Navarre, and his 3 best friends.
They decide to give up all thoughts of women for 3 years while they study and fast.
To make this easier to achieve, they ban women from coming within a mile of the court - and then almost immediately develop huge crushes on the Princess of Aquitaine and her ladies in waiting when they come to see the king but are forced to camp outside the 1-mile limit.
Using disguises and trickery, each of the men manages to court the woman of his choice, not realizing the others are hidden nearby in spy mode.
Like most of Shakespeare's comedies, Love's Labour's Lost includes lots of puns, wordplay, and jokes, plus the longest word in any Shakespeare play:  honorificabilitudinitatibus (which, in case you are wondering, is Latin and means "being able to receive honors."
There is also plenty of intrigue, some amount of betrayal, a surprise pregnancy, and a victory by the women as they manage to outwit the men.
However, in the end, the Princess's father dies. She and the other women leave Navarre for a year and a day of mourning, challenging the men to use this time to prove their love is lasting.
Meanings - Throughout the play, Shakespeare explores tensions and disconnects between love and deceit, openness and disguise, passion and abstinance.
What makes the play particularly interesting is the unexpectedly somber ending: have the men just been playing a game of love, or will their proposals of marriage withstand a year and a day of waiting?
Why does this play seem familiar? You may have seen a musical adaptation of it 3 years ago as part of New York's Shakespeare in the Park program.
Bottom line: will you enjoy it? - Yes, absolutely. Commonwealth Shakespeare Company and director/founder Steven Maler excel at making even the most difficult plays accessible, and you can be sure they'll deliver an absorbing, compelling, contemporary performance to leave you entertained ... and perhaps thoughful.
---
Where to Stay Nearby
Watch Shakespeare on the Common, and then stroll back to your hotel in five minutes or less when you stay at one of these popular hotels overlooking the Common, or just a block away.

***y-hotels-bostoncommon—9zero-ritz-w-revere.shtml***

---
What to Expect in 2016 Performances
Typically, the 18 or so Shakespeare on the Common performances attract more than 100,000 people. Without a doubt, this is one of the most popular Boston theater events of the year.
In case you're inwardly groaning at the idea of an evening of Shakespeare, rest assured that this is not the stodgy stuff that you may remember from high school.
The high-energy performance typically mixes in plenty of bawdy jokes, and even songs and dance - perhaps not so different in spirit from how William Shakespeare's actors kept their diverse audience entertained in the Globe Theatre 400 years ago.
---
What to bring for Shakespeare on the Common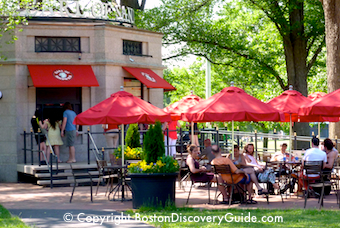 At a minimum, bring a blanket to sit on. The elevated, well-lit stage is at the bottom of a gentle slope, so you will be able to see well from wherever you're sitting. Some people also bring low folding chairs.
Mosquito repellant is always a good idea, and you should also bring an umbrella if there is any chance of rain. A light sweater or jacket can also be useful.
The area closest to the stage begins to fill up about 2 hours before the performance.
However, the lighting and sound systems make it easy for you to see and hear what's going on, so this is one time when you don't need to worry about getting a "good" spot.
Lots of people bring picnic dinners, and along with something cold and refreshing to drink. But if you don't have time to pack a dinner, don't worry. Stop by Earl of Sandwich (shown in photo) for casual fare. Other food vendors and food trucks will be nearby for some performances.
Alternately, have dinner before the performance at one of the terrific Theatre District restaurants just a block or two away, or stop by a local Boston nightlife spot after the performance for a perfect summer evening.
---
Essentials: Shakespeare on the Common
Boston Insider Tips
Alcoholic beverages are prohibited in Boston parks. However, you may notice a number of discrete thermoses and other beverage containers among the rather mellow crowd.