Shakespeare on the Common - 2013
Enjoy a Free Evening of Shakespeare in the Park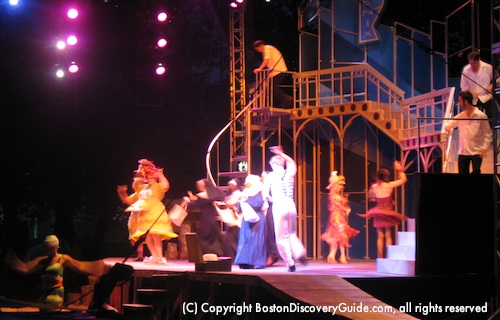 Shakespeare on the Common
Get ready for a magical evening of Shakespeare on the Common 2013 as the Commonwealth Shakespeare Company stages The Two Gentlemen of Verona, its 18th annual production of free Boston theater during July and August.
This year's performance brings a contemporary twist inspired by the Rat-Pack era of Las Vegas.
There's nothing more perfect than enjoying one of these wonderful Shakespeare on the Common performances under the stars on a balmy Boston summer evening.
Performances take place in July near the Parkman Bandstand on Boston Common.
Bring a blanket or low folding chair to sit on, and get ready to be entertained, to have your thinking challenged in some way, and to listen to the words of Shakespeare, as meaningful today as when he wrote them 4 centuries ago.
Check the Boston Event Calendar for July for exact dates and times.
The Two Gentlemen of Verona "Cheat Sheet"
Can't Quite Recall this Play? Here's Are the Highlights
The Two Gentlemen of Verona may have been Shakespeare's first play, possibly written in 1590 or 1591.
However, what makes this tale of friendship, love, betrayal, and deception interesting is that it's not quite a comedy and not quite a romance, nor is it a tragedy.
You can see the beginning of themes and motifs that Shakespeare develops more fully in later plays, such as the device of a woman who disguises herself as a man.
Two Gentlemen also includes best friends who pursue the same woman, parents who try to control their children's lives, and even a band of outlaws...and that's just the beginning.
Setting - Verona and Milan.
Plot - Hmm...too many twists to tell you the whole thing, but this is how it begins: Valentine (a young man of Verona) decides to visit Milan and tries to persuade BFF Proteus to go with with him. Proteus is in love with Julia who loves him in return but doesn't want to tell him so he wants to remain in Verona but his father tells him to follow Valentine to Milan.
Proteus gets to Milan and discovers Valentine has fallen in love with Silvia, the Duke's daughter, and so naturally he instantly falls in love with her too (poor Julia). The Duke wants Silvia to marry wealthy Thurio and is suspicious of Valentine, so he locks Silvia in her tower every night.
Meanwhile, Julia decides to follow Proteus to Milan and dresses as a boy for the journey. Once there, she discovers Proteus serenading Silvia and rightly guesses what he's up to, so she becomes his page "Sebastian" and thus gets to give Silvia a ring from Proteus that she, Julia, has given him back in Verona.
The plot gets even more complex, including Valentine's involvement with the outlaws, and I don't want to ruin the fun for you - so let's just you'll find plenty more plot twists and turns to keep you entertained.
Meanings - Throughout the play, Shakespeare explores the tensions and disconnects between friendship and love, romance and guilt, love and deceit, comedy and farce.
Bottom line: will you enjoy it? - Yes, absolutely. Commonwealth Shakespeare Company and director/founder Steven Maler excel at this type of play, and you can be sure they'll deliver a compelling, entertaining performance to leave you laughing...and maybe even thinking about love and friendship.
Where to Stay Nearby
Watch Shakespeare on the Common, and then stroll back to your hotel in five minutes or less when you stay at one of these popular hotels overlooking the Common, or just a block away.
| | | | |
| --- | --- | --- | --- |
| | | | |
What to Expect in 2013 Performances
Typically, the nineteen Shakespeare on the Common performances attract more than 100,000 people. Without a doubt, this is one of the most popular Boston theater events of the year, and it creates more and more fans each year.
In case you're inwardly groaning at the idea of an evening of Shakespeare, rest assured that this is not the stodgy stuff that you may remember from high school.
In fact, Commonwealth Shakespeare's website warns that this play "May not be appropriate for all ages. Parental discretion is advised." (Although in reality, there are usually plenty of families with young children in attendence.)
This year's production promises to bring new meaning to the line, "What happens in Milan, stays in Milan..."
The high-energy performance typically mixes in plenty of bawdy jokes, and even songs and dance - perhaps not so different in spirit from how William Shakespeare's actors kept their diverse audience entertained in the Globe Theatre 400 years ago.
What to bring for Shakespeare on the Common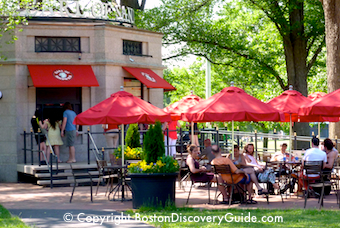 At a minimum, bring a blanket to sit on. The elevated, well-lit stage is at the bottom of a gentle slope, so you will be able to see well from wherever you're sitting. Some people also bring low folding chairs.
The area closest to the stage begins to fill up about 2 hours before the performance.
However, the lighting and sound systems make it easy for you to see and hear what's going on, so this is one time when you don't need to worry about getting a "good" spot.
Lots of people bring picnic dinners, and along with something cold and refreshing to drink. But if you don't have time to pack a dinner, don't worry. Food vendors typically hail from some of Boston's favorite eateries, plus the Common's new Earl of Sandwich food pavilion (shown in photo) is nearby.
Alternately, have dinner before the performance at one of the terrific Theatre District restaurants just a block or two away, or stop by a local Boston nightlife spot after the performance for a perfect summer evening.
Details about Shakespeare on the Common
Insider tips
Alcoholic beverages are prohibited in Boston parks. However, you may notice a number of discrete thermoses and other beverage containers among the rather mellow crowd.
Like this Page? Please Share!
Boston Tourism and Discovery Guide > Boston Theatre > Shakespeare on the Common