Home > Boston Event Calendar >
Running of the Brides
Boston wedding dress shopping at Filene's Basement
If you're looking for the perfect designer wedding dress - perhaps a Vera Wang or Priscilla of Boston dress - at a great discount price, join the Running of the Brides in Boston to experience shopping as a sport!
Running of the Brides Update
Sad news for all Running of the Brides and Filene's Basement fans: The famed store has closed after filing for bankruptcy.
Boston Discovery Guide will leave our Running of the Brides pages and photos up, at least for now, as a tribute to a great Boston event and with the hope that it will be revived in the future. Enjoy the photos!
On just 2 days each year - 1 day in February and 1 day in August - Filene's Basement holds Boston's most popular bridal shopping event, Running of the Brides. It's your chance to buy designer wedding dresses at amazingly cheap discount prices.
Please note: Relive the fun of previous events by checking out Running of the Brides photos!
Goal for Running of the Brides: A beautiful wedding gown and a happy bride-to-be

Wedding gowns from top fashion designers such as Carolina Herrera, Vera Wang, Priscilla of Boston, Monique Lhuillier, Nicole Miller, and Claire Pettibone are shipped in for each event, as Filene's Basement doesn't normally carry wedding dresses as part of its normal stock.
Priced at $249, $499, and $699, some of the 2,800 or so deep-discount wedding dresses lining the racks originally cost as much as $9,000 - or more!
Filene's Basement acquires the gowns from other retailers, so in many cases, you can find the original price tags still attached.
Named after Pamplona's famous Running of the Bulls, this event has excited Boston brides-to-be since 1947. Even though Filene's Basement now holds a Running of the Brides events in several other U.S. cities, the Boston event remains the biggest, the most famous, and even though I'm sure I'm biased, I'm also sure it's the best!
Be sure to check out Carson Kressley's bridal gown tips from his star appearance at this event.
What makes Running of the Brides so special
To me, Running of the Brides exemplifies why Boston is such a cool place to live and to visit - so I was thrilled to recently have the chance to talk with Pat Boudrot, Filene Basement's Public Relations Director of the Running of the Brides event for the past 16 years. Pat shared her insights and tips about this special event.
"There's nothing like it anywhere else in the world," Pat told me. "So far, I know of brides-to-be traveling to Boston for the August event from all over New England and the U.S., Canada, The Netherlands, Singapore, and Chile. This past February, there were brides from San Francisco, Houston, Toronto, Cape Breton, Bermuda, and Brazil."
"What makes this event really special," Pat explained, "isn't just the dresses, even though you can get a gorgeous gown for a very affordable price. The best part is the camaraderie among the participants. A real bonding takes place as everyone helps each other find the perfect gown in the right size."
Rows and rows of gorgeous gowns await the brides-to-be and their teams of helpers
Filene's Basement holds the event in Boston's Hynes Convention Center, the perfect space for the enthusiastic crowd of approximately 1,200 lining up before the doors open.
Don't let this number worry you, though - only about 250 are future brides. Teams of helpers make up the rest of the shoppers. There are plenty of gowns for everyone.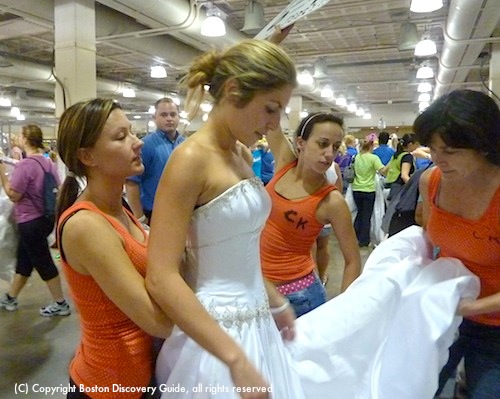 Team members help a bride-to-be try on a wedding dress
This kind of bridal gown shopping isn't for everyone. It can feel almost more like a sports competition than shopping. And like other sports events, you can bring home a nice trophy if you win - the perfect wedding dress at a bargain price!
Fortunately, though, you can also score the perfect dress without participating in the initial frenzy. Just arrive at 9am or later, after the initial rush subsides and available gowns have been returned to the racks.
Ready to be one of the running brides?!?
Then check out my winning strategies for scooping up the wedding gown of your dreams.
Running of the Brides winning strategies:
7 tips for how to capture the prize
Still up for this competition now that you've seen the Running of the Brides video?
OK, then use these 7 winning tips and strategies to score the perfect discount wedding dress:
1. Assemble a winning team. Here's what you need:
A couple of sprinters to beat the other runners to the racks and grab as many gowns as possible - remember, racks are usually emptied within the first minute or two after the doors open, so your goal is to stockpile gowns to trade later for the size and style you want
Some muscle for hoisting the gowns (they weigh a lot more than you might expect) to your pile
A guard or two, in case other brides try to steal your gowns
A negotiator to trade your reject gowns (wrong size, wrong style, wrong fit) for more desirable options - should be willing to make your "Need a size 8 in ivory" signs in advance so you can bring them to the event
A personal assistant to help you in and out of the dresses
A human shield or two, since you'll be trying on the dresses in the middle of the Hynes Convention Center (wear your best underwear) UPDATE: Get Carson Kressley's (Queer Eye for the Straight Guy) important advice about bras
A truth-teller who will give honest opinions when you look great in a gown...and more important, when you don't
A coach to keep your team working as a tightly knit unit and make sure everyone does her job
Yes, this is a large team. But this isn't the time to skimp. Recruit the best talent you know.
2. Train your team. Show them pictures of your favorite wedding dress styles so that they'll know what to grab and trade for. Tell them your size, and be truthful. Wedding gown alterations can be expensive, so you'll save money if the dress fits reasonably well. Create signs for strategic dress bartering. Make sure each team member knows her role and everyone else's mobile phone number to ensure easy communications during the frenzy . . . I mean, shopping experience.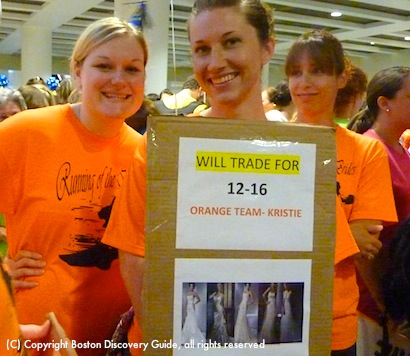 Signs help brides-to-be find the perfect wedding gown
3. Choose your colors. Many groups dress in identical t-shirts or other clothing to be able to locate each other quickly among the sea of white gowns, build team spirit, and add to the fun.
4. Arrive early . . . perhaps very early. Some teams start lining up on the sidewalk outside the Hynes on the night before. This is pleasanter in August than in February. If you try this in February, dress very warmly and consider booking a room in a nearby hotel so that team members can take turns warming up and even sleeping. Two good hotel choices right next to the Hynes are the Sheraton Boston Hotel and the Hilton Back Bay Boston. Scroll down to Essentials for more choices.
5. Once the doors open, be aggressive in your quest, but nice. Do not shove or injure the competition. Remember, lots of cameras are in action, and you don't want to end up on YouTube in the "Nastiest Bridezilla of the Year" video that goes viral.
6. Keep your goal in mind. It's easy to get caught up in the quest - so remember what you're really here for. Is it a specific style or designer? In that case, don't settle if you don't find what you want. Just because you're here doesn't mean you have to buy something. If your main goal is to get a discount wedding dress, then be flexible. You'll find a lot of gorgeous dresses, so just pick out the one you love the most. Read Carson Kressley's recommendations for finding the perfect gown - and how to make the gown even better!
7. Reward your team after the event. Give each team member a small gift - or take them out to lunch or for drinks, depending on what time you finish!
What if your gown is almost perfect - but not 100%?
Situation: You find the gown of your dreams . . . but it's too big or too small, needs repair or cleaning, or maybe even restyling. What do you do?
Solution: Pat Boudrot, Filene's Basement PR Director for this event, arranges for experts on wedding gown cleaning and alterations to be on site to give you free advice about what's possible - and what's not - and also a ballpark price for doing the work. If you live in Boston, you can make arrangements with them, if you want, to do the work - or take your gown to a tailor or dry cleaner near your home.
Plenty for everyone - even after the first rush!
If assembling and managing a big team isn't your cup of tea but you'd still like to try your luck at this special event, here's another strategy: stop by later in the day.
Numbers are on your side: with only about 250 brides competing for over 2,800 wedding dresses, you'll find plenty of gorgeous choices left after the big rush is over. Don't worry about the "best" wedding dresses being long gone. Since everyone's taste and size is different, you'll have an excellent chance of discovering a gown you love.
In fact, your chances of finding the perfect discount wedding dress at the Running of the Brides may even be better later in the day than when the doors first open . . . you can look at leisure without the distraction of an excited crowd around you.
Keep in mind these words of experience from a happy Boston bride:
"I found a gorgeous dress at ROTB in Boston that I am absolutely in love with. I went by myself late morning/mid afternoon, and there were still tons of dresses without all of the chaos. The other brides and their families who were still there were so friendly and helpful in helping me get zipped up, taking pictures, and offering advice. What a wonderful experience!"
And what a great summary of the Running of the Brides experience!
Essentials - Running of the Brides
When: Please note: This event has been canceled, due to Filene's Basement's bankruptcy filing

Where: Hynes Auditorium, 900 Boylston Street, Back Bay neighborhood, Boston

Park:

On-site fee-based parking garage next door at Prudential Center is closest - but pricey. Check out

Boston parking garages in Fenway

for nearby cheaper alternatives.

Nearest T stop: Green Line/Hynes

Hotels:

-

Sheraton Boston

(

reviews/rates

) - Next to the Hynes

-

Hilton Back Bay

(

reviews/rates

) - Also next to the Hynes

-

Charlesmark Hotel

(

reviews/rates

) - Also nearby, but this small boutique hotel fills up quickly because of its reasonable rates - if you want to stay here, book your reservations early

-

Hotel 140

(

reviews/rates

) - Inexpensive hotel on the other side of Copley Square, just a few blocks away

-

Boston Common Hotel

(

reviews/rates

) - One of Boston's biggest bargain hotels, close to Copley Square

-

Hotel Buckminster

(

reviews/rates

) - Located a few blocks away near Fenway Park, with low rates when there's no Red Sox game scheduled

-

Mandarin Oriental

(

reviews/rates

) - Splurge on this luxury hotel close to Hynes Auditorium - treat yourself to the spa with your wedding dress savings - or make reservations for your honeymoon
Like this Page? Please Share!
Home > Boston Shopping > Running of the Brides