Running of the Brides Photos
Gorgeous wedding gowns and brides-to-be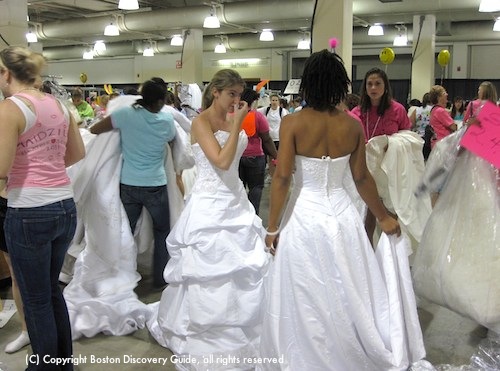 Check out these Running of the Brides photos, taken at the Boston event held on August 20, 2010, to see beautiful wedding gowns, excited brides with their teams of helpers, and even a fashion celebrity on this special day.
11/3/11 - Filene's Basement has filed for bankruptcy . . . so sadly, this brings Running of the Brides to the finish line. More details
Twice each year, in February and August, Filene's Basement offers gorgeous designer wedding gowns at deep-discount prices.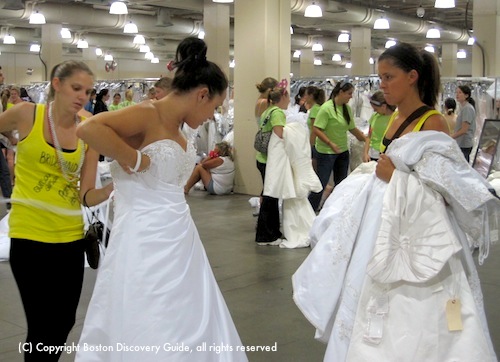 Running of the Brides (ROTB), as the race to get one of these beautiful but inexpensive gowns is called, has been a legendary Boston experience for more than 60 years.
Brides-to-be come from Boston, New England, the rest of the U.S., and around the world, all seeking the perfect wedding dress. If you're planning a wedding, put ROTB on your calendar!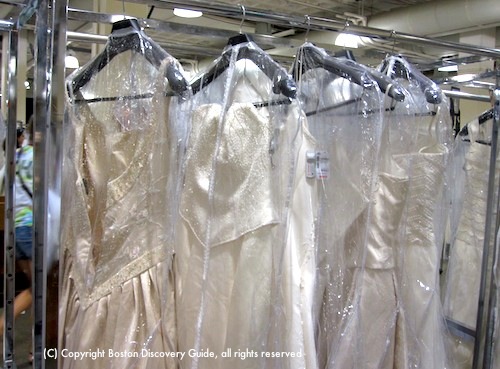 Beautiful wedding gowns await the brides
To my delight,
Pat Boudrot,
Filene's Basement's dynamic Public Relations Director for the event, invited me to experience the August 2010 event first hand, talk with the brides-to-be and their helpers, and even peek behind the scenes.
I hope my Running of the Brides photos on this page give you a sense of the excitement, camaraderie, and joy when each future bride finds her perfect gown.
Running of the Brides photo gallery

Return to Top: Running of the Brides Photos
Running of the Brides photos - Minute by minute!
7am - Arrival at Hynes Convention Center
Almost 2,000 excited shoppers line up in the lobby inside Boston's Hynes Convention Center.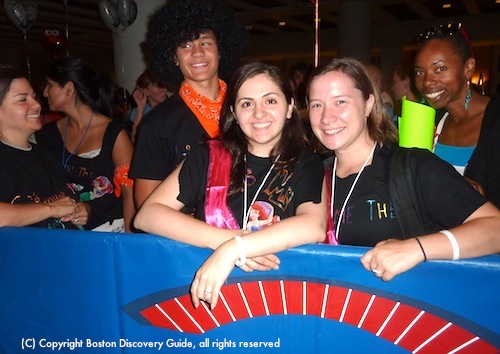 Groups holding the first positions in line arrived the night before, while those not far behind them came at 5:00 or 6:00 this morning.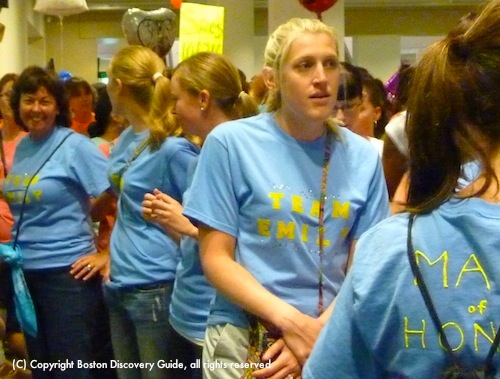 Members of Team Emily wait for the doors to open
As a bonus surprise, I hear someone shouting, "Hey, Susan!" Then I see a couple of friends waving to me from the third-position group. Mom and Aunt of Emily, they are here to help her find the perfect wedding gown for her April 2011 wedding.
Yay, Team Emily!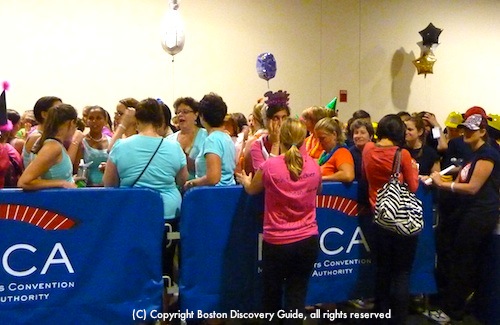 The long line of waiting brides-to-be and their teams extends along the lobby and around the corner


7:15am - Celebrity fashion designer/writer/actor Carson Kressley arrives
Suddenly the crowd screams with excitement.
Flanked by a dozen or more photographers hoisting huge video cameras and sound equipment, Carson Kressley (Queer Eye for the Straight Guy) walks across the lobby, waving to the crowd.
The screams grow even louder as he approaches.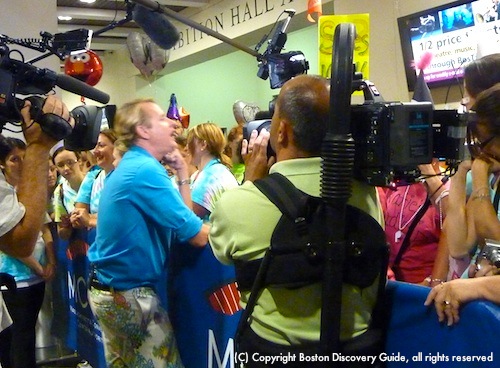 Carson chats with the waiting teams
I'm probably the only person in the crowd who has no idea who Carson Kressley is.
But by the end of the morning, I've had lots of close-up views of his helpfulness, sense of humor, unflagging energy - and amazing fashion design skills as I listen to him share wedding gown advice and tips with dozens of the brides-to-be. I'm now a huge fan!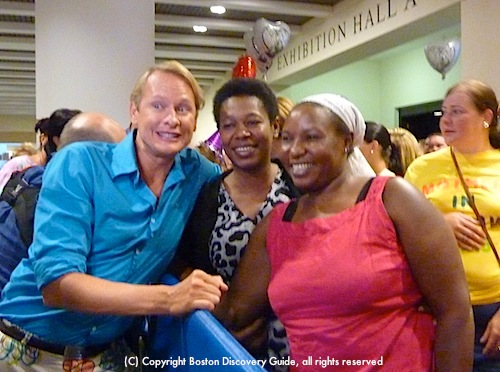 Carson poses with visitors from Uganda who have come to find a gown for their niece
7:25 - Team Oprah
I follow Carson, the cameramen, and a group wearing Team Oprah t-shirts into a private room with mirrors and a make-up counter. Team Oprah drills Carson about how not to get trampled by stampeding crowds.
That's when I finally realize that Team Oprah isn't the team of a bride-to-be named "Oprah," but is associated with Oprah - as in, mega-star Oprah Winfrey. As I'll find out later, they're here with Carson to film a segment for Oprah.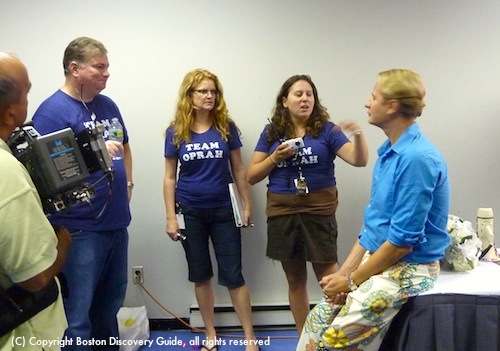 Team Oprah chats with Carson before Running of the Brides begins
7:40am - 3,000 wedding gowns await the brides
I show my press badge (thank you, Pat!) to gain admission to a huge ballroom, almost empty except for rows and rows of racks filled with gowns, extending farther than I can see.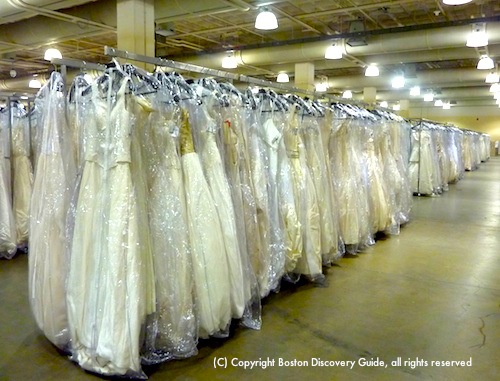 160 racks of dazzling gowns are ready for the crowd
Full-length mirrors are propped against pillars throughout the ballroom, but leaving nothing to chance, some brides choose to drop off their own mirrors ahead of time.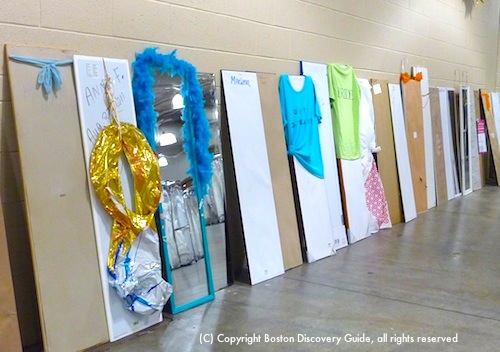 Brides' personal mirrors line the walls
I try to figure out where to position myself to be able to take photos - but not get trampled by the crowd when the doors finally open.
The professionals - the guys with the huge cameras and long poles - have placed themselves in front of pillars. "Always have something solid behind you when you're about to be stampeded," one of them advises me.
I quickly find my own pillar, and focus my (tiny) camera on the doors, ready to take Running of the Bride photos - assuming I don't get trampled. "How ferocious is this going to be?" I wonder.


7:59 - Final countdown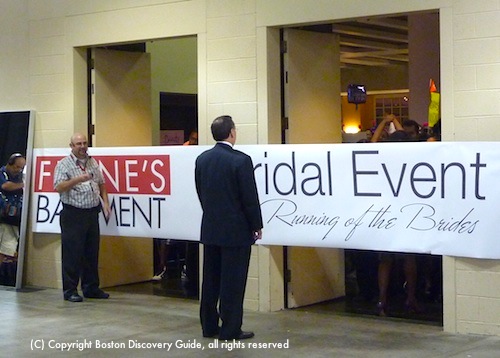 Filene's Basement official leads the countdown as the banners cover the doors
A Filene's Basement representative gives the 15-second warning.
Then the crowd starts screaming, "Ten . . . nine . . . eight . . . seven . . . six . . . five . . . four . . . three . . . two . . . one . . . !!!!!"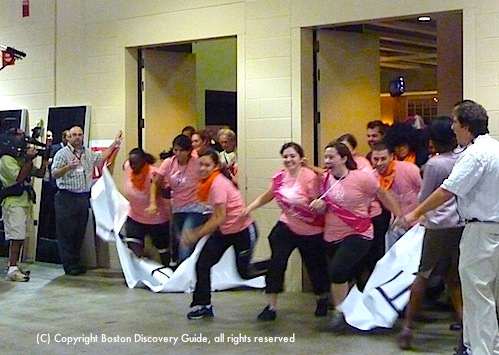 The team in the #1 position in line bursts through the door first

The crowd surges forward as the race for gowns begins!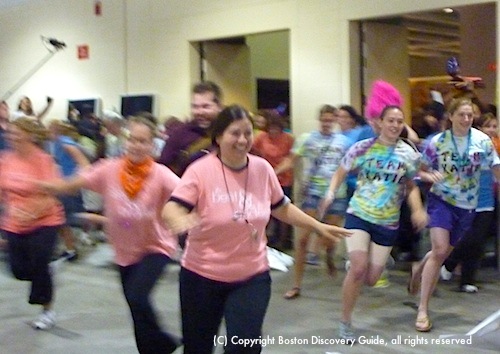 The team in 2nd position follows close behind the first team

Teams continue to race in. But no one pushes. No one shoves. Everyone smiles and laughs as they sprint toward the gowns.
And I'm still standing, untrampled, taking my Running of the Brides photos, and enjoying the excitement and energy.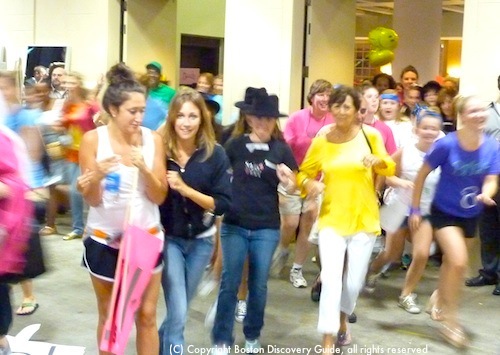 8:03 - Empty racks
Within less than a minute after the first teams dashed in, racks nearest the doors are stripped bare as team members grab as many gowns as they can carry.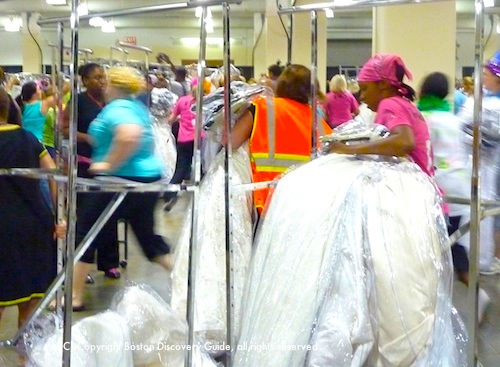 Within the next 2 minutes, the rest of the 3,000 gowns have been claimed. Teams continue to pour in - but the racks are empty.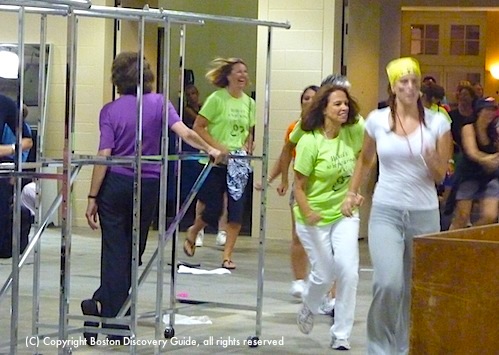 Pat begins a series of upbeat broadcasts that keep everyone's spirits up throughout the morning.
"If you're just now coming in and don't see any gowns," she says, "Don't worry. Gowns will be back on the racks soon. Remember - each bride is only going to buy one wedding dress. We have plenty of gowns for everyone - you will find your perfect gown!"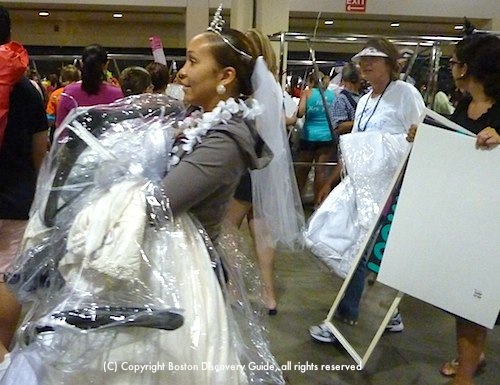 8:04 - Creating strategic stockpiles
A key strategy for many teams is gathering as many gowns as possible in order to trade later for desired sizes and styles. This means creating a stockpile - usually as large as possible!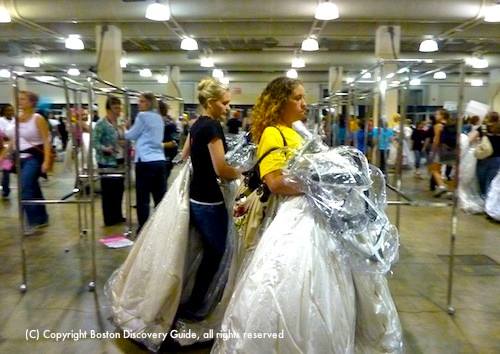 Runners haul gowns across the ballroom floor

Teams usually decide ahead of time on the general location (such as "far left corner") where they'll meet so that members will know where to haul their armloads of dresses.
"Runners" sprint across the ballroom, grab gowns, and race with them to the team's location.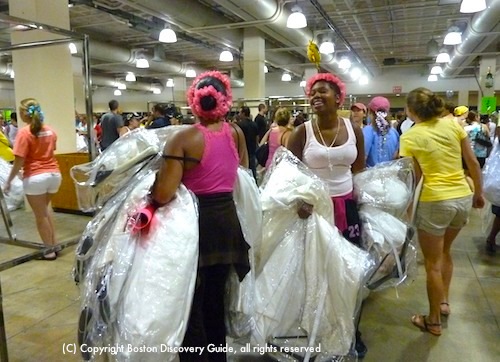 All of the gowns are protected by heavy plastic garment bags, and are hung on heavy hangers. As a result, they're heavier than they look - carrying more than 4 at a time is hard!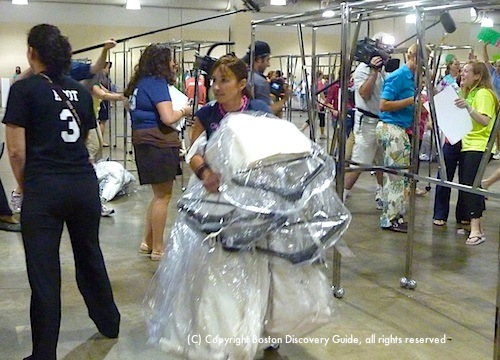 8:05 - Trading begins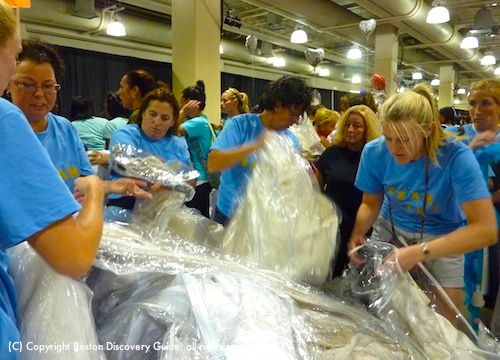 Once each team assembles its pile of gowns, sorting begins, as you can see in these Running of the Brides photos. Gowns that aren't close to the bride's size or her chosen style will be used for barter.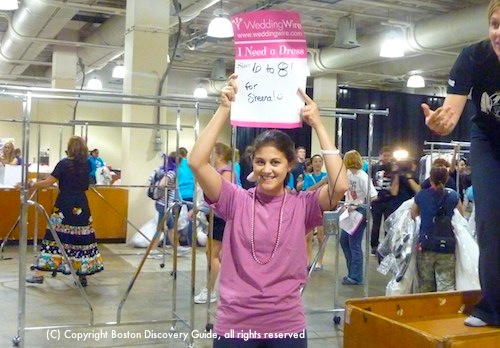 Team "negotiators" use signs to aid their search for desired sizes and styles.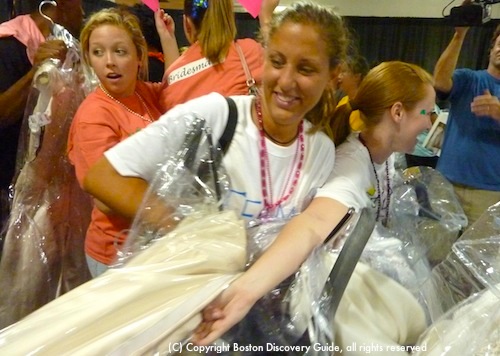 All of the negotiations that I observed were friendly and helpful. These team members had a bit of fun as they decided who would get to try on this gown first. And of course, there are plenty of gowns to go around!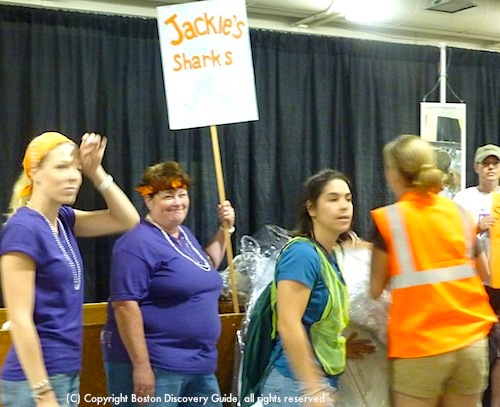 All "sharks" should look this pleasant and friendly!


8:05 - Trying on the gowns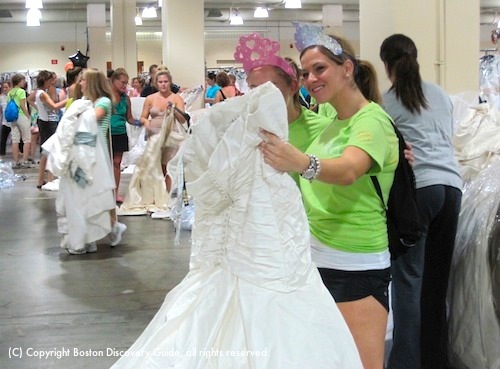 Although curtains lining the ballroom's walls provide some privacy for those who want it, most brides-to-be strip down to their undergarments and try on the gowns wherever their team has staked out space.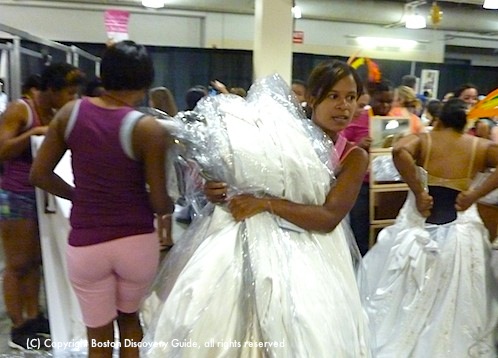 Typical undergarments for this occasion include tank tops, sports bras, or camisoles - which seems wise, considering the number of photographers at the event.
However, after hearing Carson explain how a top-quality strapless bra totally affects the fit of a wedding gown, I change my mind about the wisdom of wearing a tank top. If you're coming to this event to try on gowns, be sure to check out Carson's advice about bras.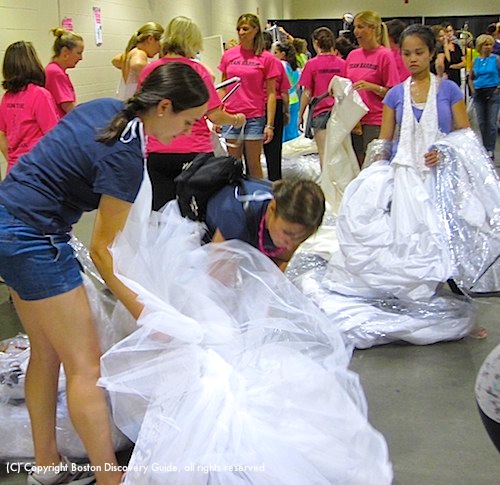 Some brides-to-be told me they'd tried on several dozens of gowns in their quest to find the perfect one.
Getting in and out of the dresses requires teamwork, as these Running of the Brides photos show.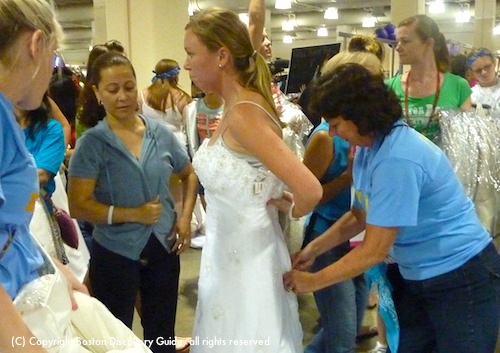 Selecting the perfect gown can be stressful.
Friends, cousins, and aunts are great assistants, but a mom's help can be the best!
8:10 - Choosing the perfect gown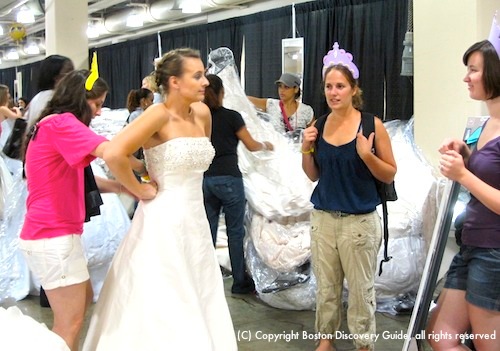 With so many gowns to choose from, how do you decide?
Team members hold mirrors, help with zippers, and give their opinions. At this event, Carson gave terrific advice to dozens of future brides. Pat also arranges for tailors to be present to advice on alterations and provide cost estimates.
In the end, though, the bride-to-be must make her own choice.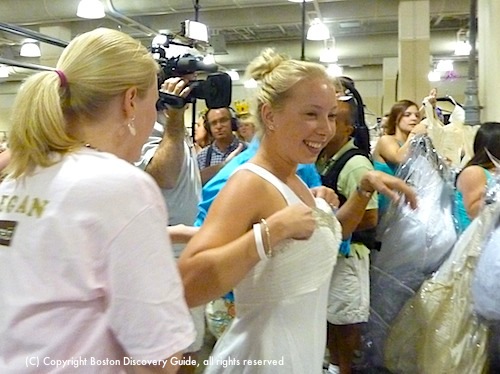 You can feel the excitement as brides begin to find gowns they love.
Although trying on so many gowns becomes tiring, the hard work pays off when each bride finds her perfect gown!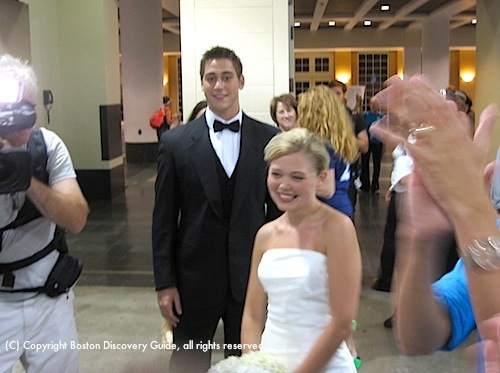 8:25 - Success!
The first bride-to-be to find her perfect gown arrives at the cash register just 25 minutes after the door opens. Her radiant smile is even more beautiful than her dress!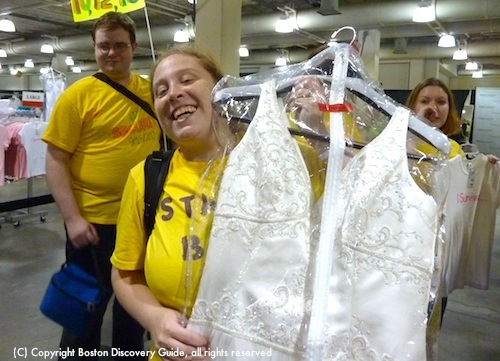 Happy bride-to-be with her gorgeous dress - the first of many at the cash register

In less than 10 minutes, 9 more brides have made their choices and appeared at the registers.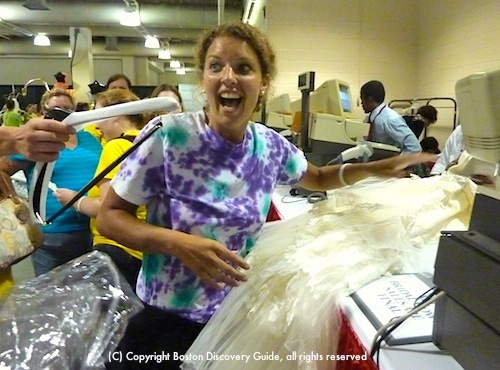 By 9:05, the line to the register stretches out across the floor.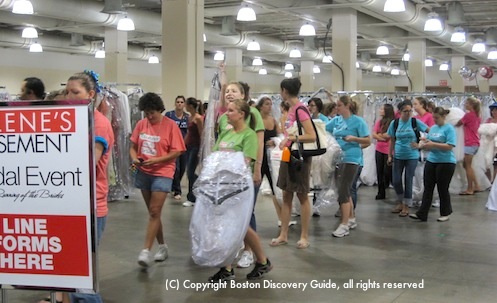 9:11 - Gowns fill the racks again!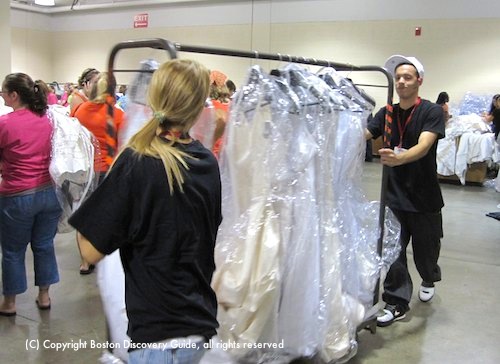 Meanwhile, a small army of Filene's Basement employees has been working diligently to retrieve available gowns, re-hang them, and put them back on the racks.
As a result, brides and their helpers can now look leisurely for their target styles and sizes.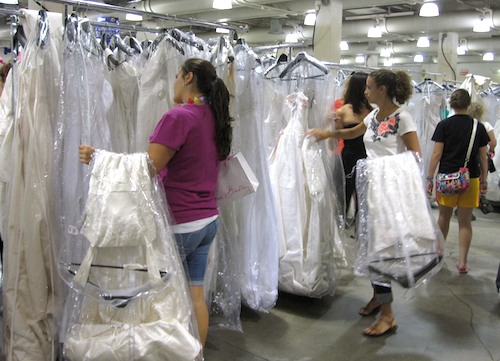 The atmosphere becomes more mellow and relaxed.
Instead of grabbing anything hanging on the rack, shoppers can now consider choices at a leisurely pace.
Once the choice is made, everyone gets to relax!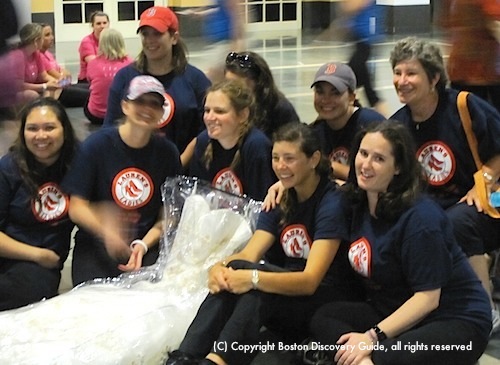 Another winning team!
Did you buy your wedding dress at Running of the Brides?
Or help a friend buy hers?
Tell us your story! And share your best tips for buying the perfect gown.
And of course, add your own Running of the Brides photos!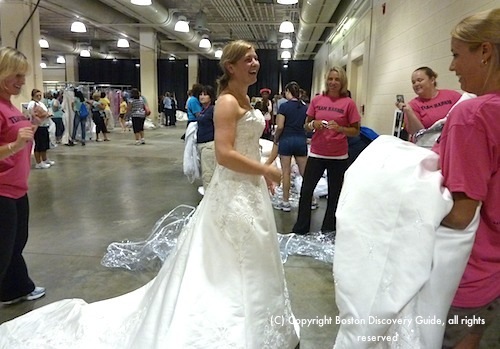 Have You Bought a Wedding Gown at Running of the Brides ?
Did you find the wedding gown of your dreams at the Running of the Brides? Or have you helped someone else buy one?

Tell us how you did it - share your best tips! And of course, tell us what your gown is like. If you have a photo, please share!

What Other Visitors Have Said
Click below to see contributions from other visitors to this page...

Scarlet's Team - London

I called my daughter to tell her that The Running of the Brides was taking place in Boston on August 20th 2010. I explained that it was a good opportunity …
Like this Page? Please Share!