Piattini Wine Cafe and Gelateria
Fabulous small plates of Italian specialties
The next time you're doing some Newbury Street shopping, Piattini Wine Cafe may be the perfect spot when you start thinking more about food than fashion.
***z-google-rest-336x280.shtml***
And Piattini also a great date place when The Boyfriend wants to treat you to dinner.
Why?
The answer is simple: small plates of delicious, perfectly cooked Italian food, and terrific wine by the glass.
And, despite the Piattini Wine Cafe's Back Bay location, it's affordable. You'll enjoy a nice meal, relax over a glass or two of wine, perhaps have some good conversation - and you'll still have some money left for those must-have shoes or for BF to take you to a show.
Plus, this small, cozy Italian restaurant is a perfect place to relax . . . inside during colder months, and outside in the patio dining area during warm weather.
So, what to order?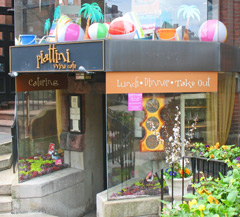 Deciding what to order is actually rather tough because all the choices are yummy.
For lunch, you could consider a salad . . . perhaps ricotta salad with baby spinach, dried cherry tomatoes, watercress, and red onions, or the smoked salmon with mesclun and baby spinach.
Or a panini. Who can resist the Melanzane, eggplant with mozzarella and pomodoro sauce, or the Portobello, packed full of portobello mushrooms, fontina cheese, roasted red peppers, and caramelized onions?
But the small plates of Italian pasta served with super-fresh, perfectly cooked ingredients are also wonderful.
Try the Penne con Zucca - pasta with butternut squash, herbed chicken breast, and apple cider and gorgonzola sauce. Or the Artichoke and Mascapone Ravioli, served with pomodoro sauce and baby spinach. Or the Carpaccio, with thin slices of beef tenderloin, Gorgonzola cheese, and capers.
Almost all of the lunch items are under $10 (!!!) - and don't think that small plates mean that you need to order several. One is plenty unless you're on the brink of total starvation.

What's for dinner?
Options expand for dinner, although some of the popular lunch choices reappear.
You'll choose from things like Risotto Tartufo with wild porcini mushrooms, shallots, and white truffle oil . . . Frutti de Mare, with shrimp, calamari, mussels, and scallops with white wine or red sauce over linguini . . . ravioli stuffed with lobster and lobster cream sauce.
You still have the option of small plates, along with larger ones. And prices are still affordable - very few items are over $20, and many are still under $10.
You may want to stick with the small plates if you're hoping for dessert, which is fabulous here. Try the homemade creme brulée, the tiramisu, or the out-of-this-world amaretto cake.
And now for some wine . . .
Really, Piattini Wine Cafe would be a terrific dining spot even without the wine . . . but the wine is definitely part of what makes a meal here a great experience.
The wine list features many interesting and reasonably priced selections from around the world, and most are available by the glass as well as the bottle.
No need to jot down the name of what you're drinking so that you can remember it later. Each glass arrives with a little card with the name of the wine, the region where it's from, a short description and tasting notes.
If you want a really special wine for a special occasion - maybe the BF decides mid-meal to propose - pricier "Reserva" selections are also available by the bottle only.
A few beer selections, many cocktails, and other beverages are also available. And whether or not you ordered dessert, be sure to check out the dessert wines.
Restaurant.com - Save 60% or More on Boston Restaurants
Will you come back?
How can you resist?
If you're visiting Boston for just a short time, you'll want to try as many different restaurants as possible.
But if you're here for a slightly longer period, you'll want to make this small Back Bay jewel your neighborhood restaurant. With its great menu and terrific wine list, you'll find lots to enjoy here again and again.
In a rush? Stop by the Gelateria
When the Newbury Street shopping is so compelling that you want to eat on the run, stop by Piattini Gelateria and Cafe next door. With gorgeous yellow walls, an amber chandelier, and copper accents, this small spot may even make you forget shopping for a moment.
Food options are yummy - smoked salmon toast with olive salad, roasted peppers, and anchovies, fabulous antipasti such as rosemary ham and prosciutto, gelatos to die - or maybe just diet - for . . . flavors like Thai coconut milk and sweet potato with pecan praline.
But the real centerpiece . . . and the reason that you'll be compelled to come even if you're not shopping nearby . . . is the Italian-style coffee bar. Starbucks, watch out!
Details and Directions for Piattini Wine Cafe - and Piattini Gelateria and Cafe
Meals served: Lunch and dinner, Monday through Sunday
Address: 226 Newbury Street, Back Bay; Green Line/Copley (the Gelateria is next door at #224 - 617-536-7500
For more information and menus: 617-536-2020; website

Like this Page? Please Share!