Home > Restaurants >
Petit Robert Bistro
Boston's favorite affordable French bistro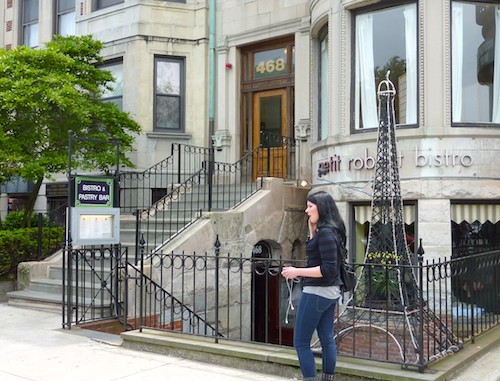 Petit Robert Bistro - Popular Boston French restaurant on Commonwealth Ave
Enjoy fabulous Boston French cuisine at Petit Robert Bistro, where you'll find some of the best - and best-priced - casual French brasserie food in the city.
From the moment that you see the iconic Eiffel Tower outside Petit Robert Bistro, you'll feel like you're almost in Paris.
Go inside, and the crisp white linens with nice crystal glasses, chalkboard with daily specials, stylish but simple décor, and delicious aromas will convince you that you are.
When Petit Robert Bistro chef/co-owner Jacky Robert decided to close Maison Robert, the famed Boston French restaurant started by his parents in the 1970s and one of the very best restaurants in the city, lots of fans (including me) went into mourning.
But joy quickly replaced sorrow when Chef Robert opened his new place offering French bistro cafe fare at affordable prices. At lunch, nothing on the mouth-watering mostly French menu is over $15, and at dinner, nothing exceeds $20. The food is wonderful. Once again Chef Robert presides over one of the best restaurants in Boston.
After the success of the bistro's first location on Commonwealth Ave near Fenway Park, Chef Robert opened a second bistro in the Boston South End, and more have followed.
Find out why Petit Robert Bistro is on our Boston Boston Cheap list
Get ready to enjoy delicious French bistro classics
Everything at this popular bistro cafe is perfectly cooked, using organic chickens, locally grown produce, and the freshest ingredients.
Best of all, many items such as the patés and the fabulous desserts are house-made at the restaurant.
In fact, you might want to start your meal with a trio of the homemade patés, or the moules marinières, or the smoked marinated herring fillets with warm potato salad. The small, freshly baked baguette that will arrive at your table is also very tempting.
Be warned that the lobster bisque, the French onion soup (which, by the way, is the best in the entire city), and the Niçoise salad with fresh seared tuna are substantial enough to be your entire meal, especially if you aspire to dessert.
But you'll be sorry if you pass up an entrée such as the fabulous steak-frites with your choice of Bordelaise, poivre, or béarnaise sauce . . . the creamy veal blanquette with rice pilaf . . . the pan-seared scallops with sautéed spinach and crab meat.
And then there's the rich-tasting duck comfit and grilled sausage with braised cabbage, the asparagus with Hollandaise sauce, and . . . . well, you'll want to try everything on the mouth-watering menu. When you realize that you can't reasonably do so, you'll begin mentally planning your next visit.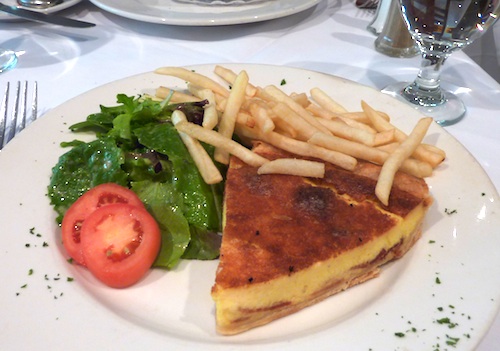 My favorite lunch at Petit Robert Bistro, favorite Boston French restaurant
At lunch, you'll also have the choice of sandwiches and other casual fare. I love their quiche Lorraine, which comes with a mixed green salad and french fries.
A children's menu for those lucky enough to be under 10 features kids favorites such as a croque monsieur with fries, smoked salmon on a croissant, and in a nod to nearby Fenway, a homemade burgerdog on a French baguette. You can order these yummy treats too if you come for lunch.
Some items on the menu change seasonably, but happily, much of it stays the same.
What else will you enjoy at Petit Robert Bistro?
In addition to the regular menu, which changes from time to time, check out daily specials on the blackboard. Although the regular menu is the same each of the bistro's locations, daily specials differ based on what each chef decides to make that day.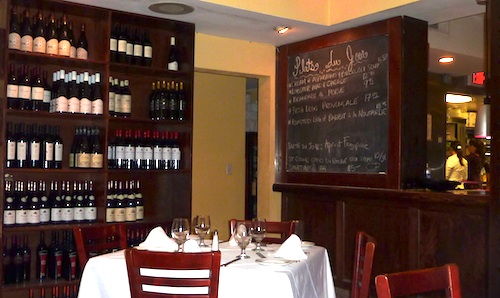 Check Petit Robert Bistro's chalkboard for daily specials
The wine list has lots of carefully chosen mostly French vintages. Although some are priced for special occasions, you'll find many choices in a very affordable range, with a handful of quite decent options for $20-30 per bottle. Add to this a full bar, and you'll find lots here to keep you happy.
End your meal with cheese, fruit, or special French desserts such as ile flottante, creme caramel, and Petit Robert's fabulous chocolate Eiffel Tower cake.
I enjoy a lot of things about this restaurant - the perfectly cooked food, the gracious waitresses, the small glimpses of the kitchen through the large open window next to the chalkboard, the affordable check at the end.
And, I have to confess, I love the graciousness of the white linens, even if I'm just having a sandwich or quiche.
Restaurant.com - Save 60% or More on Boston Restaurants
Insider tips
As in France, meals are served at a leisurely pace. You're expected to enjoy your meal, enjoy conversation with your companions (or reading a book if you're dining alone), and enjoy the chance to relax.
If you're on a tight time schedule and need to gulp down your meal and rush out the door, you should go instead to one of the fast food restaurants further down the block.
Details and directions
3 Boston locations:
South End: 480 Columbus Ave; Green Line/Prudential; 617-867-0600
Fenway: 468 Commonwealth Ave; Green Line/Kenmore; 617-375-0699
Downtown Crossing/Financial District: 101 Arch Street; enter at 34 Summer Street
Need more restaurant suggestions?
Like this Page? Please Share!
Home > Restaurants > Petit Robert Bistro