Boston Opera House
Boston Ballet, Broadway Across America, Nutcracker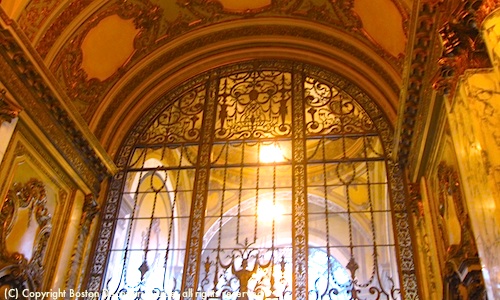 The opulent Boston Opera House promises specatular productions, and that's what you'll experience here.
Boston's original Opera House, built in 1901 on Huntington Avenue near Symphony Hall, was demolished in 1957 and Northeastern University replaced it with a dorm.
The current Opera House started its life as the B.F. Keith Memorial Theatre, named in honor of the introducer of "vaudeville" and proponent of "wholesome" entertainment, and later renamed the Savoy Theatre.
After being shuttered, dark, and seemingly destined for demolition for several years, the 2,500 seat Opera House reopened in 2004 following a $35 million renovation.
This money was well spent. The Spanish Baroque wedding cake-like exterior pales in comparison with the beaux art interior featuring dazzling gold leaf, rococo ornamentations, and 16 massive Italian marble columns weighing 7 tons each.
The Boston Opera House specializes in big-name performances, well-known performers, and lavish productions.
This opulent theatrical palace is where you'll see Broadway musicals, dance, and musical performances.
Tickets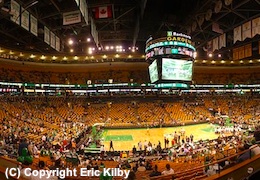 The Boston Bruins and Boston Celtics play all home games at TD Garden between October and April - or longer if they're in playoffs for the Stanley Cup or NBA Championship. Most of the fast-paced games attract sell-out crowds of enthusiastic fans.
If you're visiting Boston, the easiest way to get good seats for the game you want to see is to order online before you leave home. Just choose your game, pick your seats, and click.
Get your Boston Bruins tickets online
Get your Boston Celtics tickets online
Concerts and Shows Scheduled for TD Garden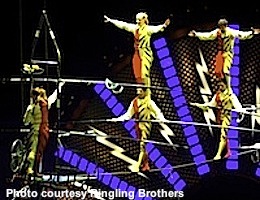 TD Garden provides the perfect setting for many of Boston's biggest concerts and shows. Performers love to come here because of the superb sound system, so you'll get to see and hear memorable performances by the biggest international stars.
For other events, the center arena transforms into a dazzling stage for the famous Ringling Brothers and Barnum & Bailey Circus, Cirque du Soleil, and Disney on Ice plus more spectacular events throughout the year.
TD Garden Concert and Show Schedules and Tickets
How to Find TD Garden Discount Tickets
Surprisingly, you can find discount - and by "discount," I mean half price - tickets to some TD Garden shows and even some games offered by Goldstar. Availability varies, but you're always wise to look. In general, discount tickets become available 2 or 3 weeks before the event date. Best of all, it's easy to see what's available and order online - no need to spend vacation time standing in line after you're here!
Find half price tickets from Goldstar for TD Garden
Best Hotels near TD Garden
If you're attending a TD Garden event and want the ultimate convenience, stay in one of the wonderful hotels located within a few blocks:
Onyx Hotel - One block from TD Garden
You'll love the contemporary design, original art, and complementary evening wine reception at the Onyx, a sleek brick and glass boutique hotel just a block from the Garden. The Onyx is a Kimpton property, with lots of high-end amenities plus free high speed Internet access.
Check reviews and rates at the Onyx Hotel
Holiday Inn Express - Less than a block from TD Garden
What You'll Find at TD Garden
By contrast, the new 10-floor Garden - TD Garden - is considered among the top 3 sports and entertainment complexes in the entire country, and for good reason. The arena seats almost 20,000 for concerts (slightly fewer for ice events and basketball games), and boasts a state-of-the-art, multi-million dollar video scoreboard.
Several restaurants, multiple sports bars, lots of concession stalls, retail spaces, and other amenities add to the comfort. Although some of the eateries and lounges allow entry to premium ticketholders only, the Hub is open to everyone and offers spectacular city views from its 4th floor location.
On the 5th and 6th floors, The Sports Museum celebrates Boston sports with an eclectic memorabilia collection. For example, you'll see former Red Sox slugger Ted Williams' locker and some of the hard wooden chairs from the old Garden.
Banners commemorating the Celtics' 16 World Championships, the Bruins' 5 Stanley Cups, and the Beanpot Trophy awarded during the annual Boston Beanpot hockey tournament held each year in February between Boston University, Boston College, Harvard, and Northeastern add to the excitement.
Recommended Sources for TD Garden Tickets
The new Garden, like the old Garden, is located above North Station. It's very easy to reach by T (Boston's subway) - just take the Orange or Green Line or Commuter Rail to North Station, and you're there.
If you're on foot, TD Garden is about a 5-minute walk from Faneuil Hall, and perhaps 10 minutes from Boston Common.
The removal of the old Central Artery (the elevated highway demolished by Boston's "Big Dig) and the creation of the Rose Kennedy Greenway opens up the whole area around the Garden to the North End.
Attractive nearby hotels, restaurants, sports bars bring additional excitement to the area. Lots of redevelopment and refurbishing currently underway promises even more appealing attractions for the future.
Photo courtesy of Eric Kilby
Like this Page? Please Share!
How to Enjoy TD Garden
Return from TD Garden to Boston Sports
Return from TD Garden to Boston Tourism and Discovery Guide home page