Home > Boston and New England Recipes >
Olive Bread Recipe
Try this French Mediterranean recipe for Boston's favorite bread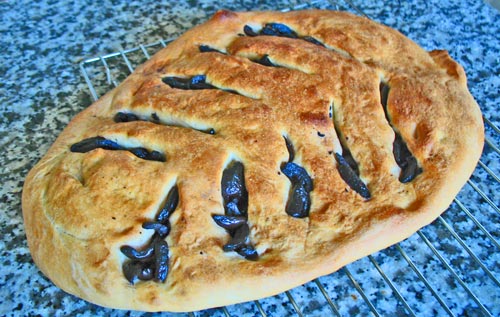 This yummy olive bread recipe comes straight from the French Mediterranean where it's called fougasse aux olives and resembles focaccia . . . but Boston can trace its love affair with olive bread directly to Todd English.
After Chef English opened his flagship restaurant Olives in Charlestown in 1989, it was only a matter of time before he made olive bread both his signature bread and a huge hit all over Boston.
For a brief but wonderful period in the late '90s, he even operated a bakery that supplied olive bread to his Boston restaurants as well as a few other local specialty food markets.
Alas, the bakery closed way too soon - and I've been searching for a great olive bread recipe ever since.
Finally, thanks to Bruno, publisher of a website about the French Riviera, I now have a wonderful olive bread recipe from southern France for traditional Provençal fougasse aux olives.
Although this Mediterranean French olive flatbread resembles Italian focaccia and is therefore rather different in appearance from the version popularized in Boston by Todd English, my friends and family have been giving it rave reviews - so with Bruno's permission, I'm sharing it here.
I converted French measurements into American units, and made minor modifications (such as using a food processor rather than kneading by hand) to the process, so the recipe itself is in my own words.
But be sure to check out Bruno's explanation about this special bread following the recipe. And then make this delicious French Riviera recipe for yourself.
Your family and friends will thank you!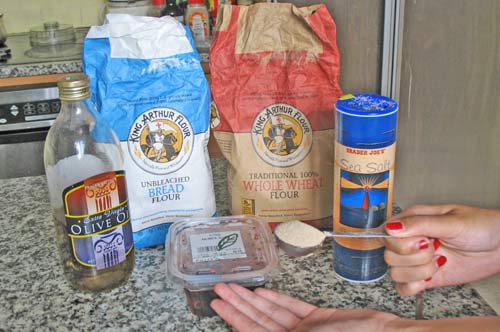 Olive Bread Recipe
Prep time 10 minutes - Cooking time 20 minutes - Makes 2 loaves
Note: My instructions use a food processor, but you can also use a mixer with a dough hook, such as a Kitchen Aid, or knead it by hand.
Ingredients
4 1/2 cups white flour (I usually use King Arthur's Unbleached Bread Flour, but regular flour also works well; sometimes I substitute 1/2 cup whole wheat flour for 1/2 cup of the white flour just to give a little extra flavor and texture)
2 rounded teaspoons of baking yeast
About 1/2 teaspoon of salt
4 tablespoons of olive oil, plus another tablespoon or 2 for brushing on top of the loaves.
About 1 1/2 cups lukewarm water (you'll probably use less)
1 cup of pitted kalamata olives (or other high-quality black olives - not the canned metallic-tasting kind sold in supermarkets)
Steps for making olive bread recipe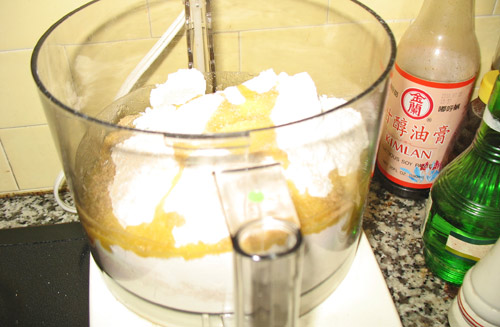 1. Mix dry ingredients - Put the flour, yeast, and about half a teaspoon of salt (use slightly more or less depending on the saltiness of your olives) into the food processor, and turn on.
2. Add oil and water - With the food processor running, slowly add the olive oil through the funnel in the bowl top. Let the food processor mix it in for about 30 seconds, and then add the water in a slow stream, just until the dough forms a ball.
3. Mechanical kneading - Let the food processor run for 3 - 4 minutes, mixing the dough. If it seems too dry, add a few more drops of water. Too sticky? Add a little more flour - just a half spoonful at a time. When the dough begins to look smooth and slightly shiny and elastic, turn off the processor.
4. Let it rise - Coat the inside of a medium-sized bowl with a little olive oil, and put the dough into it. Cover it with a clean dish towel, and let it rise until it doubles in volume. Depending on the temperature of your kitchen, this takes from about 1/2 hour to perhaps an hour and a half.
5. Prep olives - While the dough rises, cut the olives into quarters. Turn on your oven to 400° F.
6. Shape the bread - After the dough rises, divide it into 2 parts, and make each one into a ball. Use your hands to flatten each ball of dough on an oiled baking sheet. Each dough circle should be only about 3/4 of an inch thick.
On the French Riviera where this Provençal olive bread recipe originates, the traditional shape is oval - but you can make your bread round or square if you prefer.
7. Add olives - Now comes the fun part. Using a sharp knife, make parallel slits down each side of the dough circles, like the veins on a leaf. Slightly pull apart each slit, and pop in some olives. The slit will close back up somewhat when the bread bakes.
If the slit goes all the way through to the bottom of the pan, don't worry - even if the olives touching the bottom of the pan caramelize a bit while the bread bakes, this just adds to the great flavor.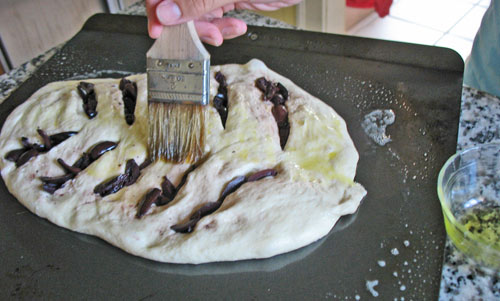 8. Brush with oil - Brush the remaining 1 or 2 tablespoons of olive oil on top of the loaves. This makes them turn more golden as they bake.
9. Bake - Put the bread into the 400° F oven to bake for 18 - 20 minutes.
10. Admire - When the bread turns a pale golden color, take it out of the oven and cool it on wire racks. Enjoy how beautiful it looks.
That's it! I usually cut the bread into small squares and serve as an hors d'oeuvre with small saucers of herbed olive oil or basil pesto for dipping (if necessary, I thin the pesto a bit with olive oil).
If you have any of this focaccia-like olive bread left over, it makes fabulous sandwiches. My favorite sandwich combo? Prosciutto, brie, and slices of ripe tomatoes.
Olive bread recipe variations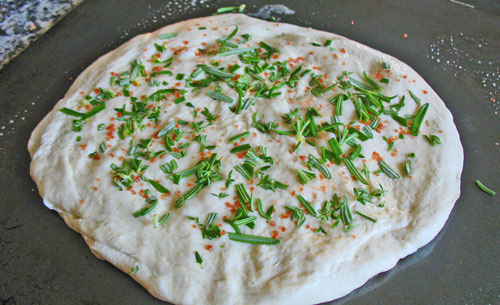 Instead of making slits and adding olives, turn this easy bread into focaccia by brushing the top with olive oil and adding fresh or dried herbs such as rosemary, thyme, and basil. Or, brush the top with basil pesto.
Here's what Bruno says about this wonderful olive bread recipe
"This Olive Bread - Fougasse au Olives recipe is the one I use at home. So easy to make - and so delicious. It comes from my Auntie Antoinette who makes many delicious dishes from the French Riviera - especially from our region, the beautiful Côte d'Azur.

My sister and I, we learned a lot of Provençal cooking from her and Mémé Rosette, our grandmother, when we were kids as we were the only grandchildren who loved cooking. Thanks to them, my sister and I perpetuate our family traditions.

Fougasse is a Provençal flat bread. It is usually shaped like a beautiful leaf. It is sometimes made with herbs, and sometimes embellished with olives, bacon, anchovies, or cheese.

In French cuisine, fougasse is usually found in the South, with many variations in each village, city, and region. Even each family has its own recipe! This olive bread recipe is my favorite, and I hope you enjoy it!"

Bruno Jimenes
If you like this olive bread recipe, check out:
Boston restaurants - if you're lucky, you'll eat at one that includes olive bread or focaccia as part of their bread basket
South End markets - you'll find fabulous black olives and a wide selection of olive oils
SoWa - Some of Boston's best bakeries sell bread here, including olive bread - but you need to be early, because it always sells out quickly
Like this Page? Please Share!
Boston Discovery Guide > Boston and New England Recipes > Olive Bread Recipe