Home > Boston Hotels >
Boston Hotels near the St Patrick's Day Parade
Convenient Places to Stay near the "T"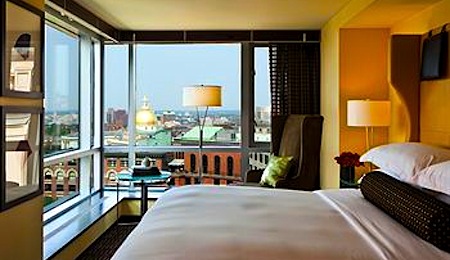 Nine Zero Hotel, near public transportation to Boston's St Patrick's Day Parade

My wife and I are coming to Boston for St. Paddy's Weekend and need to book our hotel. We're going to the St. Patrick's Day Parade in South Boston and also have tickets to the Dropkick Murphys concert at House of Blues. Can you recommend convenient hotels close to both the parade and HoB? We're flying into Logan so we won't have a car.
Appreciate your thoughts!
Tim, Silver Springs Maryland

Dear Tim,
I'm happy to recommend several Boston hotels that would give you easy access to both the St. Patrick's Day Parade and House of Blues.
As you probably already know, the parade takes place in the South Boston neighborhood, and HoB is in the Fenway neighborhood, right across the street from Fenway Park. Even though Boston is fairly compact, these locations are not particularly close together.
However . . . the only sane way to get both places is by "T" (Boston's subway) - so don't worry about not having a car! All the streets anywhere close to the parade site will be blocked off. Although there are parking garages and lots near Fenway, they are pricey; in addition, driving in the HoB/Fenway Park area is a pain during events because of all the people in the street, plus streets may be blocked there as well.
The T's Red Line/Broadway station is close to where the parade kicks off on West Broadway, and the Green Line/Kenmore station is about a 10-minute walk from House of Blues.
If you stay in a hotel close to Park Street Station, where the Red and Green Lines meet, you'll have easy access to both.
Plus, Park Street Station's location on the edge of Boston Common puts you close to lots of other popular attractions - the Freedom Trail, Faneuil Marketplace, Beacon Hill, and many restaurants and bars.
This area is close enough to the waterfront so that you could even take a water taxi from Logan across the Harbor to the downtown waterfront, and then walk to your hotel, assuming your suitcases have wheels.
Here are 5 hotels located very close to Park Street Station to consider:
XV Beacon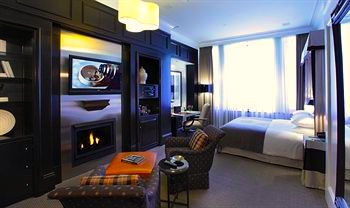 XV Beacon (15 Beacon Street) caters to well-heeled business travelers and their families.
This luxury boutique hotel is only slightly farther from Park Street Station than the Nine Zero, and is just around the corner from Faneuil Hall Marketplace in the most historic part of downtown Boston. Check reviews and get best rates
Nine Zero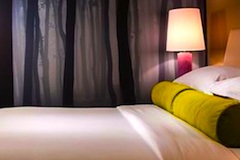 Part of the Kimpton hotel family, the Nine Zero Hotel (90 Tremont St.) occupies a wonderful spot just a block from the station.
This stylish 4-star boutique hotel emphasizes luxury and personal service. Sign up for the Kimpton loyalty program to get complimentary wifi. Check reviews and find best rates
Hyatt Regency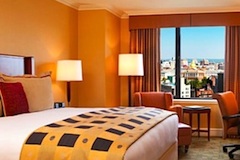 The enormous and luxurious Hyatt Regency Boston (1 Avenue de Lafayette) is only about 3 blocks from Park Street Station.
The Hyatt's location at the edge of both the Theatre District and Chinatown means you'll find plenty of great restaurants nearby! Check reviews and find best rates



Ritz-Carlton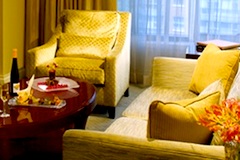 The 5-star Ritz-Carlton (10 Avery Street) is considered one of Boston's top luxury hotels, and is about the same distance from Park Street Station as the Hyatt.
For the best views from this Theatre District/Chinatown hotel, ask for a top floor overlooking Boston Common. Check reviews and find best rates


Club Quarters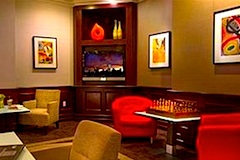 Only slightly farther from the station than the Hyatt or the Ritz, Club Quarters (161 Devonshire Street) typically offers some of the lowest rates in this part of the city, despite its prime Financial District location.
It's also close to the Black Rose, one of Boston's top Irish pubs. Check reviews and find best rates


Another plus - you can easily get to all these hotels from the airport - take a taxi, the subway, or if your suitcase is on wheels and not too heavy, hop on a
water taxi
from Logan to the downtown waterfront and then walk to your hotel.
Hope this helps! Have a wonderful time in Boston!
Susan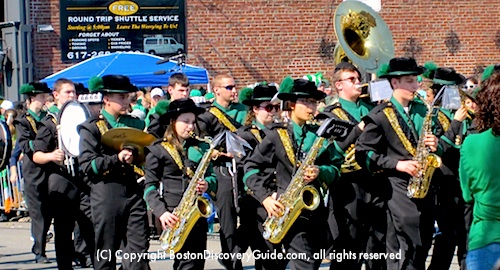 More about St Patrick's Day in Boston
Like this Page? Please Share!
More to Do and See in Boston
| | | | |
| --- | --- | --- | --- |
| Aquarium | Downtown Waterfront | Fenway Park | Faneuil Marketplace |
Boston Discovery Guide > Boston Hotels > St Patrick's Day Parade Hotels