Home > Boston and New England Recipes >
Boston Marinara Sauce Recipe
Best recipe for homemade tomato sauce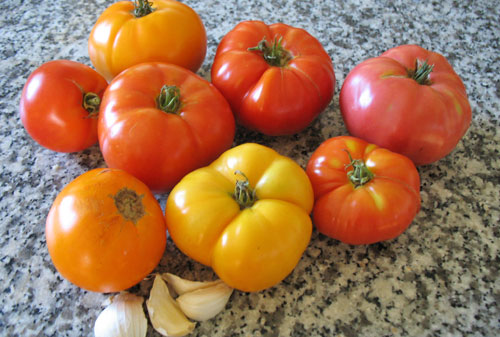 Tomatoes and garlic - key marinara sauce ingredients
Make this delicious marinara sauce recipe in just 10 minutes.
You can use ripe tomatoes from Boston's Haymarket or farmers' markets, although canned tomatoes also work well.
Serve your yummy pasta with marinara sauce as a main entrée or side dish.
If you've dined in Boston Italian restaurants, you probably know that great marinara sauce is at the heart of many wonderful dishes. Each chef takes pride in his or her own special version.
You can customize this basic marinara sauce recipe by adding your favorite herbs and other seasonings to create your own signature flavors. Your family and friends will beg you to make this homemade tomato sauce again and again.
And in late summer, when your garden or your favorite farmer's market overflows with juicy ripe tomatoes, there is no better recipe for making a tasty meal tonight - and freezing the leftover sauce for a cold night next winter.
Pasta with Fresh Tomato Marinara Sauce Recipe
Prep time 5 minutes - Cooking time 8 - 10 minutes - Serves 4 - 6 as a main course, or 8 - 10 as a side dish
This recipe assumes that you're serving the sauce over pasta, but you could also use the sauce in other dishes such as Eggplant Parmesan or even on homemade pizza. This fresh tomato marinara sauce is also perfect for freezing.
Ingredients for marinara sauce
Steps for making fresh marinara sauce recipe
1. Boil water - Bring a large pot of water to a boil. You can add a spoonful of salt to the water if you want, although actually, I never do.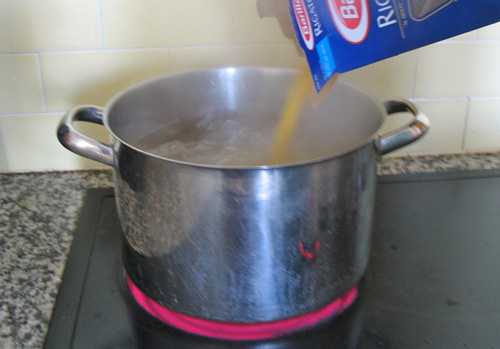 Pour in the pasta, and cook until al dente - in other words, it should still be a little chewy, and not soft or mushy.
2. Prep ingredients - As soon as you get the pasta underway, get the main ingredients ready. Thinly slice or chop the garlic cloves. Trim the tomatoes to remove the stem ends if necessary, and chop them coarsely into fairly large chunks.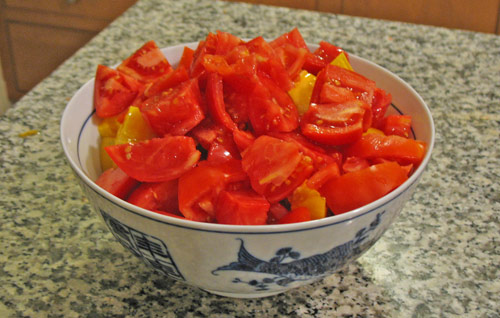 I usually put the pieces into a bowl so they won't fall off the cutting board. If you want to use fresh basil pesto and don't have any made, make it now - takes about 1 minute. Here's my basil pesto recipe.
3. Start cooking - Pour the olive oil into a large skillet and place on medium heat. I never actually measure the olive oil . . . I just aim at pouring in about 2 tablespoons. If you use a little more or a little less, it doesn't matter. Wait about 30 seconds, and then add the tomato chunks.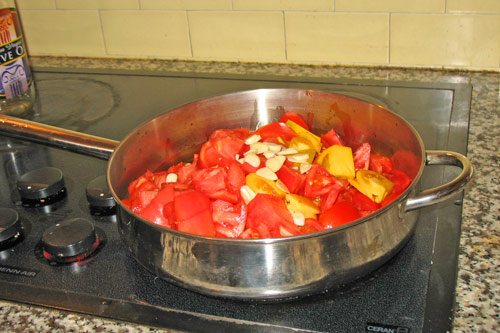 After another minute or so, when the tomatoes begin to sizzle and release their juices, add the garlic. Waiting until this point prevents the garlic from turning brown or burning, which causes a bitter flavor - this way, it stays sweet.
4. Cook - Let the tomatoes and garlic cook for about 5 - 10 minutes, stirring occasionally, until the tomatoes get soft and the sauce begins to thicken.
The exact amount of time will vary depending on how much heat you're using, the juiciness and texture of the tomatoes, and your own preferences about whether you want the sauce to be chunky or smoother.
5. Grate cheese - While the sauce is cooking, grate the cheese.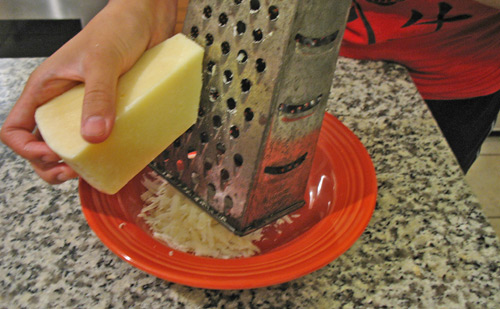 I use a coarse grater because it's faster. While you're grating the cheese and waiting for the sauce to finish cooking, also remember to also check the pasta for doneness. Once it's al dente, drain it in a large colander.
6. Add vinegar - When the marinara sauce reaches the texture you prefer, add the balsamic vinegar, and let the sauce cook for another 30 - 60 seconds until the strong smell of the vinegar goes away.
7. Season - Lower the heat. Add a dash of cayenne to taste. Stir, and remove from heat.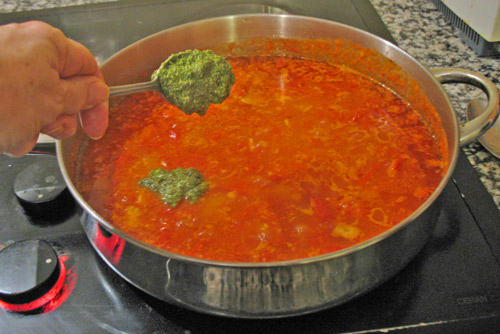 Optional enhancements: Now, if you want, add pesto or herbs to make the flavor more complex. If you're adding pesto, add about 3 spoons full and stir to blend. Taste - and add more if you want a stronger taste. If you're using fresh or dried herbs, add anywhere from a little to a lot, depending on your preference. Taste again, and add a bit of salt to enhance the flavor if you'd like.
That's it!
Dump the pasta and sauce into a large serving bowl, and mix well.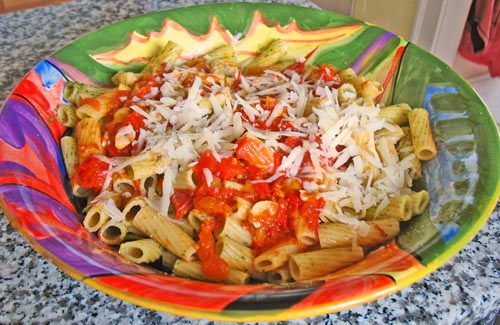 Sprinkle the grated cheese on top, or serve separately on the side.
This is my favorite marinara sauce recipe, and definitely the easiest. Serve with fresh French, Italian, or olive bread (here's my favorite olive bread recipe), a green salad, and a mellow red Italian wine, and you'll have an experience worthy of one of Boston's best Italian restaurants.
Marinara sauce recipe variations
To make this marinara sauce recipe with

canned tomatoes

, use a 28 ounce (1 pound, 12 oz) can of whole or pureed tomatoes instead of the fresh tomatoes. I use Muir Glen Organic or Tuttorosso brands, but others should work equally well. I find canned tomatoes slightly more acidic than fresh tomatoes so sometimes I add 1/2 - 1 teaspoon of white or brown sugar. Also, canned tomatoes contain salt, so add more salt sparingly, if at all.
Add chopped, pitted

kalamata olives

for a Mediterranean twist. (If yours still have their pits, put the olives on a cutting board and slightly smash them with something flat and heavy, like a Chinese cleaver. The pits will pop right out.)
If you like the sauce with olives, you may also want to add some

tuna

. I normally use the type packed in olive oil, such as Genova brand - add the olive oil along with the tuna. Leftover grilled fresh tuna also works well.
Buy and grill some good quality

sausages

- sweet or hot. Or make some meatballs. Serve with the marinara sauce and pasta.
Any marinara sauce leftovers?
I especially like to make this yummy marinara sauce recipe in late August and early September, when Haymarket and farmers' markets around Boston overflow with juicy, ripe tomatoes for sale at very attractive prices.
The marinara sauce freezes well, so you can make lots and enjoy the leftovers all winter for a delicious taste of Boston summer.
If you liked this marinara sauce recipe, check out:
Boston Italian restaurants - Decide which one has the best marinara sauce
Haymarket - Where you'll find the cheapest produce in the Boston
South End markets - You'll find wonderful pastas, olive oils, veggies, ready-made pestos, tuna packed in olive oil . . . and much, much more
Boston Discovery Guide > Boston and New England Recipes > Marinara Sauce Recipe