Boston Lobster Roll Recipe
Make this traditional New England favorite at home!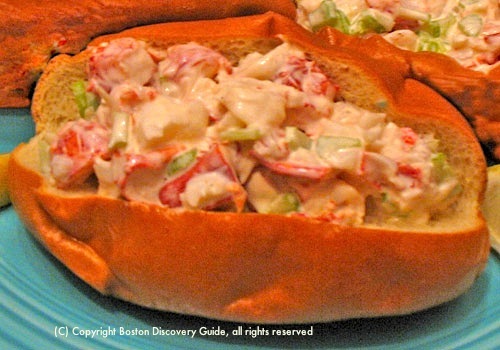 Lobster roll recipe, made with traditional New England top-loader rolls
Chunks of succulent lobster take center stage in this super-easy Boston lobster roll recipe.
Lobster roll fans tend to divide into 2 camps: those who feel that nothing should come between them and the pure sweet taste of lobster fresh from the sea, and those who like a little extra spiciness, seasoning, or non-traditional twist.
This lobster roll recipe starts with Maine lobsters - the kind with the big claws found along the rocky New England coast.
You'll need one 1 1/4 pound lobster to make 2 lobster rolls if you want to be able to pick them up when you eat them.
If you want to fill the buns so full of lobster that it overflows the top and you have to eat them with a fork - which is the way many restaurants here in Boston serve them - then count on making only 1 lobster roll from each 1 1/4 pound lobster.
My basic recipe is for the kind of authentic lobster roll that you'll encounter in many Boston seafood restaurants as well as lobster shacks up and down the New England coast. Adorned by only a little mayonnaise, a squeeze of lemon, a sprinkle of pepper, and maybe some finely diced celery, the flavor of freshly cooked lobster meat shines forth.
But I'll also give you a few easy variations if you want to spice it up. Fans of the spicey lobster roll recipes will tell you that these extra seasonings bring out the flavor of the lobster.
Which is better? You'll have to make both versions and then decide!
Boston Lobster Roll recipe - the traditional version
Prep time: 5 minutes Cooking time: none! Serves: 2
You need:
Meat from the claws, knuckles, and tail of a 1 1/4 pound lobster (boil or steam the lobster yourself, or ask your fish market to do it for you), cut into small chunks with any cartilage and the dark vein-like organ from the tail removed (if you're patient, you can pick out the meat from the body to use later for lobster bisque or in a creamy pasta sauce)
2 tablespoons mayonnaise (in other words, one tablespoon per lobster)
4 lemon wedges
1 medium stalk of celery (optional), finely diced
Pepper (optional)
2 New England-style hot dog rolls (they're split along the top - we call them "top-loaders"). If you live outside of New England and can't find these, take a regular hot dog bun and slice off the crust on the bottom and top so that it resembles a New England roll
2 - 4 tablespoons of softened butter
Potato chips and pickle for serving (optional)
Steps for making Boston Lobster Roll recipe
1. Mix the lobster meat with the mayonnaise in a bowl. It should very lightly coat the lobster, but not hold it together or even be obviously visible. Of course, if you love mayo, you can add more. Add a sprinkle of pepper. If you're using a grinder, 1 or 2 grinds will be sufficient. Add the diced celery if you want the additional flavor or slight crunch - if not, omit it. Mix again to distribute the pepper and celery. You'll have between 3 - 4 cups of lobster meat. Cover the bowl with plastic wrap, and chill in the refrigerator for at least 1 hour.
2. Preheat a skillet (preferably cast iron). Spread the softened butter on both sides of each hot dog roll. Place buttered side down in the skillet over medium heat, and toast for 2 - 3 minutes until light golden brown. Flip over, and toast the other side. You can also toast the bottom for a couple of minutes if you want.
3. Now, fill each roll with half of the chilled lobster mixture. That's it! Serve immediately with the lemon wedges, potato chips, and pickles.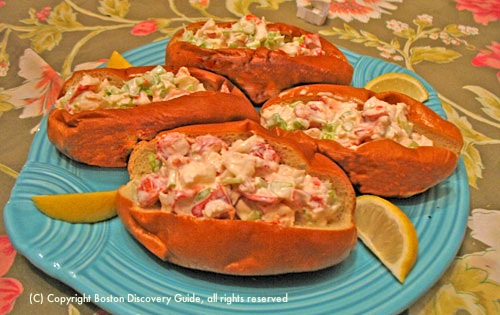 For those who like it spicy - Lobster Roll recipe variations
Adding a little extra zip to your lobster rolls is easy. Basically, you do this in 2 ways:
Flavor the mayonnaise, and increase the amount of mayo that you use
Add additional ingredients for extra texture, flavor, or color
Here are several tasty options. Try just one, or combine 2 or 3 for extra impact:
Use 4 tablespoons mayonnaise. Add 1/4 teaspoon of curry powder, chili powder, or ground cumin, or my personal favorite: Cajun seasoning - you could put 1/4 teaspoon - but I'm slightly addicted to it, so I use 1/2 teaspoon.
Use 4 tablespoons mayonnaise, and add 1 tablespoon lemon juice and 1/2 teaspoon Dijon mustard.
Add a dash of cayenne or your favorite hot sauce.
Add 1 teaspoon fresh (or 1/2 teaspoon dried) chopped herbs to the mayonnaise. Use whatever herbs you prefer - tarragon, basil, parsley, thyme, and even dill work well.
Finely chop up 2 scallions, including some of the green part. Add to the lobster mixture.
Finely dice 1/2 sweet red pepper, and add it to the lobster mixture.
Peel and seed a small (5 inch) cucumber. Let the peeled seedless cucumber drain in a colander for 5 minutes. Use a paper towel to blot up the excess moisture. Chop into small pieces and add to the lobster mixture. (This idea comes from Boston chef Jasper White's Summer Shack divine lobster rolls. If you're visiting Boston, you should stop by his Back Bay restaurant location and order one for yourself!)
More Boston and New England recipes to check out
Like this Page? Please Share!