Holiday Inn Boston Hotel

Boston hotel near Mass General and TD Garden
Holiday Inn Boston (you'll also see it referred to as "Holiday Inn Beacon Hill") occupies a convenient West End location half a block away from Mass General.
Located at the corner of Blossom Street and Cambridge Street, the hotel is across from Beacon Hill and just a short walk to Government Center and Faneuil Marketplace.
TD Garden, home of the Boston Bruins and Boston Celtics, is nearby.
Holiday Inn Boston also offers several unexpected bonuses.
Hidden behind its rather elegant front facade, a small roof deck in the back contains a treat that's a rarity in Boston: a heated outdoor swimming pool.
This photo of the Holiday Inn Boston and trees with golden foliage was taken in late October
Half a block away, on Cambridge Street, you can find several very good French, Italian, and Asian bistro-sized restaurants - more about that in the Insider's Tip box below!
If you need to go somewhere else in the city and don't want to walk, the Charles/MGH subway ("T") station on Boston's Red Line is a couple of blocks away on Cambridge Street.
And if you need to rent a car for a day or two, you'll find a Dollar rental car agency on the hotel's garage level - very convenient!
If you're planning a visit to MGH, the Holiday Inn Boston provides a convenient location along with a good rates - usually about mid-way between the equally convenient but glitzier and pricier Liberty Hotel, and the affordable but often-booked historic inn, John Jeffries House.
Check rates, and see what other recent Holiday Inn visitors say
The Holiday Inn Boston works equally well if you're planning a leisure trip and want to be well-positioned for Beacon Hill, Faneuil Marketplace, and even the Waterfront, North End, and Freedom Trail.
Insider's tip: Where to eat near the Holiday Inn Boston
One of the things advantages of the Holiday Inn's location is the range and abundance of wonderful food options nearby. A Whole Foods Market right behind it and several gourmet grocers just across Cambridge Street are perfect places to buy delicious and healthy carry-out food and snacks.
A number of small restaurants line the other side of Cambridge Street - Italian, French, Middle Eastern, Asian - they're all quite good, so just pick the cuisine you prefer and you'll have an enjoyable meal. You'll also find lots of good choices along Charles Street in Beacon Hill. For a splurge dinner with one of Lydia Shire, one of Boston's top chefs at the helm, go to Scampo in the Liberty Hotel.
Come to think of it, you could stay at this Holiday Inn for a month, eat out every night, and still not have time to get to all of terrific restaurants in this neighborhood.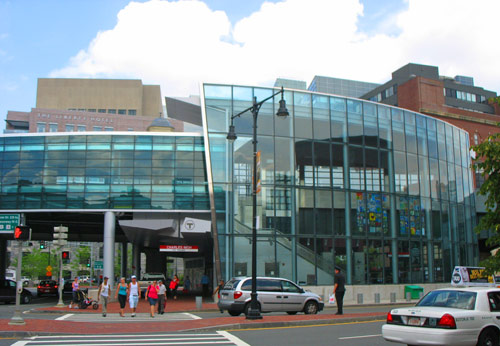 Charles/MGH T station with Mass General buildings in the background
What is the hotel like?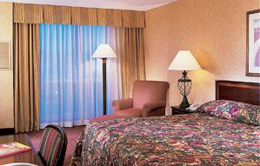 The 303 comfortable rooms and suites in this Holiday Inn feature traditional style furnishings and offer complimentary high-speed internet access.
You can work out in the fitness room year-round - plus don't forget about the seasonal outdoor swimming pool!
There is an on-site restaurant, but with all the food choices in the neighborhood, you may find your favorites elsewhere.
Find best rates and check reviews
Whole Foods Market located behind the Holiday Inn
Looking for more suggestions?
Like this Page? Please Share!
Boston Discovery Guide > Hotels > Holiday Inn Boston