Boston Food Truck Festivals
New England's tastiest summer food event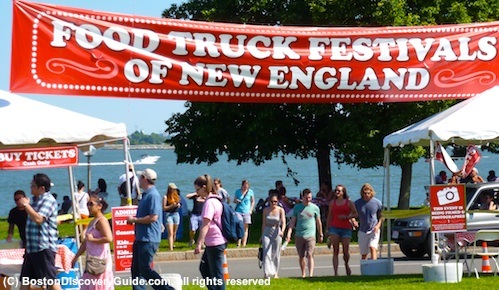 Boston Food Truck Festival - Great food overlooking the waterfront
Throughout the summer and early fall, New England Food Truck Festivals in and near Boston give you the chance to sample the best of our local gourmet truck food.
Food truck cuisine is the new gourmet fast food - healthy (mostly) dishes prepared in mobile kitchens.
We've all developed our favorites - but how do you know what you're missing if you don't sample every truck's offerings?
These food truck festivals during the summer and early fall give you the chance to do that.
Come with your friends and family, relax and socialize while sampling the best of our local street food, and enjoy an afternoon in scenic areas in Eastern Massachusetts and Southern New England.
Schedule for Food Truck Festivals - 2013
Time: 11am - 5pm (except for the Natick Food Truck Festival, which is 12noon-5pm)
June 8 - Cambridge Food Truck Festival - Kendall Square - Cambridge, MA
June 22 -Worcester Food Truck Festival - Elm Park - Worcester, MA
September 8 - Natick Food Truck Festival - Natick Center - Natick, MA
September 21- Charles River Food Truck Festival - Artesani Herter Park - Brighton, MA
October 5 - Cape Cod Food Truck Festival - Barnstable Fairgrounds - Falmouth, MA
October 26 - Newport Food Truck Festival - Newport Yachting Center - Newport, RI
None of these dates work for you? You'll also find plenty of gourmet food trucks parked around Boston. Find out more about food truck cuisine in Boston
What to Expect at the NE Food Truck Festivals
If you're a fan of Boston food trucks, you probably already know they serve up specialties ranging from creative and tasty to "gourmet on wheels."
Over 20 of the best food trucks from Boston and other New England locations participate in each festival, with a different selection of trucks at each one.
Each food truck offers several choices. Many of the trucks offer vegetarian, vegan, gluten-free, and other options. Many, possibly most, use local New England products when possible.
In most cases, the food is cooked inside the food trucks just seconds before it is served to you. Even selections such as pulled pork that require a long prep time are freshly made the night before, as one chef/owner explained to several of us as we savored the exquisite smoky flavors.
To whet your appetite, here's a small taste of what trucks have offered at past festivals:
Away Cafe - Thai spring rolls, chicken satay, Thai basil wings, drunken beef wrap, grilled Cuban sandwich
Roxy's - Grilled cheese sandwich with tomato, the "Green Muenster" with Muenster cheese, guacamole, smoked bacon, and rosemary truffle fries
Momogoose - Korean BBQ, dim sum selection
Staff Meal - Taco with house-made chorizo and lime creme, beef taco with pickled red cabbage
Lobsta Love - Lobster mac and cheese, lobster bisque, and lobster quesadilla (overheard: "Oh, man, I could eat this lobster quesadilla everyday...")
CnRG Boston (the "chicken and rice guys") - Choice of chicken or lamb sausage served with rice and lettuce in pita
Big Moe's Ribs - BBQ beef brisket slider (these were BIG), mac and cheese, BBQ beans
The Dining Car - Pulled pork with special sauce served in a bun, crispy cauliflower (small florets coated with a seasoned corn flour, lightly fried, and served with a light mustard sauce - absolutely delicious!)
Chubby Chickpea - Let's just say that I thought I already knew the best food truck in Boston for falafel - but Chubby Chickpea has it beat. Hot, crispy on the outside, moist and flavorful in the middle - and a generous sized serving
Mei-Mei Street Kitchen - Chinese American siblings, locally-sourced ingredients - several options offered, with Sichuan asparagus so good that a couple of fans begged for a double portion
Bite into Maine - Coleslaw topped with Maine lobster, unbelievably good corn, blueberry, and cucumber salad, and whoopie pies
Franca's - Pizza cooked in a wood-fired oven inside a specially made truck attachment
Where to Get Festival Tickets
The easiest (and cheapest) way to get tickets to each food festival is to order them online for $7/ticket at the Food Truck Festival website.
A ticket gives you entrance to the festival, entertainment, and special Festival Food prices. You can also buy tickets when you get to the festival for $10 each.
You can also enter without a ticket - but you'll pay higher prices. The trucks show two prices for each menu item - with a ticket, you pay the lower price; without, you pay more.
Boston Food Truck Festival Photos


Top Row
1) Food Trucks lined up for the festival - from far left to right, you can see Grilled Cheese Nation, Frozen Hoagies (What are "frozen hoagies"? Ice cream sandwiches!), Go Fish, Bon Me
2) CnRG Boston Food Truck
3) Line for tacos at Staff Meal
4) Momogoose - Everyone wanted the Korean BBQ
5) Photo of Franca, of Franca's Pizzaria, checking the pizza in his custom-made mobile wood-fired pizza truck attachment; his son and daughter-in-law proudly described his role in introducing wood-fired pizza to Boston 30+ years ago as they served perfectly-cooked slices
Bottom Row
6) Lobsta Love's line may have been the longest of all, from start to finish
7) Bite into Maine - Locally sourced Maine ingredients; wish I'd gotten a photo of the gorgeous fresh corn, blueberry, and cucumber salad, served in clear plastic cups
8) My incredibly delicious serving of crispy cauliflower from The Dining Car - At least 3 groups passed by as I was eating it and said, "Wow - what is that? Where did you get it?"
9) See all the yummy choices posted at Away Cafe? No one could decide what to choose!
10) Although the Festival organizers had set up a seating area with tables and chairs, most people walked over to the grassy slope overlooking Dorchester Bay and enjoyed the waterfront views and perfect June weather along with their food
Where to Find Food Trucks in Boston
Do the Food Truck Festivals whet your appetite for more?
No problem...you can find food trucks at a number of Boston locations.
Best of all - they change locations every day, giving you a revolving smorgasbord of delicious choices.

Need to sample for yourself? Here's where to find food trucks in Boston
Even better, here's our guide to the individual food trucks and their cuisine
Like this Page? Please Share!
More Fun Summer Activities in Boston
Plan Your Visit: Popular Boston Hotels
Boston Discovery Guide > Summer Activities > Boston Food Truck Festivals