Home > Restaurants >
Fenway Restaurant Guide
Where to Find Great Food in Boston's Fenway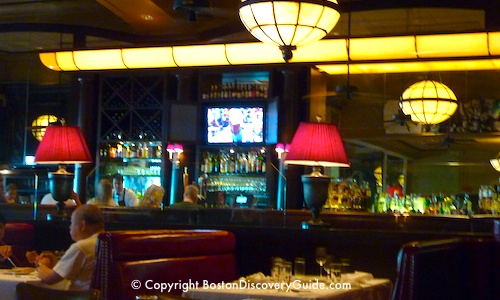 Eastern Standard near Fenway Park and Boston University - Gourmet dining at this top brasserie
Most Fenway restaurant choices cluster near the neighborhood's biggest visitor attractions: Fenway Park, Boston University, Symphony Hall, and the Museum of Fine Arts.
Most Fenway restaurants focus on casual rather than formal, ranging from super-casual Tasty Burger to the polished but relaxed Eastern Standard and Petit Robert Bistro.
You can find some of Boston's best sports bars in this neighborhood, but beneath all the big screens, you'll also find some of the city's best cuisine prepared by talented chefs.
So come and discover the best cuisine in Boston's Fenway -
Fenway Restaurant Guide
Petit Robert Bistro
French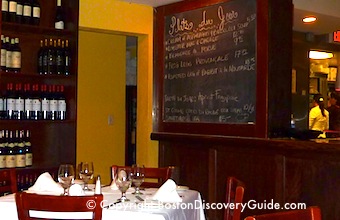 Petit Robert Bistro serves up traditional French brasserie classics near Fenway Park and offers an excellent but reasonably priced wine list.
Lunch features casual items - quiche, crepes, and croque monsieurs. For dinner, look for steak-frites, pot-au-feu, duck comfit with sausage. Keep an eye out for the cheese and chocolate fondue occasionally offered at the bar.
Almost as appealing as the food is the light-filled dining room overlooking Comm Ave and the gracious service. Close your eyes, and for a moment, you'll imagine you're really in a Paris bistro.
More about Petit Robert Bistro
Restaurant Row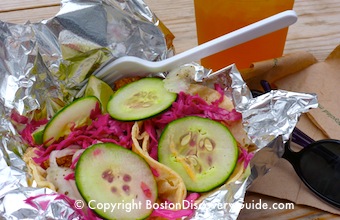 Fish tacos (like the one in this photo), burritos carnitas, enchiladas, and other Mexican favorites draw fans to El Pelon - and to the other 5 small cafes along Restaurant Row.
After a devastating fire a few years ago and then a 3-year long rebuilding period, old favorites such as El Pelon are back along with several newcomers.
92 Peterborough (in Restaurant Row, between Kilmarnock and Jersey Streets); 617-262-9090
Restaurant.com - Save 60% or More on Boston Restaurants
Eastern Standard - Elegant French Brasserie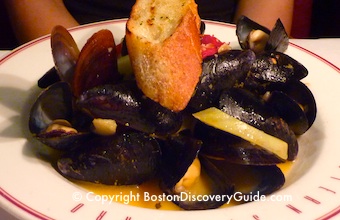 Eastern Standard offers an elegant but casual bar and dining close to Fenway Park, plus outdoor sidewalk tables during warm months - just like the brasseries located in every Paris neighborhood.
Order a meal if you're hungry - or just a sandwich or appetizer if you're not.
Favorites include bouillabaisse, frisée aux lardons, and steak-frites. The chef uses local ingredients when feasible, so you taste distinctive Boston/New England flavors along with French panache. Eastern Standard may not be specifically a seafood restaurant, but its seafood dishes rival the best of them! More Boston seafood restaurants
528 Commonwealth Avenue; Green Line/Kenmore; 617-262-9090
Island Creek Oyster Bar - Fresh local seafood
Island Creek oysters from Duxbury Massachusetts take center stage in the glass-enclosed raw bar. Burgers, all types of seafood dishes, and steaks round out the menu - and don't miss the fried oyster slider on brioche with chili aioli.
Enjoy a casual meal at the bar, or go for a more formal experience in the dining room. Island Creek Oyster Bar is generating a lot of excitement in the Fenway restaurant scene right now, and for good reason. If you like fresh seafood, you'll find a lot to love here.
500 Commonwealth Ave (at Hotel Commonwealth); Green Line/Kenmore
Restaurant.com - Save 60% or More on Boston Restaurants
Basho - Contemporary Japanese Brasserie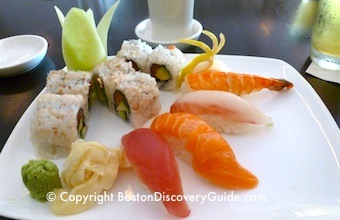 Basho's wide-ranging menu offers everything from traditional udon soup with tempura to contemporary riffs on Japanese cuisine, plus excellent sushi and sashimi and robatayaki, little skewers of meat, chicken, fish, and/or veggies cooked over a grill.
Watch the chefs at the sushi bar and robata grill as they provide a touch of drama. Sip saki in the bar/lounge, relax in the more serene dining room, or enjoy the outdoor seating. Music is loud and lively: contemporary pop, hip-hop, and rap.
Read why Basho is also on our Cheap Eats list
1338 Boylston Street; Green Line B/Kenmore; 617-262-1338
Sweet Caroline's - Sports Bar with Tasty Pub Food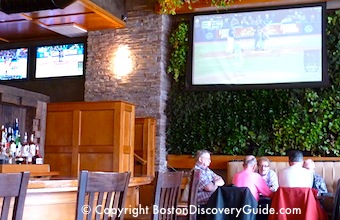 Stop by Sweet Caroline's for appetizers and a burger on Game Day, or steak tips and sweet potato fries anytime. Well, I always order the lobster roll, and my daughter saves room for the delicious apple crisp with ice cream - but you get the idea.
Plenty of big screens, lots on draft, and their very own live "Green Monster" wall. Like other Fenway sport bars, exhuberant crowds pack Sweet Caroline's on game days. But at other times, it's a terrific place to drop by in the afternoon with family or friends and enjoy a late lunch and watch a game.
1260 Boylston Street (across from Fenway Park); Green Line/Kenmore; 617-424-1260
Jerry Remy's - The ultimate sports bar + good food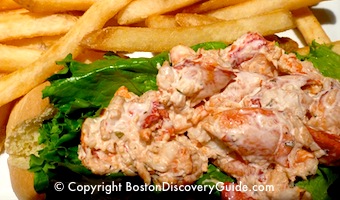 Best known for its superb big screens and awesome roof deck overlooking Fenway Park, Jerry Remy's also offers excellent dining, especially if you come on a non-game day to avoid the masses of exuberant fans.
Of course you can enjoy the usual pub fare - burgers, steak tips, nachos, and so forth - but as you can see in this photo, they also serve up a great lobster roll.
More about why we love Jerry Remy's
1265 Boylston Street ; Green Line/Kenmore; 617-424-1260
Citizen Public House and Oyster Bar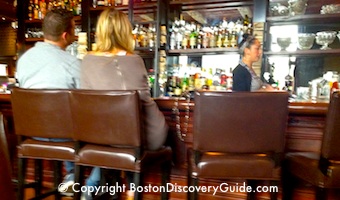 With over 150 whiskeys, plenty of micro-brews, fresh local oysters, and the option of advance-ordering a whole roasted suckling pig (bring a group of friends - that's a lot of pork), Citizen Public House gives you plenty to love.
Citizen Pub describes itself as a "modern neighborhood tavern," and you can certainly drink happily here, but the food is waaaay beyond the normal pub fare - it is seriously good.
Seafood and pork dominate the menu - love the seafood bouillabaisse, the charcuterie board with house-made pickles, and the mussels with house-made chorizo. The daily specials are always a good bet. And both the gluten-free and vegetarian menus offer plenty of choices.
1310 Boylston Street in Boston's Fenway; 617-450-9000
Pho & I - Vietnamese Cuisine near Symphony Hall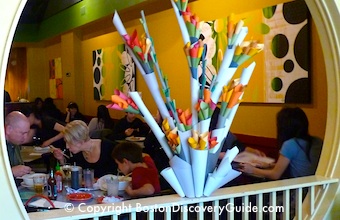 Pho and I is a Ken Oringer (Clio, Uni, Toro, KO Prime) restaurant, modeled after a Mexican taqueria.
The Mexican-inspired menu lets you sample everything from tacos and burritos to comfit duck with fig marmelade and lamb enchiladas with a dark mole sauce and hazelnuts.
1 Lansdowne Street (next to Jillian's, across from Fenway Park); Green Line/Kenmore; 617-421-9595
Canestaro Restaurant and Pizzeria - Southern Italian Specialties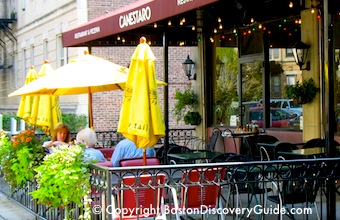 Canestaro's southern Italian cuisine rivals the North End Italian restaurants. This casual restaurant in a quiet residential neighborhood is just a few blocks from Fenway Park, Museum of Fine Arts, and Isabella Stewart Gardner Museum.
The menu offers a wide range of choices - pizza, sandwiches, grilled burgers and steaks, and traditional Italian pastas and main dishes - all well-prepared with high-quality ingredients and homemade sauces.
Enjoy the terrific outdoor seating area during warm weather.
16 Peterborough Street; Green Line/Kenmore; 617-226-8997
La Verdad - Mexican Taqueria near Fenway Park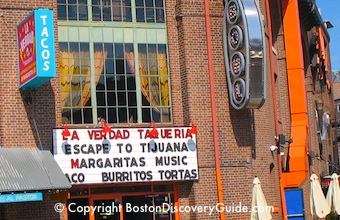 La Verdad is a Ken Oringer (Clio, Uni, Toro, KO Prime) restaurant, modeled after a Mexican taqueria.
The Mexican-inspired menu lets you sample everything from tacos and burritos to comfit duck with fig marmelade and lamb enchiladas with a dark mole sauce and hazelnuts.
1 Lansdowne Street (next to Jillian's, across from Fenway Park); Green Line/Kenmore; 617-421-9595
Baseball Tavern - Enjoy Pub Food on the Roof Deck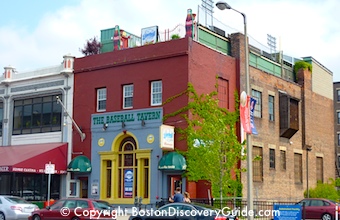 Make no mistake - big screens, pool tables, and video games definitely position Baseball Tavern as a sports bar/ borderline dive bar.
On Red Sox game days, fans pack in, order beers, and scream about the action on the field, only 1 block away.
But at less-frenzied times, the seasonal roof deck designed to kind of look like a small-scale replica of Fenway Park and a menu chock full of New England pub favorites make it meal-worthy. Look for burgers, steaks, fish and chips, chowder, clam rolls, hot dogs, sausage and peppers, shrimp, chili. Reasonable prices, huge portions.
1270 Boylston Street; Green Line/Kenmore; 617-867-6527
Betty's Wok and Noodle Diner - Asian-Cuban Fusian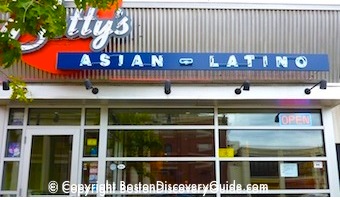 Betty's Wok and Noodle Diner is perhaps Boston's only Asian/Cuban fusion reataurant.
The menu features noodles, rice, veggies, and meats, combined in any possible way you can imagine. Or create your own dish, combining sauces, ingredients, and seasonings. Lots of vegetarian choices.
Low-key and mellow during the day - perfect for a small afternoon snack after a trip to the nearby Museum of Fine Arts - and then much livelier at night, especially before and after performances at nearby Jordan Hall, Symphony Hall, and Huntington Theatre. Reservations are often a must in the evening due to pre- and post-show crowds.
250 Huntington Ave; Green Line E/Symphony; 617-424-1950
Sweet Cheeks
BBQ
Come here when you want some flavors of the South. Choose from meats - BBQ ribs, brisket, pulled pork, pork belly. Then add a couple of sides - mac & cheese, baked beans, fried okra, slaw, broccoli casserole. Somehow, though, you need to save room for the killer bisquits and sweet butter. Don't come if you're concerned about your cholesterol. Huge portions; book some gym time later.
1381 Boylston Street; Green Line/Kenmore; 617-266-1300
Elephant Walk
Cambodian and French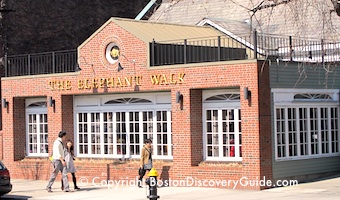 Elephant Walk brings together 2 stellar cuisines - French and Cambodian.
Note - this is not fusion cuisine - it's two very different types of food cooked and served in the same restaurant, reflecting the chefs/owners' heritages.
You can mix and match from the different parts of the menu, and can even choose from traditional vs contemporary Cambodian. There are even gluten-free selections.
900 Beacon Street (another location in Cambridge at 2067 Mass Ave); Green Line C/St. Mary's Station
Trattoria Toscana - Authentic Northern Italian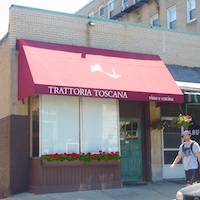 Dine in this tiny (about 30 seats) Fenway restaurant when you want authentic Tuscan food.
You can enjoy everything from gnocchi in creamy gorgonzola sauce with toasted walnuts to oven-roasted lamb shanks, along with a few dishes that you don't usually see in Boston restaurants, such as pasta with wild boar in red wine sauce, chicken liver pate with sautéed portobello mushrooms crostini, and Florentine-style beef tripe.
One of the best restaurants near the Museum of Fine Arts - especially if you love Northern Italian cuisine and enjoy food that's different from the ordinary.
130 Jersey Street (between Queensbury and Park); Green Line E/Museum of Fine Arts; 617-247-9508
Taberna de Haro - Spanish Favorites
Technically in Brookline but literally just across the street from Fenway and too good to not mention.
The chef/owner of this small (38 seats) restaurant with seasonal patio seating lived in Spain for 8 years and serves up food that you might find in Madrid, using local and organic products whenever possible and of course lots of high-quality olive oil. Enjoy an assortment of tapas, or a main course. Look for the shrimp with garlic and olive oil, stuffed squid, or imported Spanish ham.
At first glance, this looks like a small neighborhood spot convenient to Boston University - and it is - but its popularity and small size make reservations a must.
999 Brookline Ave (corner of St Mary's Street); Green Line C/St Mary's; 617-277-8272
Tasty Burger - Cheap Eats near Fenway Park
Tasty Burger attracts an eclectic crowd drawn to the burgers and hotdogs with all the fixin's, shakes (go for the "Green Monster"), hand-cut fries, onion rings, slushies - plus wine and beer. This deliberately down-scale Fenway eaterie doubles as a classic dive bar.
But taste the food, and you'll realize you've discovered a gem, a throwback to the time when a burger was just a burger. If you've ever bemoaned the high price of tiny designer sliders in Boston's upscale bars and long for the "real" thing - slightly greasy thin patties fried on a griddle - you'll rejoice at Tasty Burger.
Order at the outside service window and find a table on the small patio, or go inside for the retro-meets-Pulp Fiction decor featuring Samuel L. "That is a tasty burger" Jackson on one wall, free pool, and a jukebox.
One more bonus: Free off-street parking. Or take the Green Line to Kenmore and walk over.
1301 Boylston Street; Green Line/Kenmore; 617-425-4444
Like this Page? Please Share!
More Fenway Options to Consider:
Boston Discovery Guide > Restaurants > Fenway