Home > Boston Tours >
Fenway Park Tour
See the Boston Red Sox Home Field Up Close
A Fenway Park tour gets the vote of most Boston Red Sox fans as the Number 1 tour in Boston, bar none!
Fenway Park tours may not be quite as good as seeing a Red Sox game - but Boston visitors choose them for lots of different reasons.
Perhaps the game you want to see during your visit to Boston is sold out and touring Fenway Park is the only way you're going to get inside the famous stadium.
Perhaps you can still get tickets - but cheap seats have been sold out, and who wants to spend $100+ for a great seat when you can tour Fenway for much, much less?
Perhaps you'd like to see a game . . . but you only have an hour, or the game schedule doesn't coincide with your schedule, or you're visiting in the winter, or you hate crowds.
Or the smell of Fenway Franks.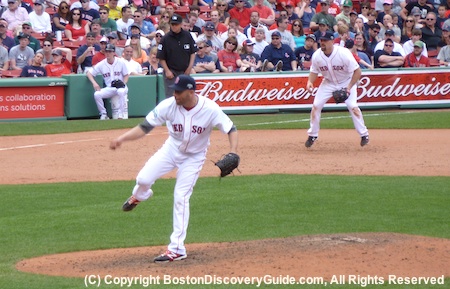 Red Sox Game at Fenway Park - Felix Doubront on the mound and Kevin Youkilis on third
Whatever your reason, a Fenway Park tour gives you the opportunity to see the famous park up close, without almost 36,000 other people nearby.
This is your chance to be out on the field, almost alone, where baseball legends performed their magic.
You'll walk across the same field where Babe Ruth looked up at cheering crowds while he pitched . . . where Ted Williams hit a spectacular 502-foot home run with his ball landing on top of a Yankee fan's straw hat . . . where Pedro Martinez became the first pitcher in All-Star history to strike out a game's first three batters.
As you tour Fenway Park, you'll be in the exact spot where so much baseball history has been made. You'll smell the grass, feel the faint breeze, and gaze up into the stands, just as the players do.
The 50-minute walking tours are led by official Fenway Park tour guides. What you'll see differs somewhat based on the guide you get and what else is happening on the field at the same time. Which partly explains why some people go on these tours more than once.
Compare Fenway Park Tour discounts
Both the GoBoston and GoSelect Boston discount cards give you free admission to Fenway Park tours. Compare the cards to find out which works best for you.
Experiencing the Green Monster during a Fenway Park tour
What else do you get to do on a Fenway Park tour?
Typically, you'll get to touch the Green Monster and go inside it, right behind the scoreboard. You may even get to go up and sit in the Green Monster seats.
You'll check out the Press Box, imagine yourself at the mound, learn about Red Sox history, and visit the Red Sox Hall of Fame wall covered with photos and mementos showing great moments in the team's history.
You may get to walk around the Warning Track and Pesky's Pole, the famed right field foul pole named for a former Red Sox shortstop. You'll visit a few different parts of the stadium. You'll get to see the bullpens up close, built in front of the right center bleachers in 1940 so that left-handed Ted Williams could hit more home runs and dubbed "Williamsburg" by journalists of that era.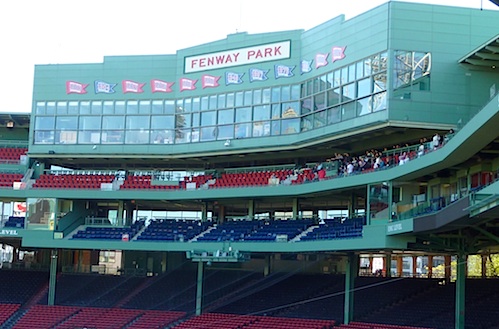 On non-game days, you might even get to visit the Dugout and walk across the field.
You'll see the Bullpen, where players warm up before the games, and the red phone that the coach uses to call for relief players.
Beyond Fenway Park - More Fun Boston Tours
What makes Fenway Park special (besides the Red Sox)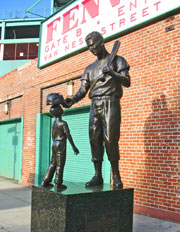 As the Fenway Park tour continues, you'll even get an up-close, first-hand sense of how peculiar some of the ball park's dimensions feel when you're on the field. You'll see how deep right field is, how short left field feels, how the Green Monster looms over you.
No doubt about it, Fenway Park can be a mean place to place . . . if you're not used to it, like the Sox are.
You'll see how wall angles come together to make "the triangle," the farthest part of the field from home plate. All the seats will be empty . . . but you'll imagine standing on the field, getting ready to hurl a ball through the air, with the almost-at-eye-level seats filled of cheering, screaming fans.
If you have your children with you, they'll absolutely love this tour, especially if they're about 8 years old or older. After the tour, walk around to Van Ness Street and show them the Ted Williams statue.
Boston Insider tips for Fenway Park tours
You're permitted to walk on the field and in the dugout only during the morning tours on home game days - so if this is something that you want to do, plan accordingly.
Tickets are sold only on the day of the tour and sometimes sell out. Especially if you want to do a morning tour, a good strategy is to arrive early.
Save a few minutes before and after the tour to look around the enormous Red Sox Souvenir Shop where tickets are sold on Yawkey Way. If you don't already have plenty of Red Sox gear in your closet, now is the time to buy more. You can also find lots of memorabilia such as coffee mugs and Fenway Park posters.
Visiting Boston and no room in your luggage for souvenirs? You can also order terrific Fenway Park posters as well as Red Sox hats and other gear online.
Tickets, discounts, and tour information
Ticket prices (costs are for 2012):
Adults - $12
Children (3-15) - $10
Seniors - $11
Tour length: Approximately 50 minutes
Compare discounts available with GoBoston and Go Select Boston cards
Tour hours
- Winter: 10 a.m. - 2 p.m., every hour on the hour
- Summer (beginning early April): 9 a.m. - 4 p.m., every hour on the hour, until 3 hours prior to game time when a home game is scheduled
Tours depart from the Red Sox Souvenir Shop on Yawkey Way, directly across from Fenway Park
For more information: 617-226-6666; website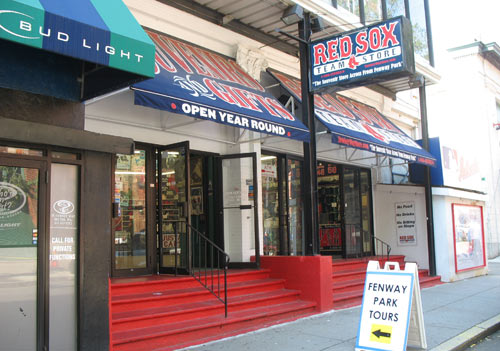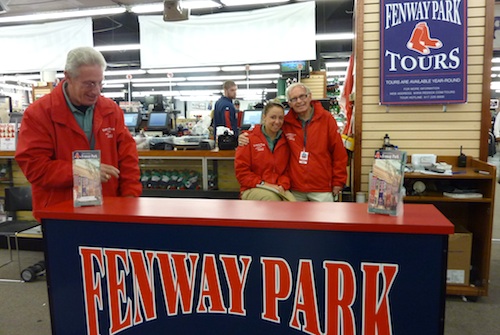 The friendly guides for Fenway Park tours, posing at the ticket counter
Like this Page? Please Share!
More for Boston Red Sox Fans
More Fun Boston Tours
Boston Movie Tours - Think you "know" Boston from seeing it in the movies? You get to see the real places on these tours - and compare them with what you saw on the big screen
Boston Sightseeing Tours - The BEST tours for seeing Boston's famous sites
Best Tours for Teens - They'll love these tours - and so will you!
Boston Discovery Guide > Boston Tours > Fenway Park Tours