Home > Fall Foliage in Boston >
Boston Fall Foliage Report 2010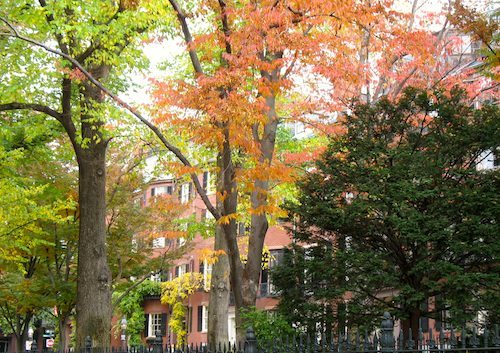 Crimson foliage in Louisberg Square in Boston's Beacon Hill neighborhood
Weekly photos showing fall foliage in Boston
The Boston Fall Foliage Report 2010 provides weekly updates about city trees as their leaves change color from green to gorgeous shades of crimson, gold, orange, and scarlet.
Plan a leaf-viewing weekend right in the city!
Because of Boston's location in Southern New England, we enjoy gorgeous fall foliage color long after leaves have dropped off trees in more northern locations.
If you're planning a Boston visit during the fall, these foliage photos will give you a glimpse of the city's spectacular fall leaf color - and show you why fall foliage ranks high among top Boston attractions.
Boston Fall Foliage Report
Take a moment to see how the leaves change color as fall progresses - and check out my fall foliage updates for 2010 throughout the fall. The most recent update appears first. You can find links to previous years at the bottom of the page.
Thursday, September 16 - First Fall Foliage Report for 2010
Green leaves still cover Boston's many trees. I tried to find even a tinge of gold or crimson, but no luck - everything is still green.
However, the city still has plenty of color. Flowers are in full bloom everywhere. To see lots of gorgeous front gardens, stroll down Commonwealth Avenue, Beacon Street, or Marlborough Street in Boston's Back Bay.


Tuesday, September 21 - Subtle colors begin to appear
Seemingly overnight, Boston's trees are beginning to display some color other than green. Not every tree is showing golden or orange highlights, and the colors are nothing like what you'll see in a few weeks - but if you're visiting the city this week, you will see a few signs that fall is arriving.
Best places to look: the Public Garden and Boston Common, and the trees along the Charles River Esplanade. Ornamental grasses along the Rose Kennedy Greenway have changed to a rich gold, even though tree leaves overhead are still green.
You'll also see roses and late-summer perennials in full bloom throughout the city. Flowers in the Public Garden are especially spectacular right now.
Go to Fall Foliage 2010 slide show to see new pictures of what Boston's fall foliage looks like right now.
Tuesday, September 28, Fall Foliage Report 2010 - Slightly more color
Green still dominates Boston's landscape - but look closely, and you'll see a bit more color than last week.
New photos this week (check the slide show above) focus on the Bay Village neighborhood (hints of gold) just a couple of blocks from Boston Common, Boston Common itself (still very green), and the Public Garden, where I found the most color - although admittedly, a lot came from flowers.
Foliage on trees just a couple of miles outside of Boston is turning orange and gold - so surely Boston's leaves can't be far behind!
Friday, October 8
Fall foliage colors in Boston continue to be muted, with only a few splashes of gold and streaks of scarlet as a reminder of the color that is sure to swath the city later this month.
New photos this week are of Charlestown, the historic spot where the Puritans initially landed before making their way to what is now Boston. Two Freedom Trail stops are in Charleston, the Bunker Hill Monument (which now boasts bright red ladders up two of its sides for periodic cleaning/repair work) and the USS Constitution.
If you're visiting Boston, you can take the MBTA ferry from Long Wharf to Charlestown Navy Yard - for $2 (or $1.70 if you have an MBTA "Charlie Card"). Stroll along the Freedom Trail and enjoy all of the fabulous architecture in this picturesque neighborhood.
Go to Fall Foliage 2010 Slide Show
Sunday, October 10
With Boston fall foliage still stubbornly green, I headed west to Concord, where the "shot heard 'round the world" was fired at the Old North Bridge, marking the beginning of the Revolutionary War.
Today, Old North Bridge is part of the Minute Man National Historical Park. The gently rolling hills just beyond the bridge are home to some lovely old trees, which are beginning to turn gorgeous colors.
Several volunteer re-enactors dressed as minute men waited by the bridge, adding to the colorful show.
Wednesday, October 13
Finally, large swaths of Boston foliage are beginning to show signs of a color change. Nothing dramatic yet - but in another week or two, colors should become much brighter.
Photos in the slide show taken today are of trees changing color along Commonwealth Ave Mall, and a small tree covered with red berries next to the Old South Church on Boylston St in Back Bay.
Tuesday, October 19
After a slow start to Boston's fall foliage season, the city's trees have suddenly started exploding with gorgeous color, seemingly overnight.
One of my favorite places to view and photograph fall foliage is Mt. Auburn Cemetery, just to the north of Boston and easily reached by T (you can find more specific directions on the Boston fall foliage page).
Leaf colors at Mt. Auburn are stunning right now - and should continue for at least a few weeks. Large specimen maples account for most of the blazing gold, orange, and scarlet foliage in the photos you'll see in the slide show - and they're even more vivid when you see them in person. Many other trees are still green, providing a dramatic contrast and suggesting lots more color still to come.
I spotted lots of photographers, a few painters, and even what appeared to be a tour group there this afternoon.
Sunday, October 24
The bright fall foliage along the Charles River Esplanade and Reservation provided the perfect backdrop today for the Head of the Charles Regatta. You can see some of the rowers as well as the gold and crimson trees in the photos I took today from the middle of the BU Bridge. Gray skies and light rain made the colors glow even brighter.
If you look carefully at these photos, you can also see the pedestrian footpaths along the sides of the river (photos show both the Boston and the Cambridge sides). Walk or jog along these paths to enjoy the colors close up.
Other foliage photos from today include the nearby neighborhood around the Boston University Central Campus, Commonwealth Ave, and a side street across from BU's Agganis Arena on Comm Ave. The colorful ivy-covered wall above a door to the College of Fine Arts building is a reminder that fall foliage is not just on trees!
BU is not known for being a leafy campus, but in addition to the trees you see along Comm Ave, the campus actually has a number of small and mid-sized gardens with trees and small shrubs, as well as great expanses of grass and trees along the river. Heavier rain thwarted my efforts to photograph the bright foliage in these areas . . . to be continued some other week.
Sunday, October 31
Brilliant fall foliage colors blanket most of Boston now . . . and as an early sign of changes to come, some trees have already passed "peak," while others are nearly leaf-free, thanks to the still winds during the past couple of days. But if you're visiting Boston during the next few weeks and hoping for some foliage views, don't worry – plenty should be left, and sometimes the last are the loveliest, if not the brightest.
Photos being added to the slide show today are from Beacon Hill and the West End where they converge along Cambridge Street near the Liberty Hotel, world-famous Massachusetts General Hospital, or MGH as it's usually called here.
I'd planned to take more photos – but a sudden downpour arrived out of nowhere (I swear the sky was mostly blue 30 seconds before) and I had to dash for shelter in one of my favorite Boston Cheap Eats, Panificio Bakery on Beacon Hill's Charles Street, where I'm enjoying café au lait and a slice of their awesome deep dish pizza as I type.

Thursday, November 18
If you're visiting Boston in the next week or two, you'll still find plenty of lovely foliage, even though most trees are past their peak. Surprisingly, though, some still have green leaves - this has been quite a prolonged and wonderful foliage season, with the promise of a lot of color still remaining next week for Thanksgiving.
The colors also look much mellower than a couple of weeks ago - lots of gold and russet. I'm adding photos to the slide show that I took last weekend in the Public Garden, as well a couple of trees in Boston Common. As you can see, the weeping willows surrounding the Lagoon in the Public Garden are just beginning to turn golden.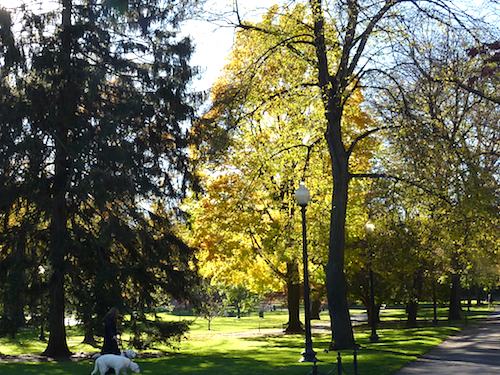 Foliage turning from golden to russet in this tranquil scene in the Public Garden
If you enjoy the Boston Fall Foliage Report 2010, check out:
Like this Page? Please Share!
Boston Discovery Guide > Attractions > Fall Foliage > Report