Home > Restaurants > Steakhouses > Davio's
Davio's Northern Italian Steakhouse
Savor this top Boston Italian restaurant!
Dine at Davio's Northern Italian Steakhouse Restaurant in Boston or next to Gillette Stadium at Patriot Place, and you'll fall in love with the juicy steaks, pan-roasted lobster, and mouth-watering rissoto.
What makes this popular steakhouse stand out among other Boston restaurants, though, is how the menu strikes just the right mix of Italian specialties and American favorites.
Fabulous pastas and risottos share center stage at this favorite Boston restaurant with succulent steaks, chops, fresh-from-the-pier seafood, numerous local New England veggies, and lush desserts.
At lunch, burgers, pizza, and panini join the mix.
Vegetarian choices will make your forget that Davio's serves meat. So will the seafood dishes.
Gluten-free menus for lunch and dinner widen the choices.
What does this all add up to? A restaurant that goes far beyond being just a steakhouse, or just an Italian restaurant serving great meat.
From power lunch to after-theater drinks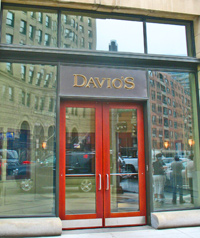 Located on the southeastern edge of Back Bay next to Park Square, Davio's is a popular place for power lunches, weeknight dinners, and weekend splurges.
It's also a favorite Theatre District restaurant for dinner before a show or after-theater drinks.
Walk into the restaurant, and you'll be immediately struck by the dramatic impact of high ceilings (a furniture store once occupied the space), massive columns, and a gorgeous open kitchen. The decor's soothing chocolate browns and silvery taupes balance with warmth of the food and high-energy ambiance.
On the menu, you'll find an awesome array of first courses, salads, pastas, and small plates, many of which change seasonally.
Where to begin?
Perhaps with Davio's acclaimed lobster bisque, or the perfectly fried crispy oysters served with vegetable slaw and basil aioli. Or maybe the warm spinach salad, or a half-portion of the incredible lobster risotto.
Don't overlook the pasta - everything from simple but perfect angel hair pasta with pomodoro sauce and fresh basis to fedelini with out-of-this-world baby clam sauce.
You could easily put two or three of these small dishes together for a perfect meal.
But you'll also want one of the mouth-watering main courses. Here's where you'll find extensive choices featuring hearty steaks, super lamb and pork, free-range chicken, and veal scallopini.
Even though this is a steakhouse, take a close look at the scrumptious seafood - especially the grilled swordfish and fabulous pan-roasted lobster with lemon tarragon sauce and Yukon gold potatoes.
Vegetarians and vegans, you'll also find plenty to be happy about here. Davio's Italian roots show in the large number of vegetable options, in addition to the pastas and risottos.
Gluten-free menus for lunch and dinner include favorites from the regular menus as well as yummy specialties - so whether or not you're avoiding gluten, be sure to take a look.
Boston Restaurant Savings
Restaurant.com - Save 60% or More on Boston Restaurants
Portions tend to be large - so if you want to have dessert, you'll need a strategy.
Perhaps order a little less, or plan to take home part of your meal - because the desserts, all made in house, are worth saving room for. They vary somewhat from day to day, but almost always include the most popular choice: an incredibly decadent molten chocolate cake served with ice cream.
An excellent list of mostly Italian wines, plus plenty of other beverages, accompany the food selections. In fact, Davio's also offers a small but excellent bar menu, so you can happily dine at the bar if you'd like.
In addition to the regular menu, prix fixe menus are also often available, with and without wine pairings.
Davio's Locations . . . Including a "Boston Insider" Secret
Owner Steve DiFillippo started Davio's back in 1985 when he was only 24, and the restaurant has existed in various locations around Bostons since that time. Today, it can be found in the Back Bay location, the spectacular new Patriot Place next to Gillette Stadium in Foxborough, and Philadelphia.
Behind the Back Bay location, you'll a "Boston Insider" secret . . . Davio's To Go, tucked away in a lobby space - a local favorite for cheap eats. When you're in a rush but starving for something tasty, grab a carryout container of soup, panini, salad, or my personal favorite, the deep dish pizza, fragrant with olive oil and garlic.
When you consider that dinner, particularly if you order wine and more than just a main course, can flatten your wallet (all Boston steakhouses charge hefty prices for their prime beef), the To Go option represents quite a bargain - although the menu does not include steaks!
Details and Directions
Addresses:
Back Bay: 75 Arlington Street Green Line/Arlington; 617-357-4810
Back Bay: Davio's To Go - 10 St. James, between Arlington and Berkeley
Foxborough: Patriot Place, next to Gillette Stadium
Philadelphia: 111 South 17th Street; 215-563-4810
For more information and menus: 617-357-4810; website
More Boston Restaurant Choices to Explore
Check out other Back Bay Restaurants
Return from Davios to Boston Restaurants
Return from Davio's to Boston Tourism and Discovery Guide home page