Cruises from Boston to Caribbean Ports
Visit Fabulous Destinations on Repositioning Cruises!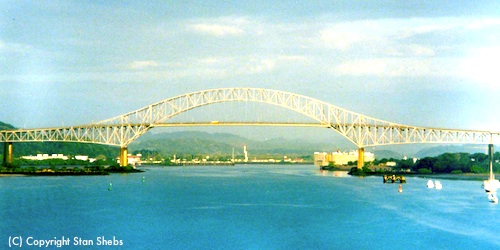 Panama Canal - 2013 Caribbean Repositioning Cruise Destination
Repositioning cruises from Boston to Caribbean destinations give you the chance to experience unique combinations of interesting ports along with luxurious days at sea.
You can also usually get terrific bargain discount fares on these cruises.
Why such big savings on Caribbean cruises?
Repositioning cruises from Boston take place during the fall because ships need to move to another location for the winter. Getting there can mean more days at sea than usual.
So to entice passengers aboard, these cruises stop at more ports than usual, including some special places not usually found on regular cruises. To tempt you even more, they give you very cheap cruise prices.
You can choose from three terrific repositioning cruises from Boston, including a fascinating cruise across the Caribbean, through the Panama Canal, up the Pacific coastline, and on to San Diego. Start your planning now!
Take a look at the 3 Caribbean and Panama Canal cruises - and highlights of several spectacular ports you'll visit on each voyage!
Royal Caribbean Brilliance of the Seas - Southern Caribbean Cruises
You'll enjoy have lots of fun on this relaxed cruise around the Southern Caribbean as you visit Basseterre, Castries, Bridgetown, Willemstad, and Orangestad on your way to Tampa on the Brilliance of the Seas cruise from Boston.
Explore renowned diving locations, spectacular beaches, historic buildings, and luxury shopping.
Find dates, rates, and deals for Brilliance of the Seas cruises from Boston (low price guarantee)
More about Brilliance of the Seas


Highlights of Brilliance of the Seas Ports of Calls
Basseterre, Capital of St Kitts and Nevis
Basseterre lies between the calm waters of a bay and lush green hills and mountains rising up behind it.
Explore the shops in The Circus, a tourist-oriented area, or Independence Square, where you'll find a cathedral and older historic buildings.
Oranjestad, Aruba, Netherlands Antilles
Orangestad features lovely colonial architecture, restaurants, museums, and boutiques.
Although shopping is wonderful, nearby beaches, swimming, and water sports are the real attractions in this diver's paradise due to the coral reefs, wrecks, and colorful tropical fish species. Don't dive? Take a unique underwater submarine sightseeing tour.
Castries, St Lucia
As a major cruise ship Port of Call for St Lucia, Castries offers tax free shopping and plenty of restaurants serving local and international cuisine.
Enjoy shopping and a meal, or take a water taxi or visit nearby towns or tour the rest of the island...or throw your swimsuit into a bag and head to one of the spectacular nearby beaches.
Holland America Veendam - Caribbean, Panama Canal, South America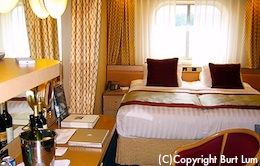 The Veendam's exciting 21-night cruise takes you down the Florida Coast, across the Caribbean to South America, through the Panama Canal, and up the Pacific Coast of Mexico.
You'll stop at Port Canaveral, Fort Lauderdale, Key West, Grand Cayman, Cartegena, Panama Canal, Puerto Caldera, Corinto, Puerto Quetzal, Puerto Chiapas, Huatulco, Puerto Vallarta, and finally San Diego.

Panama Canal Cruise Route from Boston
Courtesy of CruiseCompete.com
Highlights of Veendam's Ports of Calls
Key West, Florida
Discover the breathtaking beauty of Key West, the southernmost point in the 48 contiguous states, watch the legendary sunset light up the sky, and explore the interesting boutiques in the Key West Historic Seaport.
If you're fascinated by lighthouses, be sure to visit the Key West Lighthouse and Keeper's Quarters Museum.
Grand Cayman, Cayman Islands, British West Indies
Spend the afternoon scuba diving or snorkeling in the crystal clear water surrounding Grand Cayman, or play on the beach where white sand, blue skies, and turqouise coves blend together in a tropical paradise.
If you're a garden enthusiast, plan to visit Grand Cayman's Queen Elizabeth II Botanic Park where wild orchids, parrots, and mango trees will be a feast for your eyes.
Huatulco, Ouaxaca, Mexico
Nine protected bays, 36 beaches, and a backdrop of the dramatic Sierra Madre del Sur Mountains are just a few reasons why you'll love your visit to the resort town of Huatulco at the edge of the Pacific Ocean.
Lie on the white sand and listen to the surf - or explore a nearby coffee plantation, butterfly sanctuary, and other attractions within the protected ecotourism areas.
Where to find cruises from Boston to the Caribbean
A convenient place to learn more about these cruises from Boston to Caribbean ports and find the cheapest cruise prices is at CruiseCompete.com. Just let them know which cruise you want, and they'll show you competing rates from independent travel agents right on the CruiseCompete website. Then you can select the quote you like best and contact the agent to book your cruise.
Photo Credits
Like this Page? Please Share!
More Cruises from Boston
Boston Discovery Guide > Cruises from Boston > Cruises to the Caribbean - and Beyond