Home > Boston Shopping > Running of the Brides >
Carson Kressley at Running of the Brides
Wedding Gown Advice from a Guy with a Great Eye
Yes, well-known fashion designer/writer/actor Carson Kressley (Queer Eye for the Straight Guy) recently spent several hours advising brides-to-be about wedding dresses at Running of the Brides as part of a segment he's filming for Oprah.
11/3/11 - Filene's Basement has filed for bankruptcy . . . so sadly, this brings Running of the Brides to a halt. More details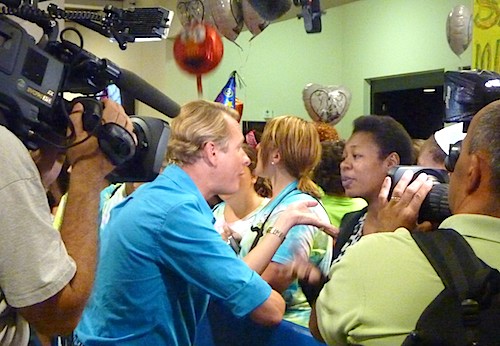 Carson chats with brides-to-be and their teams before Running of the Brides begins
Filene's Basement's Running of the Brides, a special Boston tradition since 1947, offers gorgeous designer wedding gowns at deep discount prices just two days each year, in February and August.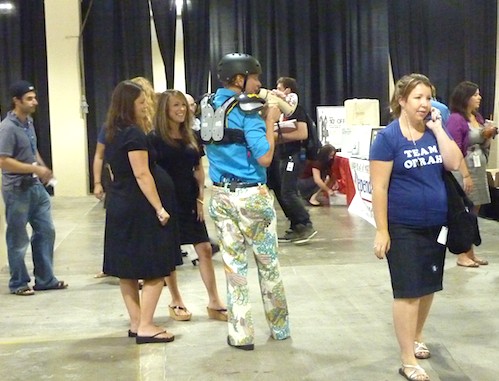 Team Oprah gives Carson a helmut and shoulder padding to "protect" him from fast-running brides
Carson's appearance at the August 2010 Running of the Brides event in Boston thrilled the crowd of shoppers as he advised dozens of brides-to-be about how to make the already-gorgeous gowns they'd chosen
perfect - for them!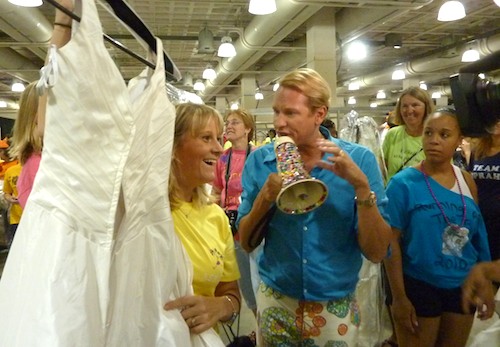 Carson cheers the brides on in their search for the perfect gown
Now, I must confess I had
no idea
who Carson was when he arrived amid excited screams from the crowd - I must not watch enough TV. I was attending the event to take
photos of Running of the Brides
for BostonDiscoveryGuide.com, and didn't realize a celebrity would be part of the day's adventure.
Fortunately, a kind mother-of-the-bride filled me in about his role in Queer Eye for the Straight Guy
. He's also written Off the Cuff: The Guy's Guide to Looking Good
, a style guide for men.
However, after hearing Carson share his knowledge with the brides and give a lot of wonderful wedding gown advice, I became a huge fan - so I'm passing on some of his best tips and words of design wisdom.
5 wedding gown tips from
Carson Kressley at Running of the Brides
1. Focus on the gown, not the label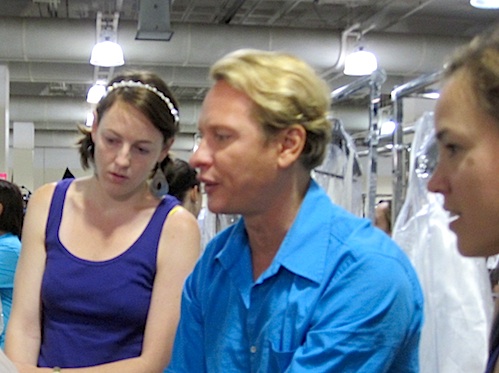 Carson explains how to find the perfect dress
Carson's advice: "A designer dress is lovely . . . but this experience is all about getting the dress you love."
Filene's Basement brings together many famous-designer gowns for this event, and it's easy for brides to get distracted by the label. In a nutshell, Carson's tip is: Don't!!!
2. Why your bra matters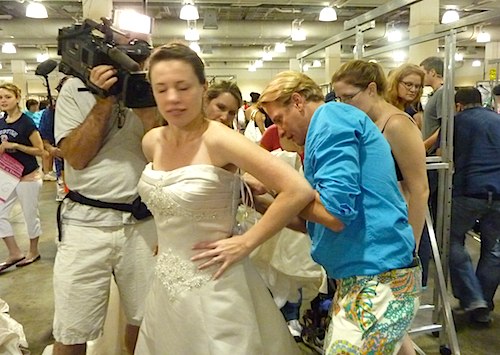 Team cheers their success in finding the perfect wedding gown at Running of the Brides
Carson shares this wisdom:
"Your bra is the most important garment you'll have on, because it affects how everything else looks. Get a really good strapless bra!"
One bride-to-be asked, "Is white the best color?"
"No," said Carson. "Flesh tone is best. You don't have to worry about it showing, and everyone's focus stays on your dress - and you."
3. Find the right gown for you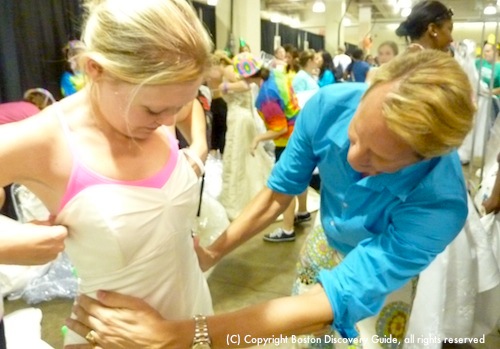 Carson makes sure a gown will fit perfectly after alterations
"If you're petite," Carson advised, "go for a simple gown. Too much detail or frou-frou will overwhelm you."
"Since you're tall and slim," he told another bride, "you'll look great in a mermaid-style design."
4. Budget for alterations
"When you get a discount gown," Carson explained, "You should expect to spend a little more on alterations - but it's so worth it!"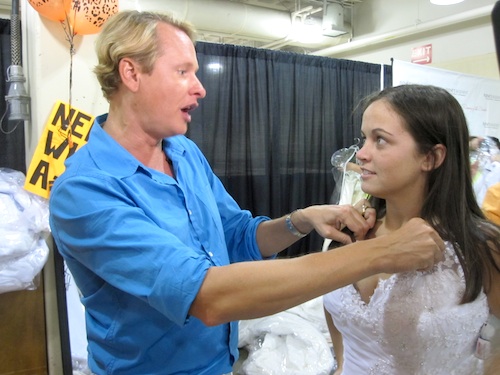 Carson suggests alterations to make a beautiful but too-large gown fit perfectly
5. Customize your gown
Carson really worked his magic when showing brides how to customize their gowns.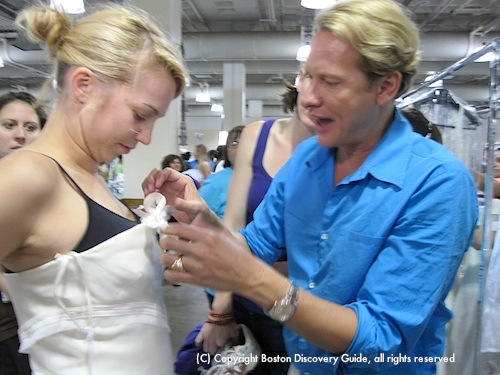 Carson suggests repurposing this gown's bow to add an appliqued trim across the top
"This gown is great for you," he told one bride, "but it needs a little something along the top, something to give subtle interest and balance the other trim. Use the bow that's already here, and undo it - spread it out and applique it all across the top of the gown. It won't cost much to have this done - and it'll make all the difference."
Another bride found a perfect gown . . . except for the bands of pink. She wanted lavender instead, and told him she planned to search for another gown.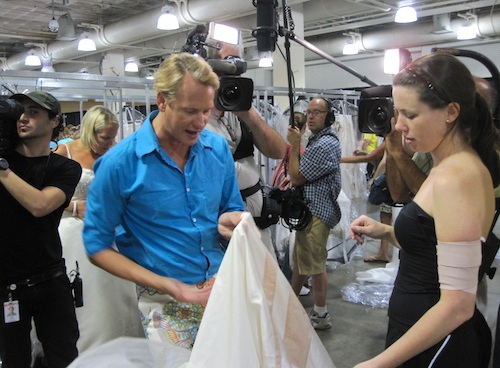 Carson shows a bride how to change the trim on her gown to a color she loves
"That's not necessary," said Carson. "All you have to do is remove the pink and add the color you want. Wait right here - I'll get some lavender ribbon or something and show you."
He sprinted across the room, returning a few minutes later with a lavender dress. "This was all I could find, but see how you can use something like this to add the touch of color you want?"
We all watched with fascination as he demonstrated how to make the transformation.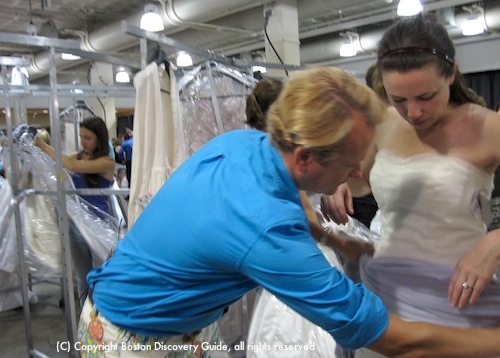 Carson uses a lavender gown to demonstrate how to customize the color

Running of the Brides is always a special event, but Carson made the August 2010 event even more memorable with his great ideas and creative advice.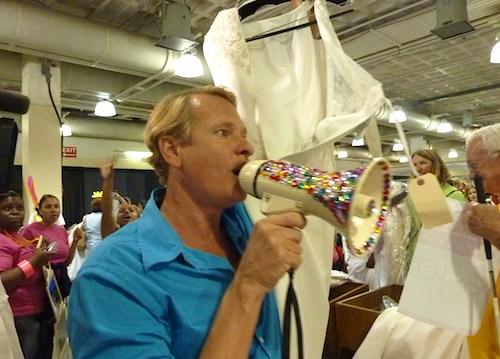 Like this Page? Please Share!
Boston Discovery Guide > Boston Shopping > Running of the Brides > Carson Kressley