Boston Weather in May
How to Celebrate May Weather in Boston
Boston weather in May can be perfect, as temperatures finally turn warm, flowers burst into bloom, and city activities move outside. Find out what to pack for your Boston visit to enjoy our spring weather to the fullest.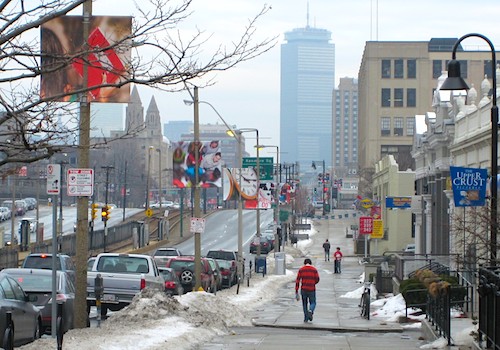 January 2, on Commonwealth Ave near Boston University - Weather is warm and slightly foggy
Even though Boston weather in May can be far more predictable than other months, surprises still lurk: sudden downpours, temperatures way higher than "warm" (think 95 degrees and steamy!), and cold spells that can even produce freak snow storms.
Despite all of this, May is the perfect time time to visit Boston. Restaurants move tables and chairs out to the sidewalks and secluded patios, free outdoor concerts take place at the Hatch Shell, outdoor markets and art walks give you the perfect excuse to be outdoors, and the swans return to the Boston Garden.
With all of these compelling reasons to be outside, you'll want to make sure you pack the right things to deal with any surprise punches that the weather may bring.
If you're planning a Boston visit during May, checking out the average temperatures for the month can be helpful - but the record highs and record lows can be even more insightful.
Athough the record high and low doesn't happen every year - that's why they're records - you should expect temperatures within 10 degrees of the records. That means you'll need to pack for a wide temperature range.
Average May high temperature: 56° F
Average May low temperature: 41° F
Record high temperature for May: 94° F (1976)
Record low temperature for May: 11° F (1874)
Average precipitation for May: 3.39 inches

Be sure to check the current Boston weather report before coming.
And don't forget the probability of rain!
Photo Gallery Showing Boston in May
Want to see how Boston weather looks in May? These photos will give you a glimpse of how wonderful May weather in Boston can be.

Photos showing Boston weather in May, left to right (move your mouse over each thumbnail photo to get a larger view):
1) January weather is perfect for ice skating on Frog Pond in Boston Common
2) If Boston's January weather turns too nasty, head over to Faneuil Hall Marketplace and visit Cheers - perfect place to get snowbound
3) Boston's famous Make Way for Ducklings statues in the Public Garden, looking bedraggled in the snow
4) Yes, those are holiday decorations on a door on Beacon Hill - you'll continue to see lots of Boston holiday decorations through January, and typically into February - they make the city festive!
5) More Christmas lights glowing in Post Office Square in the Financial District, across from the red awnings of the Langham Hotel
Return to Top - Boston Weather in May
Three More Reasons to Celebrate Boston Weather in May
What to Pack for Your Boston Visit in May
To love being in Boston in May, pack in layers to give you flexibility in case of extremely warm or extremely cold weather. If you check the weather forecase right before you depart, you can determine whether temperatures will probably be at the warm or the cool end of the spectrum.
If temperatures in the weather forecast appear warm, bring a couple of lightweight sweaters or a light jacket to layer during the evening. If projected temperatures look cool or rain (or even snow) is predicted, add a fleece jacket to your suitcase. On the rare occasions that we get snow in Boston in May, it usually melts quickly as temperatures zoom back up. On the other hand, a series of cold, rainy days can seem bone-chilling.
weather in March means layers. Fleece jackets with perhaps a sweater to layer underneath can keep you almost as warm as a regular jacket - and you can shed whatever layers you don't need if temperatures rise. Gloves, a scarf, and an umbrella are also good additions.
Boston's compact size makes it a great walking city, and March weather may inspire you to spend a lot of time outdoors. Be sure to bring comfortable walking shoes. Boots are not really necessary. Even if we have snow this month, it usually gets cleared out quickly and we're unlikely to have the sequential snow storms that can keep sidewalks slushy or icy earlier in the winter.
For more packing information, check my tips for what to pack for your Boston trip.
4 Top Activities for Enjoying March Weather in Boston
1. Line up with other spectators along the street to watch Boston's famous St Patrick's Day Parade - If you're lucky, you can soak up some Vitamin D, but even if you have to bundle up, the high spirits will keep you warm.
2. During the first week or two of March, ice skate at Frog Pond and other local rinks. Be aware that outdoor arenas sometimes have to close early if temperatures at night rise too high - so check before you go if the weather has been warm.
3. Get a glimpse of spring at the Boston Flower and Garden show. No need to bundle up - the show takes place indoors.
4. Especially toward the end of March, go for a walk and admire Boston's earliest spring flowers.
More Boston outdoor winter activities
More Boston indoor winter activities
Like this Page? Please Share!
More ideas for enjoying Boston weather in March
Check out Boston Weather in April
Return to from Boston Weather in March to Boston Weather
Return from Boston Weather in March to Boston Tourism and Discovery Guide home page