Home > Boston Weather > February
Boston Weather in February
How to enjoy February weather in Boston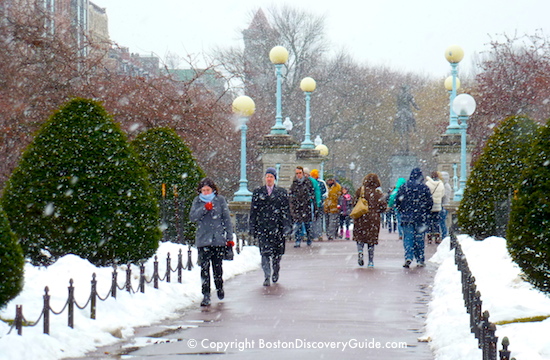 February weather in Boston's Public Garden
Boston weather in February may still bring snow - but days are getting longer, you can expect plenty of days when the sky is blue and cloudless, and spring is almost in sight.
Unpredictable February weather means Boston hotels continue to offer excellent deals - but they start going up in March, so visit while they're still low!
Many hotels offer attractive Valentine's Day packages for the entire month of February.
If you're planning a trip to visit some of Boston's many university and colleges, February is an ideal time to tour if you want to see if you'll like the climate.
Since Boston weather in Boston varies from cold and snowy to clear and almost-warm, you'll get a taste for what the "real" Boston winter weather is like - whatever that happens to be when you're here.
Just remember - February can be Boston's snowiest month - so check the weather forecast before you come, and bring extra warm clothing if the temperature looks like it will dip below freezing.
Winter gives you the best views of the gorgeous Victorian mansions along Commonwealth Avenue Mall. During spring, summer, and fall, you can barely seem them due to all the leaves.
Boston Tempuratures during February -
Highs, Lows, & Averages
Here are the record highs and record lows for Boston during February:
Average February high temperature: 39° F
Average February low temperature: 24° F
Record high temperature for February: 70° F (1985)
Record low temperature for February: -18° F (1934)
Average precipitation for February: 2.87 inches

Be sure to check the current Boston weather report before coming.
What do those of us who live here do when snow banks reach at least 8 feet high, frigid temperatures begin to seem permanent, and bad plowing reduces all the streets to one lane? We go ice skating right in the city, head to nearby Massachusetts ski slopes, or go north to New England's best ski vacation resorts.
February is the last month when Boston has reliably cold weather and snow - so be sure to get out and enjoy it!
Photos Showing Boston in February
These photos will give you a sense of what Boston weather during February looks like.
As you'll notice, we do get plenty of sun - but February can also bring a lot of snow!
The Public Garden, shown in this photo below, is a popular place for walking.


February 14 in Boston's Public Garden - note that people are wearing fairly light jackets
The best way to survive Boston winters is to go outside and enjoy it!
One of the most popular activities is ice skating - easy to do if you're visiting, because Boston Common's Frog Pond (shown in the photo below) turns into an ice rink.
You can rent skates at the rink for just a few dollars.
If you don't know how to skate, no problem! You can either hang onto the side of the rink, or rent a small gliding cart that you hang on to until you feel confident on the skates.
More about ice skating in Boston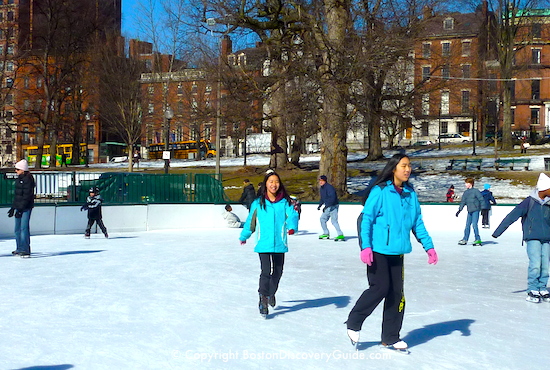 Ice Skating on Frog Pond in Boston Common - that's Beacon Hill in the background
Cold-Weather Activities for February
Walking through Boston Common toward Park Street
Most events in Boston take place as planned, regardless of the weather.
As you can see in this photo, the popular Chinese New Year Parade took place during a heavy snow storm a couple of years ago.
The weather on this particular February day provided a good reminder of how wrong Boston weather predictions can sometimes be. Only a couple of inches of light snow had been predicted - but by the time the parade, which lasts a couple of hours, finished, almost a foot of the white stuff had fallen.


Lion Dance in Boston's Chinese New Year Parade, with heavy snow falling
One of the magical things about being in Boston during February is going for a walk while the snow is falling.
The photo below, taken in the Public Garden, looks like a wooded country area because the snow hides all the nearby buildings.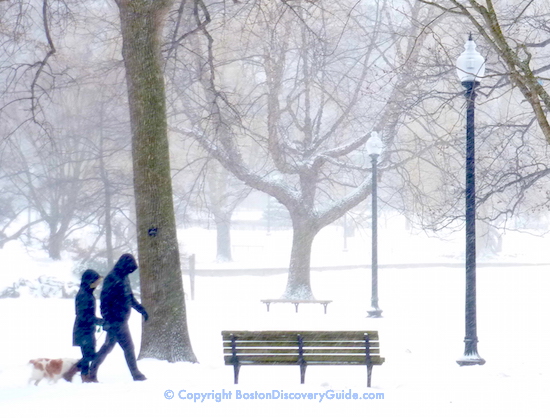 February snow storm photographed in the Boston Public Garden
Boston's compact size means that everybody walks - so even on the snowiest days, City workers shovel the paths and sidewalks fairly quickly.
Unless, of course, a blizzard is underway - in which case, you should stay inside!


Late afternoon in Boston Common
What to Pack for Boston in February
To prepare for Boston weather in February, you should bring a warm jacket and boots, especially if you're planning outdoor activities. You should also pack gloves, a scarf, and a hat - you'll need them if the weather is cold and snowy.
There's also a chance of rain or even sleet this month - so check the current Boston weather report before you come to determine if you should pack an umbrella.
Because February weather in Boston can occasionally be warm, you may also want to pack a couple of sweaters or hoodies to layer - or not.
For more packing information, check my tips for what to pack for your Boston trip.
If you arrive in Boston and discover you have not brought the right clothes, head to Washington Street in Downtown Crossing for emergency shopping.
Within a 2-3 block stretch, you'll find a huge Macy's, H&M, TJMaxx, Eddie Bauer Outlet, DSW (shoes), and a number of other reasonably priced shops.
If you want even more variety, continue along Washington Street to Faneuil Marketplace.
Like this Page? Please Share!
How to Enjoy Boston Weather in February
Boston Discovery Guide > Weather > February