Home > Travel Tips >
Boston Travel Tips - November 2013
Thanksgiving Events, Holiday Tree Lighting Ceremonies, Half Price Theatre Tickets
Boston in November - The Lagoon in the Public Garden
November is a special time to visit Boston. Fall foliage stays gorgeous throughout the month, and this year has seemed especially spectacular, with plenty of leaves still left on the trees.
We're very late publishing Boston Travel Tips for November, so this issue focuses on all the fun things to do during the last couple of weeks of this month as well as into February.
If you're visiting Boston soon, you'll see the city begin to glow with holiday lights in all the parks, shopping such as Faneuil Hall Marketplace, and in city neighborhoods such as Beacon Hill.
Thanksgiving weekend falls late in November this year, and includes Black Friday shopping, concerts, and lots of other fun events.
Sports fans can watch the Bruins, the Patriots, and the Celtics play almost non-stop. And if you're looking for something more active, you'll be happy to know that Boston area ski slopes are open!
What's Happening in Boston in November 2013?
Thanksgiving Weekend
Thanksgiving dinner - Find the best places to savor a traditional turkey dinner with all the trimmings, or to start your own traditions with innovative cuisine
Thanksgiving Weekend events - Whether you brave the crowds for Black Friday shopping or enjoy other Thanksgiving weekend events, there's plenty to do in Boston this weekend
Best November Tours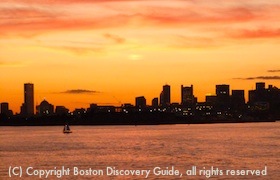 What tours will give you the best way to see Boston during November? Our recommendations give you great options regardless of the weather.
Cruise around Boston Harbor, tour sparkling Newport mansions overflowing with holiday decorations, spend the day exploring Boston's best discount shopping - these are just a few of the options!
More about the best Boston tours for November
Hotel Deals & Specials
Hotel rates in Boston have begun to drop a bit from their peaks last month.
Look around and you can find some attractive deals, especially if you can avoid the busiest times.
Check Booking.com to find and compare discounted rates and deals.
The Lenox Hotel's Retail Therapy package includes deluxe accommodates, 2 round trip shuttle tickets to Wrentham Premium Outlets, and savings coupons for the Wrentham Premium Outlets - plus the hotel is just steps away from famed Newbury Street shopping. Check online rates or call 800-225-7676 to reserve.
W Hotel Boston offers a credit good for up to $100 when you stay over a weekend. Arrive Thursday through Sunday and receive a $50 credit when you stay 2 nights, and a $100 credit for a 4-night stay. Use promo code AMH when you book online.
Where to Ski near Boston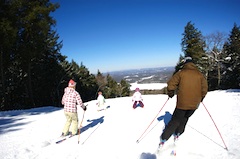 Slopes near Boston beckon with glistening white snow - and you can reach those closest to the city in less than an hour.
If you like downhill skiing, cross country, snowboarding, or tubing, you can find good options nearby - or head north for steeper peaks.
Complete guide to New England ski slopes

More Boston activities for winter
November Theatre and Concerts
Don't miss these top shows and headliners:
More things to do in Boston in November
Recent Articles and Updates
Boston's War Memorials - Boston's rich history means we have lots of memorials to those who fought for American liberty, civil rights, and justice in wars and similar struggles. Here's where to find out which ones you want to visit while you're here, and see photos.
Boston Theatre District Shows - New shows and performances continue to be added to the fall and holiday season theater lineup
Looking Ahead - December, Christmas in Boston, New Year's Eve Celebrations!
The holidays are right around the corner . . . so if you're planning to visit during December or for New Year's Eve, read these articles:
- Top things to do in Boston in December
- New Year's Eve Celebrations - First Night
- Hotel Specials for New Year's Eve
Ways to Save in Boston during November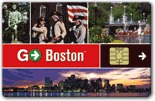 For attractions, cruises, and tours, the best way to save is to have a Boston discount pass - with it, you get free admission plus you also save time, because most places will let you go to the front of the line. At the most popular attractions such as the New England Aquarium, these time savings can really add up!
If you're interested in visiting just one attraction while you're here, the discount passes won't save you money, but you can go straight to the head of the line when you buy tickets online.
For theater, shows, and even some cruises, an easy way to save 50% or more is to take advantage of half-price tickets offered by Goldstar Events.
Tickets usually become available 2-3 weeks before the event and often have only a limited number of seats available, so the best strategy is to sign up to get alerts about available tickets before your trip. Why pay full price? Sign up (free) for Goldstar discounts
Enjoy More Boston Photos
We post new Boston photos almost every day on our Boston Discovery Guide Facebook page - so pop over to see what's new, find places you'll want to visit, and see what's going on in Boston right now. And please LIKE us while you're there!
Please Share Boston Travel Tips!
If you like this issue of Boston Travel Tips, Boston Discovery Guide's monthly newsletter, please forward it along to your friends, relatives, colleagues, and neighbors!
If a friend forwarded Boston Travel Tips to you, you can make sure you'll get it again by subscribing for free at Boston Travel Tips
Have a wonderful month !
Susan
Like this Page? Please Share!
More about Planning Your Trip to Boston
Boston Travel Tips brings you all the latest updates and suggestions to help you plan your trip to Boston. You'll find out what's new in Boston and on Boston-Discovery-Guide.com, what's happening in the city this month, and what's coming in the next couple of months, plus links to related information on BDG.
Like this Page? Please Share!
Boston Discovery Guide > Travel Tips > November 2013