Home > Travel Tips >
Boston Travel Tips - April 2014
Boston Marathon, Patriots Day, Red Sox at Fenway Park
Boston Marathon 2014 sign on the Massachusetts Horticultural Society building in Fenway
Boston in April offers plenty of excitement as visitors fill the city for the Boston Marathon, the 26 mile race from Hopkinton to Copley Square on Patriots Day.
As runners stream past Fenway Park, Red Sox fans fill the streets to join the cheering crowds.
This year, of course, the Marathon will be particularly poignant and emotional as even more spectators than usual line the race course to show support.
Set aside some time to just walk around Boston. Especially in the Back Bay neighborhood along Marlborough Street and Commonwealth Avenue, magnolia trees will burst into full bloom, putting on an intoxicatingly beauty display. Bring your camera!
What's Happening in Boston in April 2014?
Boston Marathon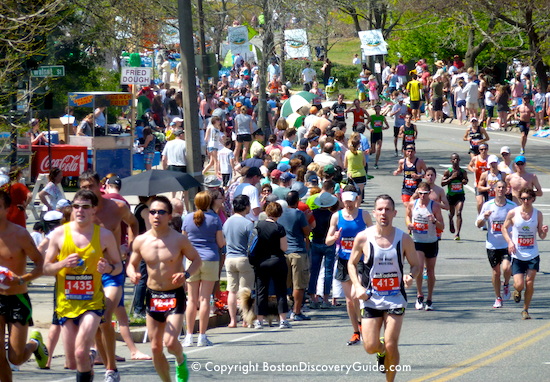 The Boston Marathon is always the biggest event of the spring, attracting crowds of visitors from all over the U.S. and around the world.
But the 2014 Marathon may be the most special ever, with 35,000 participants - the 2nd largest number ever - and perhaps twice as many spectators as usual lining the 26.2 mile course to cheer the racers and celebrate the courage, persistence, commitment, and strength that make this event part of the heart of Boston.
Last Minute Hotel Deals for the Marathon
Hotel reservations are notoriously hard to get close to Marathon weekend, and rates tend to zoom skyward as visitors from every corner of the globe pour into the city for the big event.
But if you're wanting to make very last minute reservations, you may have a pleasant surprise. Last minute reservations put a number of rooms back on the "available" list - and because most folks book so far in advance and therefore have a place to stay, competition for rooms at the 11th hour drops - and so do the rates.
Rates are not as low as in, say, January, and some hotels do remain fully booked while others retain hefty rates - but if you've just made a last-minute decision to stay in Boston overnight on Marathon weekend, you may have a pleasant surprise.
Check out this list of centrally-located hotels within walking distance or an easy T ride of Copley Square that still (as I'm writing this) have rooms available for Sunday night - rates shown are the lowest available that I see:
More last-minute rates and other hotel recommendations for the Marathon
Patriots Day Reenactments
Although Boston's Patriots Day celebrations get somewhat overshadowed by the Marathon which takes place on the same weekend, with careful planning you can enjoy both events.
Patriots Day commemorates the beginning events of the American Revolution which took place in and around Boston - Paul Revere's famous ride from the North End across the countryside, the skirmish on Lexington Green, the battle on Old North Bridge at Concord, and much more.
Highlights involve exciting reenactments of these events, complete with authentic Colonial and Redcoat attire, muskets, horses.
Bostonia Public House - Just Opened
A bunch of new restaurants have opened in Boston over the past few months, including many in the trendy Fort Point/South Boston Waterfront neighborhood.
One of the newest is Bostonia Public House, at 131 State Street at the corner of Broad Street in the heart of the our downtown Financial District.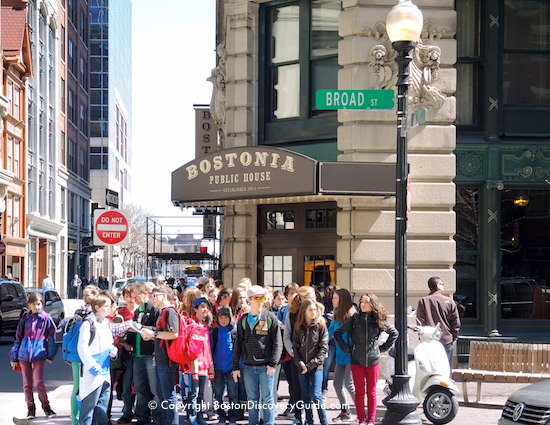 Bostonia just opened 2 days ago and I haven't been here yet myself - but I can tell you that it features live piano music, lots of different wines by the glass, and tasty-sounding pub food including local Massachusetts oysters and scallops, North African spiced pork ribs, lobster roll, and braised lamb pasta.
The restaurant also happens to be located in one of Boston's loveliest historic buildings - the Board of Trade Building built in 1902. Be sure to look up to see the ornately carved details, such as this one on the State Street side:


More things to do in Boston in April
Recent Articles and Updates
Boston Red Sox Schedule - Boston's rich history means we have lots of memorials to those who fought for American liberty, civil rights, and justice in wars and similar struggles. Here's where to find out which ones you want to visit while you're here, and see photos.
Blue Hills Bank Pavilion - You probably know this popular waterfront music venue as the Bank of America Pavilion. But even though the name has changed - again - it's still the best place to enjoy almost-outdoor summer concerts by top groups in the heart of the city. See the complete concert schedule
Ways to Save in Boston during April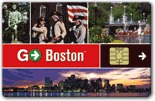 For attractions, cruises, and tours, the best way to save is to have a Boston discount pass - with it, you get free admission plus you also save time, because most places will let you go to the front of the line. At the most popular attractions such as the New England Aquarium, these time savings can really add up!
If you're interested in visiting just one attraction while you're here, the discount passes won't save you money, but you can go straight to the head of the line when you buy tickets online.
For theater, shows, and even some cruises, an easy way to save 50% or more is to take advantage of half-price tickets offered by Goldstar Events.
Tickets usually become available 2-3 weeks before the event and often have only a limited number of seats available, so the best strategy is to sign up to get alerts about available tickets before your trip. Why pay full price? Sign up (free) for Goldstar discounts
Looking Ahead - May Brings Spring Weather!
Boston moves outdoors in May when warm weather finally dominates.
Find out all about can't-miss May events
Enjoy More Boston Photos
We post new Boston photos almost every day on our Boston Discovery Guide Facebook page - so pop over to see what's new, find places you'll want to visit, and see what's going on in Boston right now. And please LIKE us while you're there!
Boston in April - Flowering cherry trees next to the Charles River
Please Share Boston Travel Tips!
If you like this issue of Boston Travel Tips, Boston Discovery Guide's monthly newsletter, please forward it along to your friends, relatives, colleagues, and neighbors!
If a friend forwarded Boston Travel Tips to you, you can make sure you'll get it again by subscribing for free at Boston Travel Tips
Have a wonderful month !
Susan
Like this Page? Please Share!
More about Planning Your Trip to Boston
Boston Travel Tips brings you all the latest updates and suggestions to help you plan your trip to Boston. You'll find out what's new in Boston and on Boston-Discovery-Guide.com, what's happening in the city this month, and what's coming in the next couple of months, plus links to related information on BDG.
Like this Page? Please Share!
Boston Discovery Guide > Travel Tips > April 2014