Boston Discovery Guide Home > Tourist Tips >
Boston Tourist Tips - March 2013
St Patrick's Day, Flower Show, Restaurant Week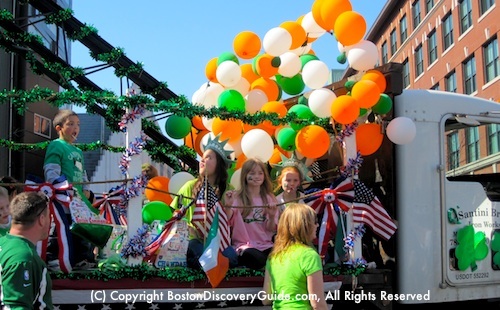 Boston in March - St Patrick's Day Parade
Greetings! Welcome to the March 2013 edition of Boston Tourist Tips!
March is a great time to visit Boston because of all the special events that take place this month.
Plus, hotel rates are still relatively low, compared with what they'll be during peak summer and fall months.
The huge St Patrick's Day Parade, Restaurant Week, and the Boston Flower and Garden Show signal the beginning of spring.
After 2 big snowstorms during February, we're ready for spring! A couple of restaurants have set up tables and chairs outdoors - and maybe the weather will be warm enough for outdoor dining in a couple of weeks!
If you're visiting soon, pack plenty of layers. Early March temperatures typically don't rise much above 40° and the wind can be brisk, but by the middle of the month, we may begin to enjoy warmer days again.
What's Happening in Boston in March 2013?
St Patrick's Day Events
The famous St Patrick's Day Parade in South Boston takes center stage, and draws enormous crowds. With lots of colorful floats, marching bands, and other displays, it's a lot of fun to watch. Last year, the temperature soared to 80°, and as you can see from the photo at the top of the page, bright blue skies and plenty of sunshine made it the perfect day to be outdoors.
However, you can find lots of other fun ways to celebrate all things green in Boston - plenty of Irish music and even Irish food in the pub, performances by the Dropkick Murphys (House of Blues and TD Garden) and Celtic Women (Wang Theatre), a St Patrick's festival at Harpoon Brewery, the Irish Heritage Trail.
More about St Patrick's Day events in Boston »
See my parade photos from last year »
Read our reply to this recent question about where to stay »
My wife and I are coming to Boston for St. Paddy's Weekend and need to book our hotel. We're going to the St. Patrick's Day Parade and also have tickets to the Dropkick . . .


Boston Restaurant Week
Don't miss your chance to try Boston's best restaurants at bargain prices - you literally find meals on sale at the top restaurants in Boston and Cambridge. We usually try to get to several old favorites, plus new spots we haven't tried yet...plus a couple of place way beyond our usual budget. Fortunately, Restaurant Week actually lasts for 2 weeks - a great reason to love March!
Here's the list of Boston and Cambridge restaurants participating in Restaurant Week
Do You Love Seeing Photos of Boston?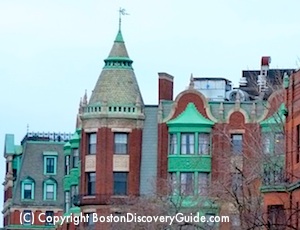 We take a lot of photos - such as this view of rooftops along Beacon Street - as we walk around the city, eat in the restaurants, attend events.
Want to see them?
Head over to Boston Discovery Guide's Facebook page.
Be sure to Like us to say "hello" while you're there!



Boston Flower and Garden Show
The best way to hurry up the arrival of spring is to head over the Boston Flower and Garden Show to see all the spectacular displays. "Seeds of Change," the theme for 2013, promises lots of exciting inspiration - plus sessions on raising the perfect garden "helpers" - chickens and bees.
More about the Boston Flower and Garden Show
Hotels on Sale
You can still take advantage of low winter rates during March. Even Boston's top luxury hotels are offering some appealing special packages and deals - check them out here.
But you'll also find excellent rates throughout the city - find low rates at top Boston and Cambridge hotels
More to Do During March - Shows, Film Fests, Concerts, Entertainment
Find out more, plus details, about all these events on BDG's Boston March Events page »
Cruises from Boston - Starting Soon!
Even though the first cruises out of Boston's Black Falcon Cruise Terminal don't depart for another month or so, our cruise-related articles have been VERY popular for the past few weeks, as now is a great time to book. Leaving for a cruise from Boston's CruisePort is so easy and convenient that these cruises draw a huge demand. Take a look at what's available, and you'll see why:
Sports
March is the last 2 full months of excitement with the Bruins and Celtics at TD Garden. The Bruins in particular have been hot - plenty of spectulation flying about another Stanley Cup this year. Come see what all the excitement's about:
Bruins home schedule at TD Garden
Celtics home schedule at TD Garden
And, with the Red Sox back at Fenway next month, now's the time to check your dates and start getting tickets:
Red Sox home schedule at Fenway Park
March School Vacation Week in Boston - Kids Activities
Visiting Boston with your kids during school vacation week in March? Here are our most popular tours for kids and teens:
If you're coming to Boston to visit college campuses, be sure to check out campus tour discount rates at hotels
More Ways to Save in Boston during March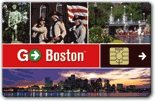 For attractions, cruises, and tours, the best way to save is to have a Boston discount pass - with it, you get free admission plus you also save time, because most places will let you go to the front of the line. At the most popular attractions such as the New England Aquarium, these time savings can really add up!
If you're interested in visiting just one attraction while you're here, the discount passes won't save you money, but you can go straight to the head of the line when you buy tickets online. Here are links for a couple of the most popular attractions:
Tours can also save you money, especially if you would otherwise need to rent a car for destinations outside the city, plus during the winter, they give you the bonus of keeping you warm and dry while you sightsee. Check out our recommendations for the best tours for winter months.

For theater, shows, and even some cruises, an easy way to save up to 50% or more is to take advantage of half-price tickets offered by Goldstar Events.
Tickets usually become available 2-3 weeks before the event and often have only a limited number of seats available, so the best strategy is to sign up to get alerts about available tickets before your trip. Why pay full price? Here are a few deeply discounted tickets to Boston shows and events that I'm seeing right now:
Looking Ahead to April - Boston Marathon, Patriots Day, Red Sox
Although the Boston Marathon is the biggest event in April in Boston, there's a lot more happening this month - Patriots Day, opening day for the Red Sox (please do not mention last season), and generally, the arrival of spring in the city.
If you're planning to come to Boston for the Marathon and have not made hotel reservations yet, you need to do that NOW! People pour into the city from all over the world for this event, and hotels fill up much earlier than you might imagine, especially near the finish line in Copley Square, and around Boston Common, departure point for the shuttle buses taking runners out to Hopkinton where the race begins.
Here are some helpful links to information on BDG if you're planning an April visit:
Boston Travel Planning Information
Boston Travel Guide - 10 easy tips for planning the perfect trip to Boston
Boston Discount Cards - The easiest way to cut your Boston travel costs - get a card, and then get free admission to Boston's top attractions, cruises, tours, and more
Boston Events, Holidays, Celebrations - Find the best and biggest events for each month of the year
Please Share Boston Tourist Tips!
If you like this issue of Boston Tourist Tips, Boston Discovery Guide's monthly newsletter, please forward it along to your friends, relatives, colleagues, and neighbors!
If a friend forwarded Boston Tourist Tips to you, you can make sure you'll get it again by subscribing for free at Boston Tourist Tips
Have a wonderful month !
Susan
Like this Page? Please Share!
More about planning your trip to Boston
Boston Tourist Tips brings you all the latest updates and suggestions to help you plan your trip to Boston. You'll find out what's new in Boston and on Boston-Discovery-Guide.com, what's happening in the city this month, and what's coming in the next couple of months, plus links to related information on BDG.
Boston Discovery Guide Home > Tourist Tips > March 2013