Home > Tourist Tips >
Boston Tourist Tips - February 2013
Valentine's Day, Beanpot Hockey, Bugs Bunny
Boston in February
Welcome to the February 2013 edition of Boston Tourist Tips!
If you're planning to visit Boston this month, you may get to experience some gorgeous sunny days, like the day when the photo above was taken.
With no leaves on the trees, you'll see unobstructed views of the city's stunningly gorgeous historic buildings, such as this Victorian mansion on Newbury Street.
For the second year in a row, we've had a very mild winter and very little snow...so far. If you're wondering what to pack, bring layers. During the past week, we've had frigid below-freezing temperatures...and then days with the thermometer hitting 60°. So pack accordingly, and you'll enjoy whatever comes your way.
What's Happening in Boston in February 2013?
Valentine's Day
True, Valentine's Day lasts only 24 hours - but Boston chefs manage to stretch this special occasion to a week or more with lots of special menus to enjoy.
Lots of other Valentine's Day events take place, ranging from romantic to fun. I'm personally trying to squeeze the chocolate and wine pairing class at the Boston Wine School into my schedule. More about events & dinners »
If you're visiting Boston for Valentine's Day, you'll be happy to know that some of our top hotels offer special packages for the big day (and sometimes the whole month). You'll be less happy, but perhaps not surprised, to know that hotels book up quickly during this period - so make your reservations as soon as you know your travel dates in order to avoid disappointment.
We received a question from a BDG visitor back in December asking about romantic places in Boston to visit with a boyfriend. I had a lot of fun answering it - great excuse to think about all the fun places to go and things to do with someone special. You can see my suggestions here.
Speaking of romance...I'm working on a new article about interesting places for weddings in Boston - so look for it if that's something of interest. If you have a particular question that you'd like to see covered in the article or if you have a suggestion, drop me a line on our contact form.
Chinese New Year - The Year of the Snake
The Chinese New Year Parade is Chinatown's biggest event of the year and features Lion Dances, firecrackers, drums, and the perfect excuse for enjoying a meal in one of the wonderful nearby restaurants.
Although the Year of the Snake official begins on February 10 this year, based on the Lunar calendar traditionally used in Asia, the parade takes place on Sunday, February 17. If the usual agenda is followed, there are usually a few speeches starting at about 11am, and the parade kicks off shortly after, winding along Beach Street and Harrison Avenue.
Chinatown is next to Boston's Theatre District, and is easy to reach by subway (Orange Line/Chinatown; Green Line/Boylston; Red Line/Park St). If you drive, the Boston Common Parking Garage is convenient and only $12 on Sundays (or $8 if you stay less than an hour).
Of course, Chinatown is full of great places to eat. We usually stop by one of the bakeries along Beach Street for steamed bao as soon as we get there, and then go for Dim Sum after the parade.
Since the Theatre District is so close, you might also want to check out Theatre District restaurants.
Lagoon in Boston's Public Garden - Lots of hockey being played on the ice
You can see more of our latest photos like this one on our Facebook page.
More to Do During February - Beanpot, Bugs Bunny, Bruins, Boat Show, & More!
All those events starting with B are just a coincidence - but they do provide a lot of opportunity for fun. Here's a quick rundown about what they are - not in alphabetical order:
Beanpot Hockey, an annual tournament taking place on the first 2 Mondays of the month, pits Boston's four biggest hockey schools against each other at Agganis Arena to find out who's best. Needless to say, the competition gets fierce.
Bugs Bunny fans will want to head over to the Brattle Theatre in Cambridge for their annual Bugs Bunny Festival - perfect excuse to hang out in Harvard Square and stop by Burdick's (oh gosh, another B) for the best hot chocolate in the city. Perfect family activity. If you want to experience Burdick's without crossing the river to Cambridge, there's one in Boston's Back Bay neighborhood - 220 Clarendon St., half a block from Copley Square.
The annual huge Boat Show takes place in the Boston Convention Center. If you dream about boats, you'll want to be there.
And finally, with the long NHL lockout over, the Bruins are back! Catch them at the Garden - plenty of games due to the compressed season.
Find out more, plus details, about all these events on BDG's Boston February Events page »
Or go straight to the Bruins home schedule at TD Garden »
Winter Break Week in Boston
With most schools in the North East breaking for a week during February for winter vacation, you have the perfect opportunity to visit Boston for a few days, and then head to the mountains for skiing - the best of both worlds!
Read our winter break week suggestions
Find the best places to ski:
- Throughout New England (driving times from Boston)
Hotels - Winter Rates Still Available
February is the last full month when Boston hotels are still offering low winter rates - it's like getting the city on sale! Here are a few suggestions about where to start looking:
Boston's Top Luxury Hotels - Winter rates make Boston's best hotels a LOT more affordable!
Hotels with Fireplaces - A fireplace in your room - the ultimate in luxury!
Hotels Offering College Visit Rates - If you're visiting Boston this month to tour colleges, take advantage of these discount rates - with tuition bills looming in your future, every bit of savings helps!
More Ways to Save in Boston during February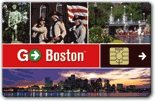 For attractions, cruises, and tours, the best way to save is to have a Boston discount pass - with it, you get free admission plus you also save time, because most places will let you go to the front of the line. At the most popular attractions such as the New England Aquarium, these time savings can really add up!
If you're interested in visiting just one attraction while you're here, the discount passes won't save you money, but you can go straight to the head of the line when you buy tickets online. Here are links for a couple of the most popular attractions:
Tours can also save you money, especially if you would otherwise need to rent a car for destinations outside the city, plus during the winter, they give you the bonus of keeping you warm and dry while you sightsee. Check out our recommendations for the best tours for winter months.

For theater, shows, and even some cruises, an easy way to save up to 50% or more is to take advantage of half-price tickets offered by Goldstar Events.
Tickets usually become available 2-3 weeks before the event and often have only a limited number of seats available, so the best strategy is to sign up to get alerts about available tickets before your trip. Why pay full price? Here are a few deeply discounted tickets to Boston shows and events that I'm seeing right now:
Looking Ahead to March - St Patrick's Day
Last year, the Boston temperature on March 17, St Patrick's Day, hit 87° and almost a million people turned out for the huge St Patrick's Day Parade in South Boston. What a glorious event!
Are you planning to come to Boston's St Patrick's Day Parade? Here are photos from last year to give you a glimpse of what you'll see. Be sure to read my tips about getting there!
Plenty of other St Patrick's Day events also take place - here's a quick preview of what you can do.
Lots more goes on in Boston during March - you'll find more March events here.
Looking Ahead to April - Boston Marathon
Although the Boston Marathon is the biggest event in April in Boston, there's a lot more happening this month - Patriots Day, opening day for the Red Sox (please do not mention last season), and generally, the arrival of spring in the city.
If you're planning to come to Boston for the Marathon and have not made hotel reservations yet, you need to do that NOW! People pour into the city from all over the world for this event, and hotels fill up much earlier than you might imagine, especially near the finish line in Copley Square, and around Boston Common, departure point for the shuttle buses taking runners out to Hopkinton where the race begins.
Here are some helpful links to information on BDG if you're planning an April visit:
Boston Travel Planning Information
Boston Travel Guide - 10 easy tips for planning the perfect trip to Boston
Boston Discount Cards - The easiest way to cut your Boston travel costs - get a card, and then get free admission to Boston's top attractions, cruises, tours, and more
Boston Events, Holidays, Celebrations - Find the best and biggest events for each month of the year
Please Share Boston Tourist Tips!
If you like this issue of Boston Tourist Tips, Boston Discovery Guide's monthly newsletter, please forward it along to your friends, relatives, colleagues, and neighbors!
If a friend forwarded Boston Tourist Tips to you, you can make sure you'll get it again by subscribing for free at Boston Tourist Tips
Have a wonderful month !
Susan
Like this Page? Please Share!
More about planning your trip to Boston
Boston Tourist Tips brings you all the latest updates and suggestions to help you plan your trip to Boston. You'll find out what's new in Boston and on Boston-Discovery-Guide.com, what's happening in the city this month, and what's coming in the next couple of months, plus links to related information on BDG.
Boston Discovery Guide Home > Tourist Tips > February 2013