Home > Tourist Tips >
Boston Tourist Tips - September 2013
Fireworks, Labor Day, Festivals - and a Hint of Fall Foliage?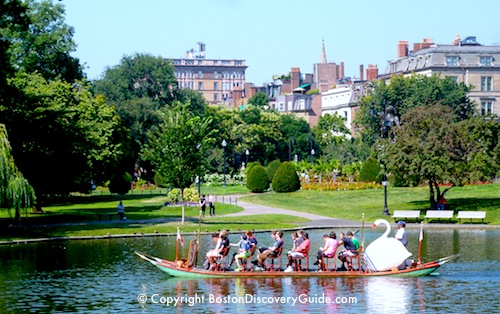 Go for a swan boat ride in the Public Garden
September is always a wonderful month to visit Boston.
College students - about a 250,000 of them - return to the city, the weather is usually gorgeous, and lots of events and activities take place throughout the month.
Whether you're visiting Boston for Labor Day weekend or coming later in September, you'll find lots to do and see.
But be sure to also save some time for just walking around the city and savoring the warm sunny days, relax and enjoy a meal at one of the many outdoor dining locations.
Or wander over to Public Garden and go for a swan boat ride on the Lagoon - a city pleasure since 1877.
If you're planning a visit this month, you'll be happy to know that hotel rates begin to drop a little after their summer peaks. Find best rates, discounts, and reviews
What's Happening in Boston in September?
Labor Day Weekend
September kicks off with Labor Day weekend - which actually includes the final days of August this year. Especially exciting will be the big fireworks over Boston Harbor on Saturday night, but you find lots of other activities as well - everything from Red Sox games at Fenway to a Brew Fest featuring local craft beers to free family-friendly USS Constitution tours and the big Boston Arts Festival.
More about Boston Labor Day Events
Fall Foliage and New England Lighthouse Tours
You won't see much fall foliage in Boston during September - in fact, leaves don't take on much color here until mid-October - but other parts of New England become streaked with gold and crimson this month. Fortunately, you can easily join tours and cruises departing from Boston and see some spectacular sights.
Here are some great choices to consider:
Fall foliage New England tours - These tours give you a wonderful way to visit the best foliage viewing locations in New Hampshire, Maine, and even the Cape - plus you'll get to see what makes New England so special
New England Lighthouse Cruise - This special cruise, led by a New England lighthouse expert, takes you to see amazing places up close, and the fall tours are particularly special - but they do sell out, so don't wait to book!
Fall foliage cruises - This is the perfect way to explore the New England and Eastern Canadian coasts just as the foliage is turning - and of course color becomes even more intense as you head north
September Theatre and Concerts
Don't miss these top shows and headliners:
Sports Schedules - Home Games in Boston
Between the Red Sox and the New England Patriots, lots of games are underway. And don't miss preseason games for the Bruins and Celtics.
Take a look at the schedules, and get your tickets now:
Red Sox at Fenway Park
Sunday, September 1 vs White Sox - 1:35pm
Monday, September 2 vs Tigers - 1:35pm
Tuesday, September 3 vs Tigers - 7:10pm
Wednesday, September 4 vs Tigers - 7:10pm
Friday, September 13 vs Yankees - 7:10pm
Saturday, September 14 vs Yankees - 1:05pm
Sunday, September 15 vs Yankees - TBD
Tuesday, September 17 vs Orioles - 7:10pm
Wednesday, September 18 vs Orioles - 7:10pm
Thursday, September 19 vs Orioles - 7:10pm
Friday, September 20 vs Blue Jays- 7:10pm
Saturday, September 21 vs Blue Jays - 7:10pm
Sunday, September 22 vs Blue Jays - 1:35pm

Tickets: TicketLiquidator
| AceTicket
Boston Bruins Pre-Season games at TD Garden
Thursday, September 19 vs Red Wings- 7:00pm
Monday, September 23 vs Capitals - 7:00pm

Find ticket prices and best seats
New England Patriots at Gillette Stadium
Thursday, September 12, 8:25pm vs NY Jets
Sunday, September 22, 1pm vs Tampa Bay

More September Events in Boston
There's LOTS more going on this month! Fashion Week, open artists studios, film and jazz festivals, big bicycle events - you'll find plenty to do in Boston in September.
Enjoy Our Boston Photos
We post new Boston photos almost every day on our Boston Discovery Guide Facebook page - so pop over to see what's new and find places you'll want to visit. And please LIKE us while you're there!
Ways to Save in Boston
Institute of Contemporary Art - Free admission each Thursday from 5pm to 9pm, and free admission for families (defined as 1 http://www.boston-discovery-guide.com for 2 adults accompanied by children 12 and under) on the last Saturday of each month, except for December.
MIT Museum in Cambridge - Free admission every Sunday morning from 10am - 12 noon.
Boston Children's Museum - $1 admission 5-9pm on Fridays
Boston Discount Cards - Get one of these cards, and get free admission to Boston's top attractions, cruises, tours, and more. Choose the card that works best for you. More about Boston Discount Cards.
Hotel Savings - Find best rates, discounts, and reviews
Family fun in Boston
For the younger set:
For older kids, including hard-to-please teens:
Visit the USS Constitution in Charlestown Navy Yard, where Park Rangers will give you a free tour of "Old Ironsides"
Go on Boston Whale Watch - (you'll save money if you have a GoBoston discount card)
Check out my favorite Boston Cheap Eats - find my favorite spot for affordable lobster rolls and other treats friendly to the family budget
Return to Top - Boston Tourist Tips September 2013
Coming Next Month
Boston Travel Planning Information
Boston Travel Guide - 10 easy tips for planning the perfect trip to Boston
Boston Discount Cards - The easiest way to cut your Boston travel costs - get a card, and then get free admission to Boston's top attractions, cruises, tours, and more
Boston Events, Holidays, Celebrations - Find the best and biggest events for each month of the year
If you have a blog or website, please consider linking to us! Every link helps.
If you like this monthly newsletter, please forward it along to your friends, relatives, colleagues, and neighbors!
Or if a friend forwarded Boston Tourist Tips to you and you enjoy what you read, please make sure you'll get it again by subscribing for free at Boston Tourist Tips
Have a wonderful month !
Like this Page? Please Share!
More about planning your trip to Boston
Boston Tourist Tips brings you all the latest updates and suggestions to help you plan your trip to Boston. You'll find out what's new in Boston and on Boston-Discovery-Guide.com, what's happening in the city this month, and what's coming in the next couple of months, plus links to related information on BDG.
Boston Discovery Guide Home > Tourist Tips > September 2013