Home > Tourist Tips >
Boston Tourist Tips - October 2013
Columbus Day, Gorgeous Foliage, Head of the Charles Regatta, Halloween - and More!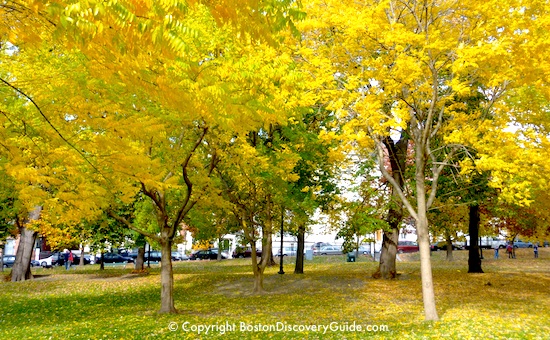 Golden fall foliage on Boston Common
Welcome to the October 2013 edition of Boston Tourist Tips!
Columbus Day Weekend - always a big event here in Boston - is just around the corner, and the weather predictions look excellent for the big parade on Sunday.
The city is turning brilliant with fall foliage . . . so far, 2013 is looking like it will be one of the most colorful falls in recent memory.
And there's plenty more going on later this month - the Head of the Charles Regatta, Halloween, and more Red Sox games!
If you're planning a visit this month, you're going to have a great time!
What's Happening in Boston in October 2013?
Columbus Day Weekend Holiday
If you're visiting Boston from somewhere other than Massachusetts or Rhode Island, you may not realize how huge an event the Columbus Day weekend is.
The Columbus Day Parade - my personal favorite of all the Boston parades - takes place on Sunday in the North End this year.
More about Columbus Day Weekend parade and events


Head of the Charles Regatta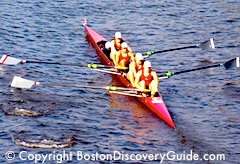 This is the biggest 2-day rowing race in the world, and it attracts around 300,000 spectators. That's a lot of people, but everyone spreads out at different points along the river so it never seems crowded.
It's fun to watch - and a great excuse for visiting Boston!
- More about the Head of the Charles Regatta
- Find more Boston events during October
Trending Tours
Beautiful fall foliage and cooler weather makes October a great month for tours. The most popular tours right now are all seasonal:
Salem "Witch City" Tour - See Salem at its spookiest!
Fall Foliage Spectacular - This is simply the best tour if you want to see the gorgeous New England countryside and villages swathed in gold and crimson foliage - plus you get to visit an apple orchard. You'll have a memorable day.
Ghosts and Gravestones - Loads of fun (bring your teens) and you'll learn a lot about the darker side of Boston as you visit our historic burying grounds at night . . . might even see a ghost or two!
Hotel Deals & Specials
Hotel rates in Boston are shockingly high right now. October is a big conference month, plus we get lots of tourists who come to see the foliage and enjoy the crisp October weather.
Still, you can find decent deals and occasionally excellent ones if you look carefully - and if you can be flexible with your dates. As of right now, rates begin to drop somewhat by the last week in October.
Booking.com became my personal favorite place to find discounted rates and deals when we were traveling a lot this summer, and I'm seeing some interesting savings right now for Boston hotels on their website.
Special packages are also a good way to save if you want the deal that's on offer. The Boston Marriott Long Wharf is again offering their Freedom Trail Tour package - Deluxe king or double guest room, breakfast for 2 adults and 2 kids in the onsite Waterline Restaurant, and tickets for 2 adults and 2 children for a Freedom Trail Tour led by a costumed guide. Use Promotional Code ARN. Good through December 31, 2013. Reserve now at the Boston Marriott Long Wharf
For more suggestions, including tips about where to find the most conveniently located less pricey suburban hotels, be sure to read our article on inexpensive (yes, they really exist!) hotels
More things to do in Boston in October
Recent Articles and Updates
October Weather & Photos - Figuring out what to pack for a trip can be tough, especially if you're coming from an area with very different climate and temperature conditions. We hope all the photos illustrating our new article about October weather will give you some helpful ideas.
Boston Theatre District Shows - New shows and performances continue to be added to the fall and holiday season theater lineup
Ways to Save in Boston during October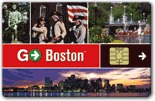 For attractions, cruises, and tours, the best way to save is to have a Boston discount pass - with it, you get free admission plus you also save time, because most places will let you go to the front of the line. At the most popular attractions such as the New England Aquarium, these time savings can really add up!
If you're interested in visiting just one attraction while you're here, the discount passes won't save you money, but you can go straight to the head of the line when you buy tickets online.
For theater, shows, and even some cruises, an easy way to save 50% or more is to take advantage of half-price tickets offered by Goldstar Events.
Tickets usually become available 2-3 weeks before the event and often have only a limited number of seats available, so the best strategy is to sign up to get alerts about available tickets before your trip. Why pay full price? Sign up (free) for Goldstar discounts
Enjoy More Boston Photos
We post new Boston photos almost every day on our Boston Discovery Guide Facebook page - so pop over to see what's new and find places you'll want to visit. And please LIKE us while you're there!
Looking Ahead
The holidays are right around the corner . . . so if you're planning to visit during November or December, be sure to check out these articles:
- Top things to do in Boston in November
- Top things to do in Boston in December



Please Share Boston Tourist Tips!
If you like this issue of Boston Tourist Tips, Boston Discovery Guide's monthly newsletter, please forward it along to your friends, relatives, colleagues, and neighbors!
If a friend forwarded Boston Tourist Tips to you, you can make sure you'll get it again by subscribing for free at Boston Tourist Tips
Have a wonderful month !
Susan
Like this Page? Please Share!
More about planning your trip to Boston
Boston Tourist Tips brings you all the latest updates and suggestions to help you plan your trip to Boston. You'll find out what's new in Boston and on Boston-Discovery-Guide.com, what's happening in the city this month, and what's coming in the next couple of months, plus links to related information on BDG.
Like this Page? Please Share!
Boston Discovery Guide Home > Tourist Tips > October 2013