Boston Restaurant Tips and FAQs
Everything You Need to Know about Restaurants in Boston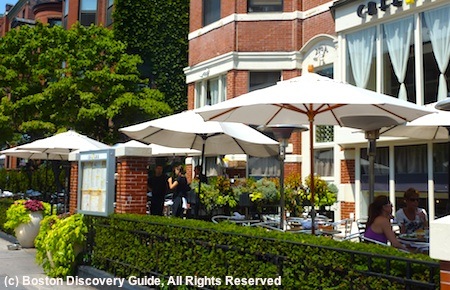 Outdoor Dining at Cafeteria on Boston's Newbury Street
Finding a great Boston restaurant is easy.
Every neighborhood - almost every block - offers great choices.
But if you're planning a Boston vacation and aren't familiar with our restaurants, here are a few "Insider" tips and suggestions to make your Boston dining experience totally enjoyable, based on FAQs (Frequently Asked Questions) received by Boston Discovery Guide.
If you're looking for specific Boston restaurant recommendations by neighborhood, location, occasion, and type of food, check our Guide to Best Boston Restaurants.

Boston Restaurant FAQs and Tips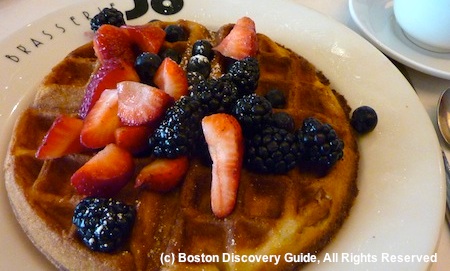 Belgium waffle with fresh fruit at Brasserie Jo, Boston restaurant serving French cuisine
How much should we tip in a Boston restaurant?
You should usually tip between 15% - 20% of the total bill, before tax. If you are using a restaurant discount coupon, such as from Restaurant.com, tip based on the non-discounted amount; ditto if you're dining during Dine Out Boston.
You might also want to tip more generously if you have an inexpensive meal with great service.
For example, let's say you pop into Brasserie Jo on Huntington Ave near Symphony Hall for a late brunch before a Sunday afternoon concert. Their delicious Belgium waffle with fresh fruit plus coffee runs about $13, and service there is always great - so that's the kind of circumstance where you might want to round up the tip to $3 or $4.
What is Dine Out Boston?
Dine Out Boston (previously known as Restaurant week) takes place twice a year. For 2 weeks in March and 2 more weeks during August, meals at the city's best restaurants go on sale - and you get to splurge! More about Dine Out Boston.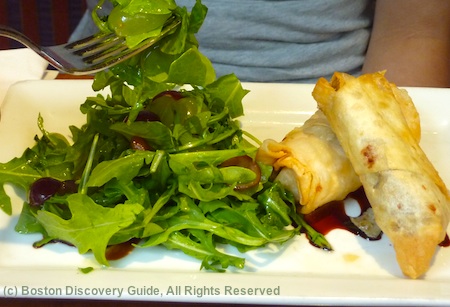 Dine Out Boston first course - Duck confit spring rolls with arugula, grapes, red wine sauce
Are Boston restaurants expensive?
Price ranges vary widely. Yes, some Boston restaurants will present you with a wallet-flattening check at the end of your meal - and are worth every penny! Many more charge moderate and even low prices for great food and equally terrific dining experiences.
Savvy Boston locals take advantage of lots of ways to dine for less at Boston's top restaurants by making the most of special deals and discounts - and you can too. Here is one of the best:
Restaurant.com - Save 60% or More on Boston Restaurants
As soon as you know your travel dates, start checking Restaurant.com deals. If you start planning soon enough, you can collect enough coupons to cut your Boston restaurant bill in half or more!
Participating restaurants change all the time, so it pays to check the list frequently.
Entertainment books give you another way to save. They provide discounts for top restaurants and lots more, including dinner cruises and attractions. Once you get the coupon book, you're given access to even more savings coupons on line.
Where to Find Boston Restaurant Discounts
Restaurant.com - Save 60% or More on Boston Restaurants
How dressy are Boston restaurants?
Most restaurants in Boston emphasize comfort rather than formality - so in most places, business casual (or even just plain casual) is fine.
If you're going to a splurge restaurant such as
Top of the Hub
or
Mamma Maria's
, you'll want to dress up a little more.
Guys, throw on a jacket. Add a tie if you want or need to impress.
Gals, something black and chic - or even just black - always works well here. Add a silk or cashmere shawl if you tend to get chilly or want a dressier look.
There's no need to spend a lot of money on fancy clothes. If you're here on vacation and decide to go to a fancier place than you had in mind when you were packing, make a quick stop by H&M or Filene's Basement to find very stylish clothing at bargain prices.
During warm months, lots of restaurants set up al fresco dining - so most diners wear casual and comfortable clothing.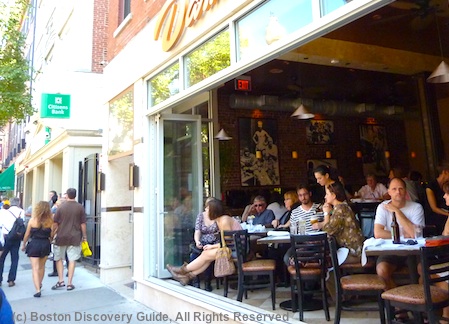 Restaurant diners in Boston's North End enjoy a warm October day on Columbus Day weekend
Which Boston restaurants are kid-friendly?
Many Boston restaurants offer children's menus, and are welcoming to kids, especially if they're well-behaved. Excellent restaurants for kids include Legal Sea Foods, most restaurants in the Faneuil Hall Marketplace area, Chinatown, and the North End, and any place serving pizza, burgers, or Thai food.
My own kids vouch for the kid-friendliness (translation: they like the food) at Jacob Wirth (Theatre District), Petit Robert Bistro (Fenway, South End), Union Oyster House (Historic Downtown), Haru (Back Bay), Flour Bakery (South End, South Boston Waterfront), Stephanie's on Newbury (Back Bay), Betty's Wok and Roll (Fenway), Eastern Standard (Fenway), and of course, Tasty Burger (Fenway and Cambridge). Plus almost every Chinatown restaurant.
If you find yourself in a restaurant with your children and nothing on the menu appeals to them, keep in mind that most places are happy to accommodate off-menu requests for a half-portion of pasta.
Do Boston restaurants offer specialties that we should try?
Absolutely! Must-tries include our seafood restaurants and Italian restaurants, along with Chinese and French restaurants.
Seafood is a regional New England specialty because of our coastal location. Lobster dinners, cod (sometimes called "scrod"), oysters, and New England clam chowder are especially popular.
Although we have many wonderful seafood restaurants (Neptune Seafood in the North End, B&G Oysters in the South End, Union Oyster House near Faneuil Market, Turner Fisheries in Back Bay, Island Creek Oysters in Fenway, Legal Harborside in the South Boston Waterfront, and Legal Sea Foods in practically every Boston neighborhood), almost all Boston restaurants and bars serve very good clam chowder and at least a few other seafood dishes. More about seafood restaurants in Boston
Mussels with Garlic and White Wine Sauce at Eastern Standard Restaurant near Fenway Park

Although you'll find wonderful Italian restaurants throughout the city, the North End neighborhood has the highest concentration due to the large number of Italian immigrants who settled here during the last century. More about Boston Italian restaurants
As the 3rd largest Chinatown in the United States, Boston's Chinatown offers lots of wonderful Chinese and Taiwanese restaurants, as well as plenty of places serving other Asian cuisines - Vietnamese, Thai, Indonesian, Malaysian, Japanese, Korean. Chinatown and Boston's Theatre District overlap, so theater-goers flock here for dinner before or after a show. More about Chinatown restaurants for dim sum, and Theatre DIstrict restaurants.
Boston's French and French-influenced restaurants range from gourmet (L'Espalier, No. 9 Park, Menton) to more casual bistros and brasseries, some so authentic that you'll almost swear you're in Paris. Whether you crave haute cuisine or just bonne cuisine, you'll find a huge range of interesting choices. More about French restaurants in Boston
Are restaurant reservations necessary in Boston?
Except for the most casual places, you should make reservations if at all possible, especially for dinner. If you have any special requests, this is a good time to make them.
Bostonians tend to eat out a lot, often right in the neighborhood.
Add in a smattering (or more) of tourists and visitors, perhaps an after-work gathering, a couple of business dinners, a few family groups—and suddenly that cute Beacon Hill bistro or the homey North End seafood place that looks spacious and empty when you pass by mid-afternoon is overflowing with diners who linger, oblivious to the hungry lines forming outside the door.
So avoid disappointment—call ahead to reserve.
No reservations? Every Boston neighborhood offers casual dining, such as this Back Bay cafe
Restaurant bar dining
What if you don't have reservations, and a table is not available? Eating at the bar can be a great option - but be aware that some restaurants offer a specific bar menu.
Eating at the bar is also convenient when you're dining along, want a more casual, later, or less expensive dinner than offered in the main dining room, want to catch part of a game (lots of restaurant bars tuck in a few big screens), or are in a bit of a rush.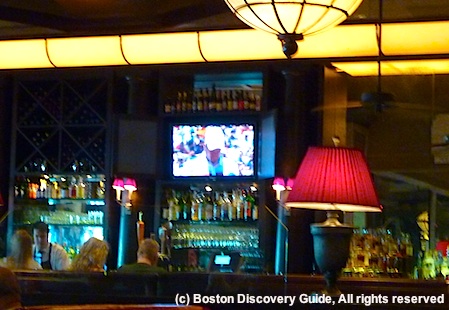 Bar dining at Eastern Standard Restaurant near Boston's Fenway Park
Tips for Vegetarians
You'll find relatively few strictly vegetarian or vegan restaurants in Boston. But don't worry. Boston boasts a large number of vegetarians, and most restaurants know this. You'll usually find plenty of plenty vegetarian selections on restaurant menus.
Also, if you're planning to go to a mostly non-vegetarian restaurant, many chefs will be happy to prepare a special vegetarian meal for you if you call a couple of days in advance to request it. This gives them enough time to buy extra veggies and any other needed ingredients.


Any more questions about Boston restaurants?
You can find lots more information about dining in Boston in our Restaurant Guide. Also, check out questions asked by other Boston visitors - or ask your own.


Like this Page? Please Share!
More Boston Restaurant Choices to Explore
Boston Discovery Guide > Restaurants > FAQs