Where to Stay in Boston
Top Hotels in Boston's Best Neighborhoods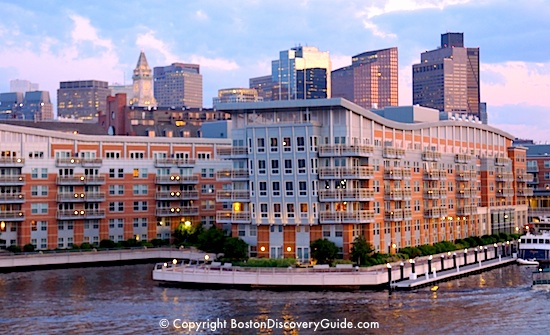 Fairmont Battery Wharf Hotel overlooking Boston Harbor
Whatever your budget, you can find great hotel choices in almost every central Boston neighborhood.
But which one should you choose?
Despite Boston's compact size, almost a dozen distinct neighborhoods cluster around the heart of the city.
And each neighborhood has its own vibe and personality. Experiencing Boston's neighborhoods is part of the fun of visiting here.
Do you love Victorian elegance and world-class shopping? Check out hotels in Back Bay.
Want to discover Boston's most sizzling nightlife and trendy new restaurants? The Seaport/Fort Hood neighborhood could become your favorite place to stay in the city.
You get the idea ... if you long to awaken to spectacular sunrises over the Boston Harbor waterfront, sip cappucino and savor a canolli every morning in the Italian North End, or stroll along the narrow cobblestone streets of Beacon Hill, stay in these neighborhoods.
Take a look at our guide to hotels in Boston's central neighborhoods - and find a place to stay in your favorite part of the city!
Theatre District Hotels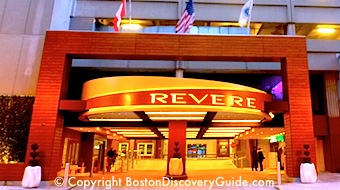 Get ready for an exciting weekend of theater, dining, and relaxing in these exciting hotels in Boston's Theatre District.
Once you get tickets for your shows, read our recommendations to find the hotels - we even give you a map.
You'll find other top attractions such as the Freedom Trail, Boston Common, and Beacon Hill just a few blocks from these hotels - so you'll also be in the perfect location for sightseeing.
Find out about Boston's Theatre District hotels
Find out what's on - get performance dates and get your tickets!
Downtown Boston Hotels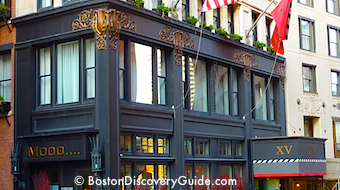 Staying downtown gives you the ultimate convenience, whether you want to be near the Freedom Trail, the Financial District, or the Theatre District.
From five-star luxury accommodations to comfortable business hotels to waterfront gems, you'll find plenty of exciting choices to fit your needs and budget.
More about Downtown Boston hotels
Waterfront Hotels
Waterfront hotels give you the best of Boston... spectacular views of Boston Harbor, plus you're just steps away from the city's top attractions.
Most fall squarely into the luxury hotel category.
But surprisingly, at least one of them - a lovely inn at the end of a wharf - is an "insider's secret."
Most are pricey - so check our tips for finding deals and special packages.
More about Boston's waterfront hotels
Quick Links: Boston Hotels for Special Events
xxx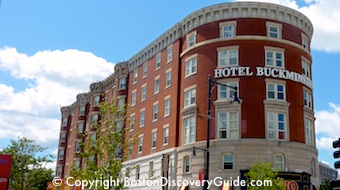 Want to save some money?
Our recommended bargain Boston hotels will help you stretch your travel dollar without sacrificing convenience, style, or comfort.
In fact ... you'll find something cool to love about each of these hotels.
Boston hotel questions?
Ask your Question / Find Answers | Hotel FAQs
Back Bay Hotels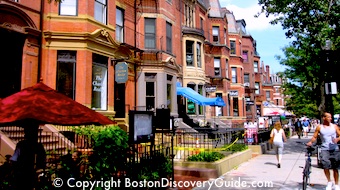 Considered the city's most fashionable neighborhood ever since it was created in the mid-1800s, elegant Back Bay is home to famed Newbury Street boutiques and restaurants.
You'll also find iconic attractions such as Trinity Church here, and the Boston Marathon Finish Line is just past Copley Square. You can easily walk to Fenway Park, the historic Freedom Trail, and the Theatre District.
You'll love all the choices - Back Bay hotels range from luxury to budget.
Beacon Hill Hotels

For 18th century ambiance and world-class antique shopping, stay in Beacon Hill and enjoy gas street lights, brick sidewalks, and terrific restaurants. Nearby: Massachusetts State House, Massachusetts General Hospital, the Freedom Trail, and Downtown Boston.
Hotels: Beacon Hill Hotel and Bistro
Where to stay in and near Beacon Hill: Beacon Hill Hotel, XV Beacon, Liberty Hotel Wyndham
North End Hotels

The Italian North End offers spectacular waterfront, top restaurants, and Freedom Trail sites. More about North End Hotels
Hotel: Fairmont Battery Wharf
Hotels near Boston's North End: Marriott Long Wharf - Bulfinch Hotel - Constitution Inn - Millennium Bostonian Hotel - Onyx Hotel - Residence Inn Charlestown
West End Hotels near Government Center and TD Garden

West End hotels are near TD Garden, Government Center, Massachusetts General Hospital, and Faneuil Hall Marketplace, and can also be good choices for the Museum of Science and Beacon Hill. More about West End Hotels
Hotels: Bulfinch Hotel - Wyndham Boston Hotel - Holiday Inn Express Hotel and Suites - Liberty Hotel - Onyx Hotel
Fenway Hotels - Near Fenway Park and Boston University

Best known for Fenway Park, home to the Red Sox, the Fenway neighborhood also has some of the city's top universities, teaching hospitals, museums, and concert halls. More about hotels near Fenway Park
Hotels: Buckminster Hotel - Hotel Commonwealth - The Inn at Longwood - Marriott Residence Inn at Fenway Park
Charlestown Hotels

Settled by Europeans in 1629, one year before Boston, Charlestown is across the Charles River from the North End and TD Garden. You can visit Freedom Trail sites, battleships, a historic tavern, and enjoy spectacular waterfront views.
Hotels: Constitution Inn | Marriott Residence Inn Charlestown
South Boston Waterfront and Convention Center Hotels

Located in the South Boston Waterfront neighborhood, the Boston Convention and Exhibition Center and CruisePort (Black Falcon Cruise Terminal) anchor this area just south of Downtown. Several excellent hotels, many restaurants, Harbor views, museums, entertainment, and even a brewery tour attract visitors to this neighborhood. More about South Boston Waterfront hotels


Cambridge MA Hotels

Only a 5-10 minute T ride across the Charles River, Cambridge includes the largest concentration of biotech companies in the U.S. as well as Harvard University, MIT (Massachusetts Institute of Technology), Leslie University, numerous museums, and several cool shopping areas.
Hotels near Kendall Square/MIT/East Cambridge: Marriott Cambridge - Courtyard Cambridge - Hampton Inn Cambridge - Holiday Inn Express Hotel and Suites Cambridge - Hotel Marlowe, a Kimpton Hotel - Hyatt Regency Cambridge - Kendall Hotel - Le Meridien Cambridge - Residence Inn Cambridge - Royal Sonesta Hotel
Hotels near Harvard Square/Porter Square: Charles Hotel - Charles Street Inn - Harvard Square Hotel - Inn at Harvard - Sheraton Commander Hotel
B&Bs and Inns near Harvard Square/Porter Square: A Bed and Breakfast in Cambridge
Hotels near Alewife T Station/North Cambridge: Best Western Hotel Tria - Homewood Suites Arlington (1/2 block from Cambridge)
Hotels near Gillette Stadium, Comcast Center, Wrentham Outlets

If you're attending a game or concert at Gillette Stadium or Comcast Center, or planning a shopping expedition at Wrentham Outlets south of Boston, you may enjoy the convenience of staying in hotels in nearby Foxborough.
More about hotels near Gillette Stadium, Comcast Center, and Wrentham Outlets


Boston Logan Airport Hotels, plus "Stay and Fly" packages

Airport Hotels: Only 10 minutes from downtown by water taxi, the Hilton Hotel Logan Airport and the Hyatt Harborside provide excellent accommodations when you need to be as close as possible to the airport. More about Logan Airport Hotels
Stay and Fly Hotels: If you're flying out of Logan and want an affordable parking alternative, you should check out airport hotels with Stay and Fly packages

Check hotel locations on this neighborhood map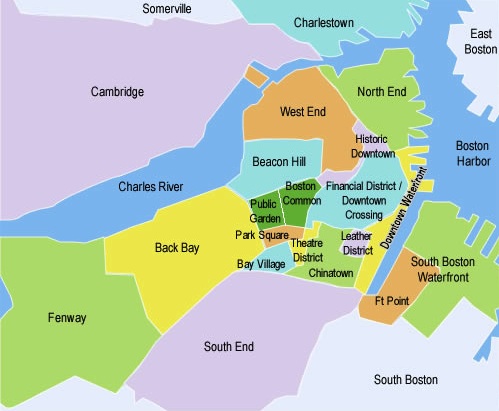 You can use this map to see locations for central neighborhoods. (To see major attractions in each neighborhood, use our clickable sightseeing map.)
Keep in mind that the city's central core, where you're likely to be if you're a tourist or here on business, is compact - less than 3 miles from the North End to Fenway Park.
Hotel locations that you'll see in this guide may not match what you'll see from booking services. That's because I tell you where the hotels really are, not the location that the booking service thinks is the most marketable.
Guide to Boston Hotels by Category
Luxury Hotels

For the best luxury accommodations, these hotels deliver. Choose from 5-star global hotel groups such as Mandarin Oriental and Four Seasons, or try one of our independently-owned luxury hotels. When money is no object, you owe it to yourself to explore these stellar accommodations - plus, some are more affordable than you might expect.
More about the best Boston Luxury Hotels
Luxury Boutique Hotels in Boston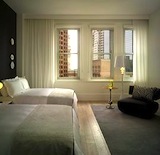 For personalized service, high-end amenities, and sheer comfort, luxury boutique hotels will offer you a unique experience. All are in superb locations. In size, they range from 9 to almost 150 rooms, and each offers a unique style and concept of luxury - so check them all out to find out which one is perfect for your next Boston visit.
More about Luxury Boutique Hotels
Best Hotel in Boston

What is the best hotel in Boston? Everyone has a different opinion . . . so here are some picks that top many visitors' lists. Best of all, "best" does not necessarily mean "most expensive" - so you'll find some very affordable choices. All are near excellent restaurants and other city attractions.
Hotels: Boston Harbor Hotel - Eliot Hotel - Hotel Commonwealth Boston - Langham Hotel Boston MA - Lenox Hotel - Nine Zero Hotel
Boston Hotels with Fireplaces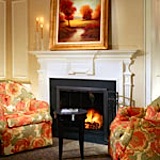 What is the biggest luxury in a Boston hotel during winter months? A working fireplace!
Rates at these luxury hotels can be pricey - but during winter months, when fireplaces are the most appealing, Boston hotel rates are at their lowest!
Boston Hotels with Outdoor Swimming Pools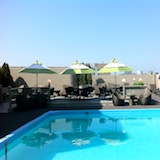 On a sizzling summer day, nothing beats cooling off in an outdoor swimming pool - or reclining under an umbrella while holding a frosty drink.
Find out which Boston hotels offer outdoor pools - including the only rooftop pool in the city.
Find hotels with outdoor pools
Bed and Breakfast Choices

Typically smaller than hotels, inns and B&Bs may be tucked away in mostly-residential neighborhoods and can offer a personal touch in a big city. B&Bs offer breakfast, while inns may offer other meals as well.
Boston Inns and B&Bs: Charles Street Inn - College Club of Boston - John Jeffries House - Beacon Hill Hotel - Inn @ St Botolph - Newbury Guest House - Chandler Inn
Cambridge Inns and B&Bs:
A Cambridge House
-
Harding House
-
Irving House at Harvard
-
Mary Prentiss Inn
RV Parking near Boston

You'll have no need for hotel accommodations if you're planning to visit Boston in a recreational vehicle, also known as an RV or camper van.
Although you won't be able to park your RV in the city (there's barely room to park cars!), you can find RV parks near Boston commuter rail stations, making getting into the city a breeze.
Find Massachusetts RV parks near public transportation to Boston
Guide to Boston hotels near special events
Special Hotel Packages for New Year's Eve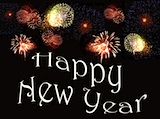 New Year's Eve celebrations are BIG in Boston - and many of the city's top hotels join the festivities by offering special discount packages just for December 31.
Each package differs - but look for First Night buttons, champagne, free valet parking, late checkout on New Year's Day, special dinners and brunches, and even parties.
Check out New Year's Eve hotel specials, packages, and deals
Valentine's Day Special Hotel Packages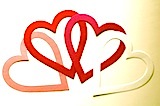 If champagne, chocolate-covered strawberries, and a romantic hotel room add up to your idea of a perfect Valentine's Day, you'll find exactly what you're looking for in the Valentine's Day special packages offered by Boston's top hotels.
Best of all, some of these specials continue throughout February - or even longer.
Check out Valentine's Day hotel special packages
Hotels Convenient for Boston's St Patrick's Day Parade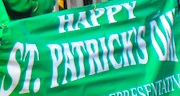 Are there hotels close to the St Patrick's Day Parade route? Not really - but not to worry. The easiest way to get to the parade is by subway, and you'll find some terrific hotels close to the most convenient subway station.
Find hotel recommendations for the St Patrick's Day Parade
Boston Marathon Hotels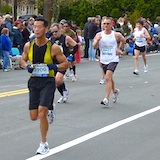 Whether you're visiting Boston to compete in the Marathon or planning a trip to watch the famous race, you'll need a place to stay. Find the best hotels based on location along the Marathon route - including hotels with rooms overlooking the race route.
Whatever hotel you choose, reserve as soon as you know your dates. Boston hotel demand outpaces supply on Marathon Weekend.
Find recommendations for Boston Marathon hotels along the route
Top Hotels for Boston HarborFest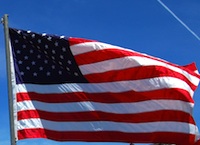 Boston HarborFest takes place in several central Boston neighborhoods near City Hall/Government Center, the Historic area surrounding the Freedom Trail, the Waterfront, Charlestown, and Boston Common, and the North End.
That means you have a lot of great choices. Here are some of the best!
Best hotels near Boston HarborFest events
Boston Hotels - Your Questions, BDG's Answers
Boston Hotels Convenient to the St Patrick's Day Parade
My wife and I are coming to Boston for St. Paddy's Weekend and need to book our hotel. We're going to the St. Patrick's Day Parade and also have tickets to the Dropkick . . .
More hotel questions from BostonDiscoveryGuide.com visitors - and our answers
Have a Question about a Boston Hotel?
Read all the interesting Boston hotel questions from other visitors, and Boston Discovery Guide's responses.

When asking your question about hotels in Boston, please fill out the whole form, including lines that say "optional."

After you send your question, you'll see a page that thanks you and asks you to set notification options. We highly recommend that you check the first 2 boxes so that you'll be notified when we reply. When you see our reply, please let us know if it was helpful.

Thanks for getting in touch!
More useful information about Boston accommodations
You may also want to learn more about what you'll find in Boston hotels. Based on questions that we've received, we've put together a list of FAQs (Frequently Asked Questions) about Boston Mass Hotels.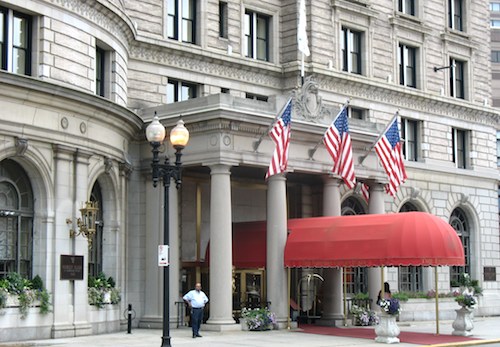 Copley Plaza Hotel in Boston's Back Bay neighborhood
Like this Page? Please Share!
Boston Discovery Guide > Hotels