Boston Hotel Parking Options:
5 Ways to Save on Parking Your Car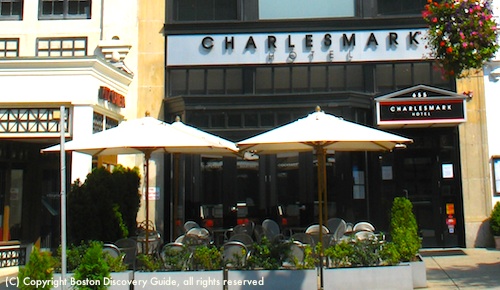 Boston hotel fees for parking your car overnight can cost you close to $50/day.
If you found a great discounted hotel rate, you can easily wipe out your savings just by bringing your car.
Let's face it - Boston is a small, compact city with pricey real estate.
Our hotels compete with those in New York and San Francisco for the "most expensive in the nation" title - and when you need a place to park your car overnight, you'll pay a premium if you choose the most convenient option: parking it at your hotel.
But if you are willing to be somewhat flexible, you can save a bundle.
5 Ways to Save on Parking at Boston Hotels
1. Leave your car at home
2. Park at a T station - take the T
3. Stay in a suburban hotel
4. Stay in a hotel offering reasonable parking
5. Find reasonable rates in Boston ... just not at your hotel
Midtown Hotel Boston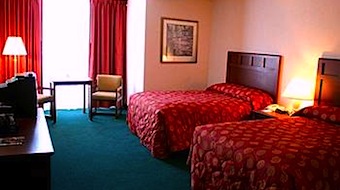 Sporting the architectural design of a 1950s Boston motel (which is what it used to be), the popular Midtown Hotel offers fairly basic decor - plus a small outdoor pool and a great Back Bay location just down the street from the much swankier Colonnade Hotel.
The Midtown is the closest hotel to cultural magnets such as Symphony Hall and Jordan Hall. It's also convenient to the Museum of Fine Arts and Prudential Center.
Why So Cheap?
You may be wondering what you give up in return for cheap Boston hotel rates. Convenience? Safety? Comfort?
Don't worry . . . what you'll give up in return for cost savings at these hotels are amenities. Boston's centrally-located inexpensive hotels tend to be small - no conference facilities, huge banquet halls, or fancy meeting rooms.
And, you may find ho-hum furnishings . . . older furniture, dated color schemes, and older color TVs rather than high definition flat screens. You're not going to find designer linens on the beds.
Bottom line? If you're willing to forego fancy shampoos and Italian linens, you can some some significant money.
How to Shave 25% Off Your Boston Hotel Bill
Many Boston hotels are now charging up to $50 per day for parking - yes, that's up to $50 plus tax that gets added to your hotel bill each day. Some hotels charge more.
If you find a great rate of, say, $180 per night at a Boston hotel but have to pay another $50 for parking . . . well, you can do the depressing math. Leaving your car at home is a no-brainer way to save almost 25% on your total hotel bill.
You do not need a car in central Boston because you can easily take the subway ("T") or a cab. In fact, a car is a liability - just read my tips about driving in Boston to see why! If you are planning a day trip outside Boston during your visit, you can rent a car for the day - much cheaper!
But what if you're planning to drive to Boston, and taking a plane, train, or bus simply doesn't work for you? If you're planning to be here for 7 days or less, park at one of the T stations that allow overnight parking (find a list at the MBTA's website by clicking on "parking").
Park your car in the lot (in at least some lots, you'll need to arrive either before about 7:30am or after about 6pm to find a space), grab your suitcase, and take the T to your hotel. Or, if you're traveling with your family or friends, drive first to your hotel and drop off them and all of the luggage. Then drive to the T station, park, and take the T luggage-free.
You'll have to pay for the overnight parking ($8 at most stations) and of course your T ticket ($2.50 each way) - but you'll still save a bundle. Plus, parking at the station and taking the T to your hotel will probably be faster and easier than driving in the city.
Even Cheaper Hotel Alternatives
Are even the inexpensive Boston hotels pricier than your budget permits?
Don't despair . . . Check out these options:
Guest Houses - These are more like small furnished apartments than hotels. Rates are somewhat lower than most hotels - you won't save a lot of money, but everything helps! They're also good options if you're staying for several weeks or months. Try Copley House for nice studios and 1-bedroom apartments in a lovely location on the Back Bay - South End border.
Hostels - Hostelling International provides hostel accommodations in Fenway, as well as travel-related services such as tours. Both private and shared rooms are offered, although the biggest bargains are the shared rooms. Just keep in mind that since rates are on a per-person basis, if you're traveling with 1 or 2 other people, you may find better values at some of the inexpensive Boston hotels. Hostelling International Boston website and rates
Also check STATravel for more cheap rates on student hostels and hotels
- mostly private rooms and baths, NOT shared accommodations.
YWCA - The YWCA's Berkeley Residence in the South End near the Back Bay neighborhood offers nightly and longer term (5 weeks or more) lodging for very reasonable per-person rates. Both private and shared rooms are available, with shared baths. YWCA Boston website and rates: 40Berkeley.com
Like this Page? Please Share!
More Hotels to Explore
Boston Discovery Guide > Hotels > Inexpensive Hotels