Best Boston Entertainment Guide

Boston duck tours, Freedom Trail, sightseeing, & more!
This Boston entertainment guide to things to do in Boston covers it all - concerts, nightlife, comedy clubs, theater, movies, live music, concert tickets, festivals, sports, events, culture.
With dozens of theaters and comedy clubs, movie theaters and film festivals, concerts of live music in every genre every night, a thriving nightlife scene, cruises, and every type of museum you can image, plus special events, celebrations, parades, and sporting events year round, Boston offers something for everyone.
Use this guide to Boston entertainment to find all the things in Boston you want to do. I also include tips for the best places to find discounts, savings coupons, and even half-price tickets.

Boston Trolley Tours
Colorful trolleys take you through the most interesting parts of Boston while drivers entertain and enlighten you about famous sites along the way. Get off and on at numerous stops along the way. If you have only 1 day to explore the city, a trolley tour is a great choice!



Boston Harbor Tours
Boston Harbor tours show you the city from a unique perspective. From dinner cruises to tall ship adventures, from sightseeing tours along the coast to tall ship expeditions through the Harbor Islands, there's plenty to explore. Bring your camera!



Check savings on tours using Boston discount cards
Don't forget to check for savings on tours, whale watching, Harbor cruises, and duck boat tours with these Boston discount passes, With the GoBoston card, you'll get free admission to many cruises and tours.



Boston Whale Watching Tours
Only 25 miles offshore from Boston, you can watch whales and other fascinating ocean life in the Stellwagen Bank marine sanctuary. Boston whale watching tours depart from the convenient downtown waterfront from April through November - and best of all, whale sightings are guaranteed!



Boston Duck Tours
See the city from land and water. While an entertaining "ConDUCKtor" points out famous Boston attractions, you'll tour historic Beacon Hill, Charlestown, Back Bay, and Downtown. And then, the "Duck" vehicle splashes down for a tour of the Charles River.


Boston Bus Tours
Ride in comfort on Boston bus tours to see top attractions in Boston and Cambridge, as well as visit nearby historic Lexington and Concord. Also check out specialty day trips to Salem, Plimouth Plantation, Cape Cod, and other popular destinations.



Freedom Trail Tours
Whether you opt for a professional-led tour, perhaps with a guide wearing Colonial attire, or a self-paced stroll along the Trail's red stripe, the Freedom Trail is the best way to see sites important to American liberty while also enjoying the best city attractions.



Fenway Park Tour
See the famous ball park up close. Walk across the field, smell the grass, and enjoy behind-the-scenes views of the Green Monster, the Hall of Fame, Pesky's pole, the press box - you'll be in the same spot where the Boston Red Sox make baseball history.

Boston Bike Tours
Touring Boston by bike is one of the most popular ways to see the city. Find out about guide-led Boston bike tours as well as on-your own routes, plus where to find bike rentals and bicycle maps showing local trails. Get ready for sightseeing, fun, and exercise!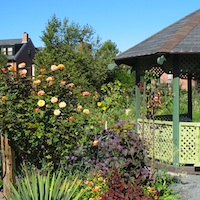 Garden Tours
Tall brick walls hide many of the city's most beautiful gardens, and others are tucked away in places you might never find on your own. In these special once-a-year self-guided tours in Beacon Hill, the South End, and Cambridge, you get to explore these hidden gardens in lovely historical neighborhoods. Bring a camera!



Boston Historical Tours
With so many historical sites throughout the city and nearby areas, these specialized Boston tours give you a fascinating glimpse into other times and lives. And each spring, Patriots Day reenactments let you relive Paul Revere's ride and the opening shots of the American Revolution.



Boston Sightseeing Tours
What are the best Boston sightseeing tours? Find recommendations for the best in every category, plus tips for best options if you have only 1 day in the city, 3 days, or a week. Find out what other Boston visitors like best - and add your own recommendations!



Boston Walking Tours
Although the Freedom Trail is the most famous, you'll find plenty of other walking tours focused on historical sites, fascinating city neighborhoods, and even specialty topics like food and photography. Great to combine Boston sightseeing with exercise!



Black Heritage Trail
The self-guided 1.5 mile Black Heritage Trail passes by Beacon Hill sites that played important roles in the lives of free blacks during the 19th century. Visit Underground Railroad stations, homes of prominent citizens, and the first integrated public school in Boston.




Fall Foliage Tours
From self-guided Boston fall foliage tours around leafy Boston neighborhoods to fall foliage cruises up the New England and Canadian coasts, these seasonal Boston tours are popular with visitors and residents alike. Bring your camera to capture the magnificent scenery.



Prudential Skywalk Observatory
Take a visual "tour" of Boston from the top of Prudential Tower, second highest building in the city where you'll find panoramic views. Go up to the Skywalk Observatory . . . or take the elevator two stories higher and enjoy the same view for only the cost of a drink.



Like this Page? Please Share!