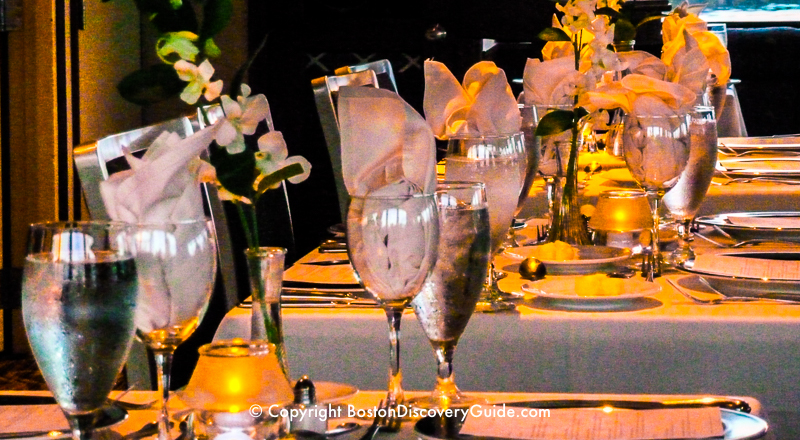 For a unique and entertaining sightseeing experience around Boston Harbor, choose a gourmet dinner cruise - or more casual brunch or lunch cruise.
Two large and luxurious cruise ships, the Odyssey and the Spirit of Boston, offer these popular cruises year round.
With multiple viewing decks, seating for 600 passengers, and chefs who prepare the food on-board in the ships' professional kitchens, these cruises give you the chance to enjoy the city and Harbor Islands from a unique perspective while enjoying a spectacular meal and fine wine.
Dinner cruises around Boston Harbor let you combine a gourmet meal with sightseeing while aboard a from 30 on-board speakers, and the crew's comic routine involving pirates and mutant cod make it the wildest ride in the Harbor.
What is Codzilla?
It's a sea monster . . . um, no, actually, it's a souped-up, 2,800 horsepower, twin turbo-charged engine muscle boat. . . well, cruise boat trying to look like a shark . . . or at least not totally like a codfish.
If you're looking for a unique cruise experience that combines sightseeing with fun - and you don't mind getting wet - this may be the Boston Harbor tour for you!
Is Codzilla the Right Cruise for You?