Home > Restaurants >
Best Boston Cheap Eats
Boston insider's guide to inexpensive eateries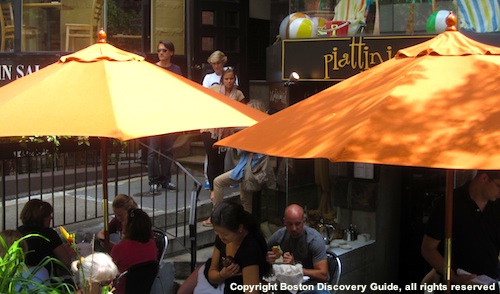 Patio dining at Piattini, where small plates serve up delicious cheap eats
Q. What are Boston Cheap Eats?
A. They're inexpensive bistros, cafes, bars, and restaurants in Boston where the chef-owners are dedicated to serving you great food at great prices.
Sure, you can easily find lots of expensive Boston restaurants where you can enjoy wonderful meals and spend lots of money - but when you don't want to flatten your wallet for just one meal, check out our suggestions for affordable Boston dining.
How cheap are "cheap eats"?
We target $15. In fact, your tab in many of these central Boston eateries may be well under $10. Unlike Dine Out Boston, which only happens twice each year, you can find dining bargains at these bistros and restaurants every day!
At a couple of these spots, your tab may go over $15 once you add in taxes, tips, and drinks, while in the most casual carry-out places, you'll leave happy for around $5.
Gourmet Food Trucks - Boston Street Food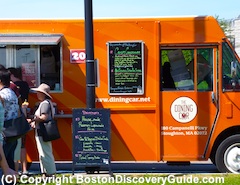 Gourmet food on wheels - that's what you'll find in Boston's popular food trucks. Portions start at just a few dollars, and spending more than $10 is hard. The few exceptions ($16 lobster rolls filled with fresh Maine lobster) still serve up a bargain.
Many food trucks feature local ingredients and freshly-prepared specialties, packed with flavor. Look for vegetarian, vegan, and gluten-free options.
Where to find food trucks in Boston


China Pearl - Chinatown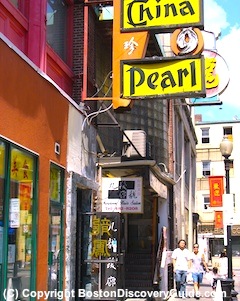 China Pearl (9 Tyler Street; 617-426-4338) is a local favorite for Dim Sum, the Chinese version of small plates.
Servers bring around carts filled with Cantonese specialties such as black bean clams, steamed pork buns, dumplings, sesame balls, shrimp dumplings, shumai, and much, much more.
Choose what you want - pay by the dish.
Everyone's appetite varies...but normally your check will average out to under $10/person, making Dim Sum a top pick for Boston Cheap Eats. On weekends, arrive before 10am to avoid waiting in line to get in.
More about top Boston Dim Sum restaurants
Restaurant.com - Save 60% or More on Boston Restaurants
Taiwan Cafe - Chinatown
Enjoy authentic Taiwanese food at Taiwan Cafe. Lunch specials are well under $10, and include dishes like steamed taro with pork, sauteed shrimp with edamame, and braised ribs in BBQ sauce with spinach, all served with soup and white rice.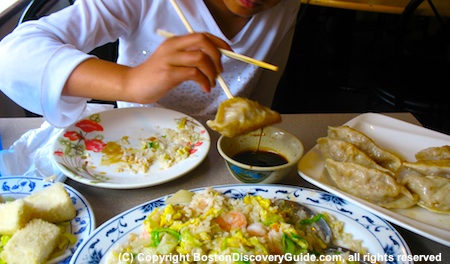 From the regular menu, you'll find lots of soups, vegetables, tofu, noodles, and fried rice dishes for under $10. Or, go with a friend and share one of the "chef's specials" for under $20.
If you love tofu, try the many different preparations on the menu, all of them delicious. The Taiwanese dumplings are also terrific and well worth the 20 minute wait, especially since if you've ordered something else, you can be eating that while the dumplings are being prepared. Steaming cups of tea are complimentary.
My experience here is that it's virtually impossible to spend more than an average of $10 per person - and that includes tax and tip.
Getting there: 34 Oxford Street; 617-426-8181; no credit cards
163 Vietnamese Sandwich - Chinatown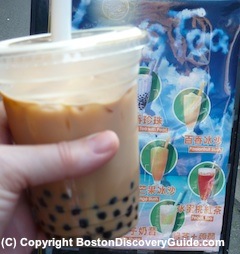 Boba (bubble tea) and tasty Vietnamese food makes 163 Vietnamese Sandwich a top Boston Cheap Eats pick.
Milk tea and fruit shake bobas - mango, papaya, avocado, taro, and perhaps 20 other delicious choices are so filling that they're almost a meal in themselves.
Don't miss the
bánh mì
(Vietnamese sandwiches),
rice-flour rolls filled with onions, daikon, pickled carrots, cilantro, cucumber, and your choice of a grilled meat or tofu fake duck.
Almost everything on the menu is under $5, so you can eat very well here for little money.
163 is tiny - only 3 tiny tables and 6 chairs. Most customers carry out their treats, eating them as they walk along the streets.
Want to sit down? The Rose Kennedy Greenway, with plenty of benches and low walls for sitting, is nearby.
Directions: 66 Harrison Avenue; 617-542-7903; no credit cards
The Juice Bar - Chinatown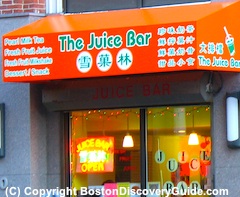 Easy to miss - or overlook.
Also on Harrison Ave and just across Beach Street from 163 Vietnamese Sandwich, Juice Bar is where you can find a wide array of fruit juice, milk (choose from whole milk, soy milk, or coconut milk), and tea drinks, with or without "bubbles" (tapioca balls").
Juice Bar's menu has 100+ drinks to choose from . . . Thai iced tea, mango juice with pearl or tapioca bubbles, lychee juice with lychee jello, honey green tea, jackfruit shake, strawberry banana milkshakes, coconut milk with ice cream . . . the combinations and possibilities are endless.
Best of all, most drinks and snacks are $4-$5 or less.
Accepts credit cards? No
Directions to The Juice Bar: 40-44 Harrison Avenue; 617-542-7903
Faneuil Market - Historic Downtown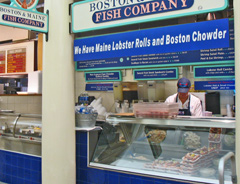 Faneuil Hall Marketplace is one of the city's most popular shopping, entertainment, and dining destinations for both tourists and locals - and the star dining attraction is the Food Hall in Quincy Market, a Boston Cheap Eats paradise due to the huge number of choices.
True to the original market, food vendors occupy stalls lining a long corridor. Each stall almost overflows with local specialties: Boston chowder, Italian pizza, Greek favorites, pastries from the North End.
You can easily put together a tasty meal for under $10. But you may have trouble deciding what to get among the many delicious choices.
A large rotunda filled with tables provides seating at the end of the Hall but often gets packed around noon. You can avoid the crowds by taking your food outside, where benches provide plenty of seating.
Another popular choice at the other end of Quincy Market is Wagamama, a noodle bar that fuses Japanese, Chinese, and Southeast Asian noodle dishes and serves them fried or in soup or curry. Black-clad servers bring out the freshly made dishes as soon as they're done. Most of the noodle dishes are under $15, plus tax and tip.
To keep your costs low, ask for the free green tea (they don't bring it unless you ask). Wagamama (617-742-9242) is part of a large chain with a big fan base in London and other places, so you'll often find an international crowd here ordering their favorite dishes.
Nearby: Historic taverns and restaurants
Saus - West End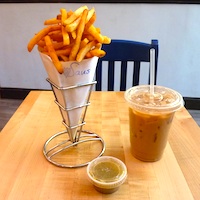 (33 Union Street) - My new favorite place in historic downtown Boston for cheap eats is Saus - the city's first, and as far as I know, only Belgian street food cafe. The menu offers 2 main items: frites, hand-cut Belgian-style fries sprinkled with sea salt, and Liège waffles made with pearl sugar.
For the frites, add savory sauces such as curry chipotle, caramelized onion and sour cream (the "Bost-Onion"), and a cilantro-garlic mix called the "Green Monster." Or order poutine - frites topped with homemade gravy and cheese curds. Add a deep-fried egg for extra punch. For the waffles, choose a sweet sauce, such as the homemade nutella, salted caramel, or lemon cream.
With a drink, a small serving of frites (which is plenty big) or a waffle, sauce, and a drink will cost you under $10. Sit at one of the 6 small tables for 2 or the communal table for 6 - or opt for carryout, and create pangs of hunger and jealousy in everyone who sees you munching on those frites.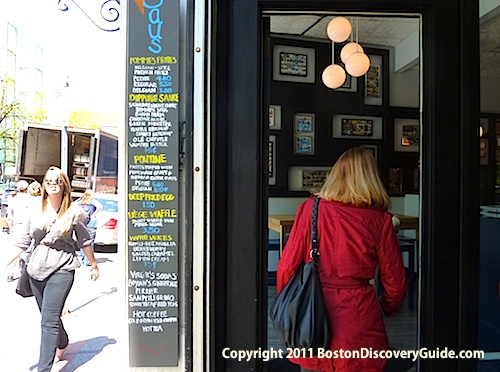 Entrance to Saus on Union Street in historic downtown Boston
James Hook Lobster Rolls - Downtown Waterfront
This city seafood shack fits squarely in the "Insider Secrets" category. James Hook is a busy wholesale seafood operation that ships 50,000+ pounds of lobsters daily to Boston's seafood restaurants and distributors around the country.
Unless you live here, you probably don't know that James Hook also offers carryout from a trailer on Fort Point Channel across from the Boston Children's Museum where you can get some of the freshest and best - and maybe the cheapest - lobster rolls in Boston.
Lobster rolls go for about $12, with a large size available for $15. For lobster rolls in Boston, this is cheap, especially since these are so delicious! They come wrapped in aluminum foil, and overflow with chunks of sweet, very fresh lobster plus just a tiny bit of mayonnaise and chopped celery.
Carry your "lobster catch" out to one of the picnic tables near the trailer, or find a park bench at the nearby Rose Kennedy Greenway and enjoy your feast!
Directions: 15 Northern Avenue, Financial District; Red Line/South Station; 617-423-5500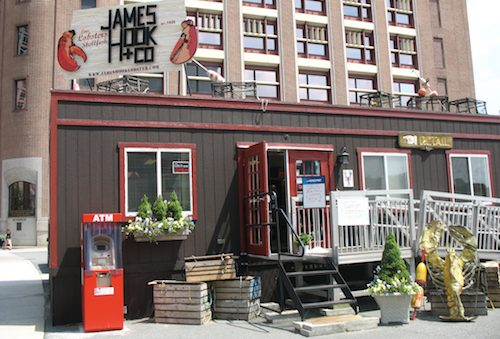 James Hook's "Seafood Shack" in Downtown Boston
Check out seafood restaurants in Boston
Basho - Fenway Park
Sushi does not normally top our list of "cheap eats" candidates - after all, if you're eating raw fish, you want the highest quality, not the lowest price.
So when a recent celebratory lunch provided the perfect excuse for a visit to Basho (1338 Boylston street, 617-262-1338), a top Japanese brasserie specializing in superb sushi near Fenway Park, I didn't even think about "cheap eats" until I started to pay the check and realized that my two teenage (translation: "always hungry") daughters and I had just dined splendidly for an average of less than $15 each.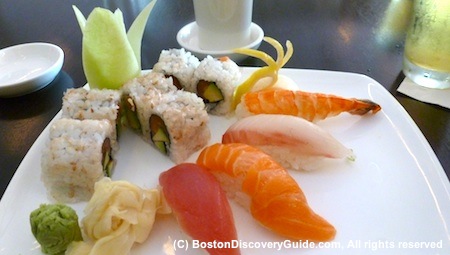 That included the sushi/sashimi lunch assortment shown in the photo (about $16), shrimp tempura udon soup (about $9), and smoked salmon fried rice (about $10), plus glasses of iced green tea but not tax or tip.
Now, I doubt that Basho would be pleased to be described as "cheap eats" as there's nothing less than excellent about the quality of the food - also true for every other restaurant on this page also - but for not much more than you'd pay down the street for Fenway Franks, you can score a huge bargain here at noon.
Dinner is a different story...bring a well-stocked wallet.
Betty's Wok and Noodle Diner - Fenway
Betty's (250 Huntington Ave, 617-424-1950) specializes in small plates of Asian-Latino fusion comfort food as well as sake cocktails and other specialty drinks. Betty's is across the street from Symphony Hall, and almost as close to Northeastern University and Jordan Hall. It's the perfect place to get a quick bite without spending too much money - assuming you show restraint in how much you order. Order more than 2-3 small plates, and you'll be over $15.
Betty's "all day" menu and lunch menus offer lots of choices for under $15. Vegetable egg rolls, spicy beef won-tons, and fried plantains with sweet tomatillo-lime mojo sauce will melt in your mouth. Salads, including a plate of Thai-inspired soba noodles, and pressed sandwiches are also delicious.
Betty's chef understands that especially at lunch, people want delicious, innovative food at an affordable price - in other words, Boston Cheap Eats - and they want it fast. He delivers delicious treats that more than meet these requirements.
Petit Robert Bistro - Fenway and the South End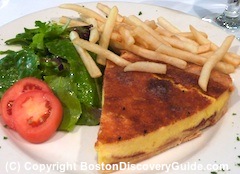 Affordable prices are just part of the appeal of Petit Robert Bistro (468 Commonwealth Ave, 617-375-0699, plus several other Boston locations).
This favorite French bistro in the Fenway neighborhood not far from Fenway Park and Boston University serves up traditional French bistro food that is always good and often special in an elegant white-tablecloth setting.
The French Onion Soup, for under $9, is the best in the city. Sit at the bar, and on most days, you can enjoy cheese or chocolate fondue for only $10.
Most lunch choices will run you well under $15, and many items on the dinner menu are under $20. Among those that aren't, one deserves special mention because at $23, it is still an incredible bargain in a city where high-quality seafood normally is pricey: the Boston Bouillabaisse, chock full of super-fresh hake, baby clams, mussels, bay scallops, and shrimp.
More about Petit Robert Bistro

Itadaki - Back Bay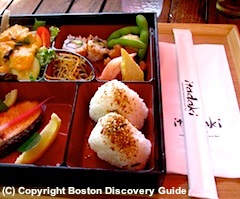 Sushi restaurants have popped up like flowers along Back Bay's Newbury Street. Most feature relatively affordable lunch choices, with pricier fare during the evening.
Itadaki (269 Newbury Street) is one of the most affordable, and offers tasty Bento Box selections plus miso soup for around $10 at lunch. Opt for the pleasant patio seating along Newbury Street during warm weather, relax, and enjoy your sushi in one of Back Bay's prime people-watching locales.


Davio's To Go - Theatre District
You don't usually equate one of the city's best restaurants with Boston Cheap Eats.
But tucked away in a pedestrian walk-through area in an office building at the edge of the Theatre District and Back Bay is a true "Boston insider" spot known mostly to locals who work in the neighborhood: Davio's to Go. The food at this popular To Go counter comes from famed Davio's Northern Italian Steakhouse next door. Davio's To Go's location in the southeastern corner of Back Bay makes it convenient to the Theatre District, Bay Village, and Park Square, as well as the nearby Revere Hotel.
What will you find? Starting at 7am, yummy breakfast items such as muffins and bagels. Around lunch time, salads, soups, panini, pastas, and fabulous deep dish pizza by the slice appear at the counter. The pizza is so filling that one slice (around $5) makes a great lunch . . . add one of the homemade soups or crispy salads, and you have a feast.
Some seating is available at small tables and benches scattered around the lobby. Otherwise, take your treats to the Public Garden, just a block away, and have a picnic.
Directions to Davio's To Go: 10 St. James, between Arlington and Berkeley; Green Line/Arlington.
Hours: Open Monday - Friday, 7am - 4:30pm (4pm on Fridays).
Prudential Center Food Court - Back Bay
I'm not usually a huge fan of shopping center food courts - but the one at Prudential Center is nicer than most.
Although you'll find many of the usual selections that you'll see in other places - Mexican, Chinese, Thai, Japanese, pizza, sandwiches, soup, a bakery, and so forth - the food always seems freshly made, perhaps due to the large number of people who eat here. Plus, with plenty of other great choices nearby, they know they have to compete. You'll find plenty of tables and a nice ambiance. It's a great place to relax if you're shopping in Pru Center or nearby Copley Place.
And with the money that you save while eating in the Pru Center Food Court, you can go up to the Top of the Hub on the 52nd floor for a drink in the bar (not a Boston Cheap Eats spot) while enjoying the best views in the city. Or, for a slightly cheaper view, skip the bar (where despite your best intentions, you may find yourself blowing your budget by ordering a second specialty martini), head up to the Prudential Skywalk on the 50th floor.
Piattini Wine Cafe - Back Bay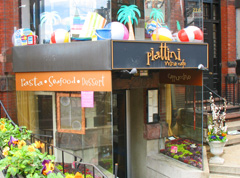 If you want a pleasant lunch in a nice Back Bay restaurant for under $15, head straight for Piattini Wine Cafe. With most choices under $10, you can add a glass of wine and still be more or less still in Cheap Eats territory.
Piattini features small plates, and unless you're totally starving, one is plenty for a satisfying meal. You'll find all kinds of delicious and creative salads, panini, and pasta. The menu expands for dinner. You'll still find small plates for around $10, and entrees in the $15-$20 range. More about Piattini Wine Cafe
Aquitaine - South End
On weekends, head straight to Aquitaine, one of the South End's best French bistros. Aquitaine is another top French restaurant that you might not expect to find on a list of Boston Cheap Eats.
However, you can enjoy the Aquitaine fixe-prix brunch all day on Saturday and from 10-11am on Sundays for only $9.95/person. Choices include omelets or eggs served with yellow creamer potatoes, 7-grain toast, OJ, and coffee.
Aquitaine's lunch menu also has a few choices under $15. One of the best is Soup a L'Mignon with gruyere croutons & aged sherry. The fried mussels with sincere, creamed Rachel, thyme and remolded sauce are also terrific. The biggest bargain is the lunch special - usually a soup, sandwich, salad, and coffee for about $13.
You'll also enjoy the experience of eating in this warm, stylish restaurant. Filled with mellow wood, pale marble, and crisp white table linens, it brings Parisian bistro ambiance to Boston's South End.
Directions to Aquitaine: 569 Tremont St; Orange Line/Back Bay; 617-424-8577
Panificio - Beacon Hill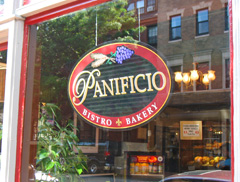 This terrific neighborhood bistro / Italian bakery theme is right on Charles Street not far from Cambridge Street.
If I had to choose a favorite here, the deep-dish Sicilian pizza would win hands-down. Scented with olive oil, herbs, and tomatoes, one slice makes a delicious lunch. Order something to drink to go with it, and you're going to be around the $5 mark.
You'll find lots of other good lunch items as well . . . salads, sandwiches, pastas. Panificio also has delicious breakfast options . . muffins, granola, French toast, eggs, fruit. Most of these run under $10.
Dinner entrees are closer to $20, but you can get salads, panini, and thin-crust pizza for $9-12, keeping Panificio's in the Boston Cheap Eats category even for dinner.
Place your order at the counter. If you want to eat in, find a place to site and a server will bring your food. Panificio's dining area contains about 12 tables and another 10-12 tall stools perched next to long counters providing a perfect people-watching view of Charles Street. You can also take your items as carry out.
Directions to Panificio: 144 Charles St., near Cambridge St; Red Line/Charles-MGH; 617-227-4340
Like this Page? Please Share!
More ideas for inexpensive dining in Boston
Boston Discovery Guide > Restaurants > Cheap Eats