Bay Village Restaurants
Dining in a historic Boston neighborhood
Photo of quiet Bay Village street
Despite being in Boston's smallest neighborhood, Bay Village restaurants offer an interesting variety of tantalizing dining options in one of the loveliest areas in the city.
Bay Village restaurant choices range from casual to formal, and from inexpensive to splurge.
If you're not familiar with Bay Village, combine dinner with a walk around this tranquil 18th century setting - perhaps Boston's least-known neighborhood, yet one of the most historic and only a couple of blocks from the Public Garden.
Located very close to the Boston Theater District, Bay Village restaurants hold special appeal for theater goers who enjoy dinner here before a performance or stop by for a glass of wine and a bite to eat afterward.
Guide to Bay Village Restaurants
Erbaluce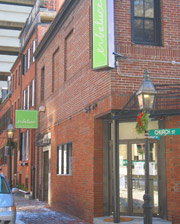 69 Church St; Green Line/Arlington; 617-426-6969; www.erbaluce-boston.com
Reflecting the creative vision of chef/owner Charles Draghi, this attractive candle-lit Bay Village restaurant serves fabulous contemporary Italian food with a Piedmontese influence.
The freshest fish, organic meats, and unusual offerings such as wild boar and bottarga share center stage with carefully prepared herb-laced vegetables and pastas.
What is bottarga? It's pressed cured tuna or mullet roe that's shaved, sort of like a truffle, onto pasta to give an out-of-this-world buttery, almost caviar-like flavor. If you want to experience it, order Erbaluce's spaghetti with clams and fennel-tomato broth, which raises this always good dish to absolutely sublime levels.
Save room, if you can, for the delicious desserts, and prepare to enjoy the carefully selected wine list. A more casual bar menu is also available.
Erbaluce's location near Boston's Theatre District makes it a popular choice for pre-show dinners - although because of its creative cuisine, it's quickly becoming one of Boston's hot dining spots for any occasion.
Rustic Kitchen Bistro and Bar
210 Stuart St, across from Park Square; Green Line/Arlington; 617-423-5700; www.rustickitchen.com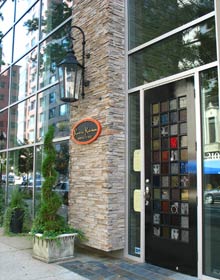 This stylish and inviting Bay Village restaurant, located next to the Revere Hotel and steps away from Boston's Theatre District, offers tantalizing Italian-Mediterranean cuisine made daily on the premises.
Local favorites like clam chowder, oysters on the half shell, swordfish, and filet mignon are prepared with an Italian flair.
And if you love macaroni and cheese . . . well, get ready for a real treat involving porcini mushrooms, premium Italian fontina, and truffle oil. You'll also enjoy the well-selected and constantly updated wine list.


Smith and Wollensky
101 Arlington St; Green Line/Arlington; 617-423-1112; www.smithandwollensky.com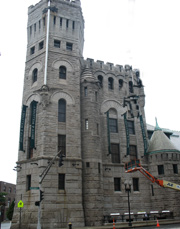 Smith and Wollensky, a stylish steakhouse and seafood restaurant at the edge of Back Bay emphasizes excellent-qualify fish, shellfish, lamb, chicken, and of course, beef, simply prepared so that flavors shine through.
You can also select whole boiled lobster - always an excellent choice! A lengthy list featuring "great American wines" will enhance your experience.
You'll also enjoy the restaurant's striking location - the 1891 stone and brick medieval-style building, former headquarters for the First Corps of Cadets, known locally as "The Castle". After all, how many times do you get to dine in a former gun room?
Viga Italian Eatery & Caterer
304 Stuart St at Columbus Ave; Green Line/Arlington; 617-482-1113; www.vigaeatery.com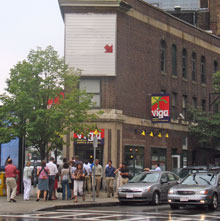 Even though this carryout-only favorite is open from 11 am until 3 pm Monday through Friday, and not at all on weekends, it has earned loyal fans - and you'll often see a line of them stretching down the block at midday.
Trust me, the food here makes the short wait worthwhile.
Get ready to enjoy Viga's selection of hot and cold sandwiches, wraps, pasta, salads, and even pizzas - whole and by the slice! My personal favorite here: freshly-made Italian calzones, surely among the best in Boston.
Like this Page? Please Share!
Boston Discovery Guide > Boston Restaurants > Bay Village Restaurants